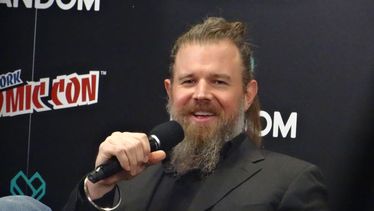 Have we ever told you about how much we wanted to meet Ryan Hurst? If you follow us on a regular base, you will know about our love for "Sons of Anarchy" and "The Walking Dead". Over the years we have met a lot of the cast members of these two shows. Let's list some of them: Mark Boone Jr. (Bobby in SOA), Kim Coates (Tig in SOA), Tommy Flanagan (Chibs in SOA), David Labrava (Happy in SOA), Ron Perlman (Clay in SOA), Melissa McBride (Carol in TWD), IronE Singleton (T-Dog in TWD), Sarah Wayne Callies (Lori in TWD), Chandler Riggs (Carl in TWD), Josh McDermitt (Eugene in TWD), Chad L. Coleman (Tyreese in TWD), Seth Gilliam (Father Gabriel in TWD), Lennie James (Morgan in TWD), Michael Cudlitz (Abraham in TWD), Khary Payton (Ezekiel in TWD), Dan Fogler (Luke in TWD) and many more. So I think it's OK to say that we are big fans, right? 
The One That Got Away!
We both really wanted to meet Ryan Hurst, because he plays the role of Opie in "Sons of Anarchy" and when Ryan popped up in "The Walking Dead", we wanted to meet him even more. We had our chances over the last years, but one way or another it always went wrong. He cancelled, we could not go or it was to crowded (like in New York).  When we went to Comic Con Los Angeles last year we were over the moon, because Ron Perlman and Ryan Hurst would be there. We bought our photo op tickets for Ryan. There were some cancellations before the event and every time we saw that Comic Con Los Angeles would post a message on their socials; our heart was racing because we were anxious that Ryan would cancel again. But he didn't and it was time for Comic Con Los Angeles. We had our photo op with Ryan on Sunday, so on Saturday we were focusing on other guests and things to do. On Sunday we jumped out of bed, only to see that Ryan unfortunately had to cancel for Sunday...NOOOOOO! He got away again! It was at this point that we began to think that we just weren't meant to meet Ryan and we started to call him 'The One That Got Away'. Later Ryan was announced for Comic Con Dortmund in December of last year....and again we could not go! Just when we thought it was not ever going to happen anymore, Comic Con Liverpool announced Ryan and we were going...could it be...???
Comic Con Liverpool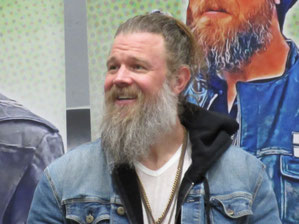 This was our chance to finally make it happen and we weren't gonna miss it! To be sure it would not be Los Angeles all over again, we bought our photo op tickets for the first day (Friday) and in the weeks leading up to Comic Con Liverpool we checked their socials like hawks. Comic Con Liverpool came closer and we got more and more excited (which is as always an understatement). And then came the day we were waiting for, we went to Comic Con Liverpool on Friday and Ryan had not cancelled yet. We had our photo op later in the day and we decided to walk to the tables where the special guests would be...since there were only a few attending on Friday there was a lot of open space at that point and Ryan was nowhere to be seen. Some nerves took hold of us, but not long after that Ryan arrived! We were over the moon! Finally, we were going to meet the man behind one of the most loyal and lovable characters on Television. 
Photo op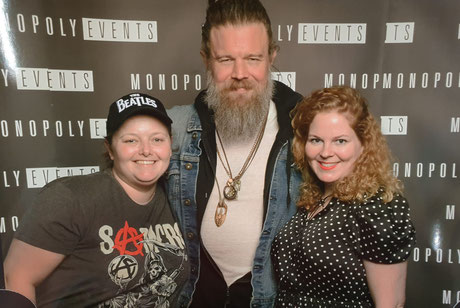 Well and then it was time for our photo op with the man himself! Since Friday was a very quiet day, there was almost no queue for the photo, which was a double blessing, because that meant lesser time to get nervous ... and we already were pretty nervous. Somehow we thought that going to comic cons was not his kind of thing and we thought he was a bit grumpy. We have absolutely no idea, why we thought this. Maybe it was because he cancelled at Los Angeles Comic Con. Well, I tell you we couldn't be more wrong!!! Ryan was absolutely lovely and he was so friendly. We walked out with a big smile on our face and the fact that we would be able to go to his panel on Saturday, made us even happier! 
Panel
Ryan's panel was planned on Saturday morning at 10 a.m. General admission however was not until 11 a.m., so the panel was only available for the early birds ticket holders and us (because of our press accreditation...jay!). So at 9.45 we made our way to the auditorium and took our seats on the second row. It was not very crowded, but the atmosphere was good. That atmosphere got even better, when Ben Fenlon made his way onto the stage. He would be the host for the Ryan Hurst panel and since Ryan was running a bit late, he decided to warm up the audience. Well he did a good job and asked where everybody came from. While he was talking I knew I had seen him somewhere before. When Carola yelled that we were from The Netherlands, Ben focused his attention on us and he said he recognized me. At that moment I remembered where I knew him from, I met him a few year ago at For the Love of Horror (another event by Monopoly Events). When he asked if there were any "Sons of Anarchy" fans, I thought everyone would start to scream, but they didn't it was only me...and it was not the most sturdy yell either. From the top of my lungs I yelled "Whoopwhoop" and of course Ben heard that and mentioned that was not a very SOA worthy yell...
It was a very interesting panel to listen to and Ryan talked about his time on "Sons of Anarchy" and the special farewell ritual some of his cast mates had in store for him. He also talked about his work on "Saving Private Ryan" and "The LadyKillers". And of course he also talked about "The Walking Dead" and his co-star Samantha Morton (who plays Alpha). He talked about their first time on set together and says she is nuts. He had a great anecdote about the first day on set, but if you want to know what that was just click the YouTube video below the pictures.
We had a great time at Comic Con Liverpool and it was an absolute pleasure to finally meet the amazing Ryan Hurst. That leaves us with only one thing to say...
"Ladies and gentlemen...we got him!"