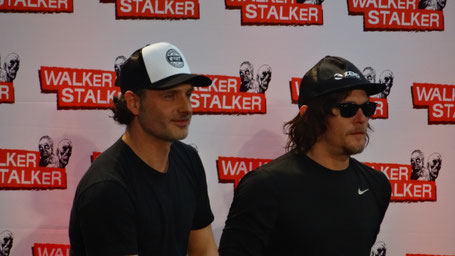 This week our series tip is "The Walking Dead"! It's a very well known series. I think most of you will either have heard of it, or are watching it as well. Last week we already wrote an "In the spotlight" about Norman Reedus. Season 7 of "The Walking Dead" will start on 23 October 2016. That's Monday already! Because of that, we decided to write about "The Walking Dead". It's a horror/ drama/ sci-fi series. The Tv Series is based on the comic books made by Robert Kirkman, Tony Moore and Charlie Adlard. There has been a worldwide zombie apocalypse (even though in the series they're called 'walkers' not 'zombies'). These walkers eat living humans and animals. Whenever a walker bites or scratches a human, they are infected. And they will become a walker as well. The series revolves around the group of Rick Grimes: A sheriff's deputy who wakes up from a coma and discovers the apocalypse.  He starts searching for his wife and child. The whole series is mainly about Rick and the people he meets on the way. They form a group and try to survive. Rick is played by Andrew Lincoln (the left one on the picture) and on the right side of the picture you see Norman Reedus who plays Daryl, someone who is a part of Rick's group. 
How about the actors?
"The Walking Dead" has a lot of actors to mention! It's a horror/ drama series and a lot of people die. So there are many actors! I'll just discuss a few. Otherwise this will become the longest post ever! 
I was lucky enough to already meet some of the actors, because I've attended Walker Stalker Con London ( A convention where mostly guests from "The Walking Dead" are invited). And some I met at other conventions. 
The main role is for Andrew Lincoln, who plays Rick Grimes. Rick has a son named Carl (Chandler Riggs) and a daughter named Judith. His wife is Lori (Sarah Wayne Callies). The series follows him, while trying to survive in this new world. He always travels with a group. The composition changes: People die and they also meet new people who join them. On the other hand there are also the 'enemies', like The Governor (David Morrissey) and now Negan (Jeffrey Dean Morgan). 
Since we've already wrote about quite some actors from the show, you can you read these articles to get a more in depth impression of these actors behind the Walking Dead: 
Chandler Riggs (Carl) 
Sarah Wayne Callies (Lori) 
Michael Cudlitz (Abraham) 
Sonequa Martin-Green (Sacha) 
Melissa McBride (Carol) 
Seth Gilliam (Father Gabriel) 
And we wrote an in the spotlight about Norman Reedus (Daryl). 
Who will like this?
Watch this series if you like zombies! Even though they're not called zombies but walkers, if you love zombies this is a great watch. 
Also, if you enjoy watching horror and don't mind some gore and people being killed/ bitten/ bleeding: This might be a series for you! 
If you only enjoy romantic comedies, I'm not sure you'll like this. Even though it's a horror series with many deaths, many people are a big fan of "The walking dead". I think that's the case because it's surprising (unexpected things happen all the time) and it has some great characters! You'll feel attached to the characters. And there's always suspense. 
You never know if you're favorite character will survive the next episode. 
How many seasons?
Season 7 will start 23 October 2016. 
My opinion
First things first: I'm a HUGE fan of "The Walking Dead". I love watching this series so much! I like a lot of the characters: As well in the group of Rick as the 'villains'. They did excellent casting. I love the suspense in every episode. You just never know what is going too happen. Every time I'm excited to see what's going on, if everyone will survive. I discovered the series quite 'late'. About 4,5 years ago. I watched the first season quickly: i loved it from the very first episode. My favorite characters are Carol and Abraham. I know there's also a lot of criticism on the last seasons. I only had some problems with the last season. All other were great for me. But the last one, I found really disappointing. Ok, if you haven't seen the last season: STOP reading. Spoilers ahead!!!! Okay, only proceed now if you've seen season 6. What I disliked, was the way suspense was built up during multiple episodes. I hated the huge Glenn cliffhanger. I knew from the start he would be fine. And I didn't like the last episode of this season. It was way to predictable. I knew nothing big would happen until the end. And then again this cliffhanger.. They should have let us know! I just missed the big surprises in this season and I'm feeling like some character are 'safe' (won't be killed of), which makes it less unpredictable. 
That was just my feeling when I watched season 6. I still LOVE this series and I'm so excited to watch monday. Who do you think will be Negan's victim? 
Rate
Who's your favorite? What's your favorite series? Have been addicted to a series? What series (or genres) would you like to see in our "Series Tip of the Week"?