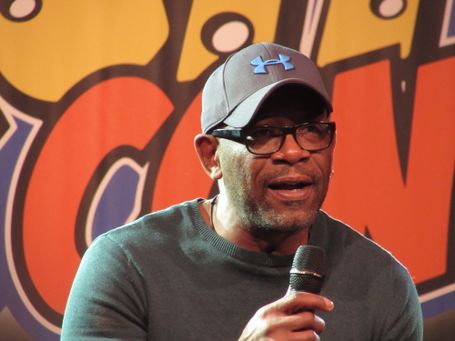 Lennie James has been spoken of a lot. If you're a fan of The Walking Dead, you've probably been cheering when you saw Morgan and Rick reunite. That was a long wanted scene by the fans. However. Not everything is as good as you hope for. It seemed like Morgan had changed. It made the reunion a bit bittersweet. We had all hoped for at least one mini happy ending in the Walking Dead right? But then again, the Walking Dead is still running, so anything can and probably will happen! 
Lennie James plays the role of Morgan in The Walking Dead. In season 1, he and Rick meet. But they part ways. Seasons later, Morgan is back! I was thrilled to see him back in The Walking Dead. But at the same time, I had to get used to his changed personality. It wasn't like we knew Morgan that well in season 1. And since then, I have moments that I really like Morgan. And other moments he just irritates me haha. But in all those cases I have to say: Lennie is excellent. He's an awesome actor. I completely agree. I mean, I am not an agressive person myself and I totally get the whole pacifist thingy he has got going on. But my God you are in the middle of a Zombie Apocalypse and as if the whole Walker problem is not enough; you and your group are being attacked by a raging psychopath and his army. Come on Morgan, pull yourself together and grow a pair (like Father Gabriel)! But yeah Lennie does a great job in portraying Morgan. I also loved his role in Snatch, which is one of my favourite movies.
Lennie at Dutch Comic Con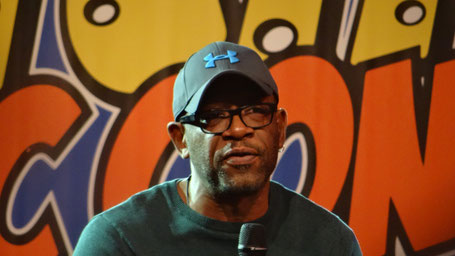 It won't come as a suprise to you when I say that I was thrilled to hear that Dutch Comic Con had invited Lennie James as a guest! I immediately knew that I would love to meet him. But I wasn't sure if I would get a photo or an autograph. Eventuelly I chose to get an autograph. Liv did both. And of course we attended his panel! 
Going to Dutch Comic Con was a huge adventure, I can tell you that. We had car problems and I was glad to arrive in Utrecht. If you want to read all about it, check out the article I wrote about meeting Sean Maguire (Once Upon A Time) and the article I (Liv) wrote about meeting Dirk Benedict. We loved attending Lennie's panel and hearing more about The Walking Dead. But also about other projects that Lennie has been doing. I saw Lennie also played in a series called Burried. I'd love to see it, but I can't find it anywhere! If anyone can tell me if it's possible to buy this series somewhere, let me know in the comments ;). Thanks! Some of you, might also know Lennie for Critical, Save Me, Line of Duty, Hung, The Prisoner, Jericho and way more! Like Snatch, my God Carola...how can you forget Snatch?
Photo and autograph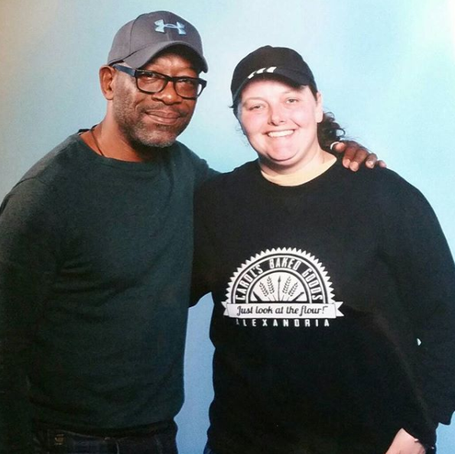 As you can see, Liv did a photo op with Lennie. Great photo isn't it? And we both got an autograph from him. That was great. The queue wasn't too long. So we didn't have to wait for a long time. During queuing we talked a bit with people around us. One woman was queuing for an autograph of Dirk Benedict and she was very excited! She had already done a photo op with him and loved it. If you want to know more about meeting Dirk Benedict, check out the article that Liv wrote about him. Lennie was very nice! We could choose a picture to get signed and get it personalized. I think Liv and I both talked a bit with him and I asked him some thing about the Walking Dead. He was very kind and were both thrilled to have gotten his autograph! 
It was great to meet another cast member of the Walking Dead after meeting  Michael Cudlitz, Chandler Riggs, Melissa McBride, Sarah Wayne Callies, Seth Gilliam and Lew Temple. Plus We have seen the panel of Sonequa Martin-Green and Kenric Green at Walker Stalker Con! 
Let us know in the comments: Which actor of the Walking Dead would you like to meet?