We are at Walker Stalker in London. We're almost in front of the line! I'm really excited to meet Sarah Wayne Callies. We've been waiting for about 30 minutes right now, not that long. This is because of the system that is used for queueing. We got here an hour ago, but the volunteer gave us a ticket to come back at another time. This way they can control the queueing a lot better.  I see Sarah signing a photo and the woman next to her is chatting to the next in line, asking what they want. After that, she doesn't ask us to come upfront. Meanwhile I see a schedule standing, which says that Sarah sould have been on break like 15 minutes ago. I prepare myself to hear that she's going on a break and that we'll have to wait untill she gets back. As Carola points this out to me, all  I can think is: This can not be true! We're in front of the line, suddenly it seems we're going to have to wait:  so close yet so far.
Queuing for the autograph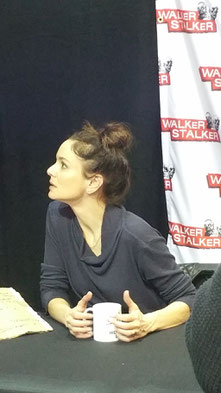 We keep waiting and chatting in the queue. In the meanwhile I keep staring at the volunteers(sorry for scaring you;)). It looks like they are preparing to close the line and I get a little bit panicky. There is no time to wait. So much to see, yet so little time. They're not asking us to come upfront. Dark clouds appear above our heads. Sarah gets up and looks at us with a big smile: "I'm just going to the toilet, I had to much tea". The lady next to Sarah Wayne Callies waves at us, we can come to her and talk about what we want. Dark clouds dissapear and suddenly I can hear birds singing. Liv and I both pick a picture, Liv picks one from "Prison break". Yes I loved Sarah in "Prison Break". To me the first season of "Prison Break" is one of the highlights in the history of television. My choice is one of "The Walking Dead". We decide to get an autograph and photo. 
The lady keeps chatting with us, she tells us that it surprises them that not a lot of people bring something to get signed. Almost everyone picks a photo at the table to be signed. Now they're almost out of photos. We were lucky to still be able to pick one. She also talks to us about Andrew Lincoln. That he rarely attends cons, so we're really lucky that he is at Walker Stalker London. I liked chatting with her, it was nice to hear about her experiences and the con! Very true!Talking to her made me feel pretty relaxed. All the nerves were gone.
Getting an autograph from Sarah Wayne Callies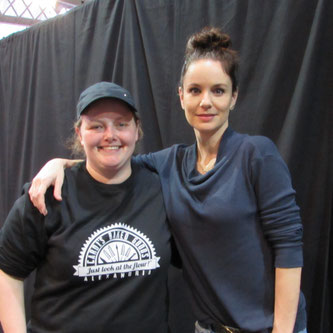 Then, Sarah returns. She smiles again and looks very happy and relaxed. She is very nice to us and takes her time for the photo and the autograph, I felt really at ease (though too nervous ofcourse to ask or say anything about the roles I've seen her in). She could have gone on a break, but she stayed to sign and take pictures and made contact with the people in the queue. She's a really kind and warm person. If you're on a convention, just go and see her! Couldn't agree more. Also the prices for autographs and selfies were more than fair, especially the combo. 
At the airport I read the Empire. There was an article about Sarah's new movie: "The other side of the door". Sarah plays a mother who loses her son. She's looking for a way to say her final farewell.. It's a horror movie I'll definitely want to watch! It is set to be released in March 2016!