(First of all: The next piece is written in a sort of dialogue style. We wrote it together. We being Carola and Liv. The regular font is Carola speaking and the italic text is Liv. Enjoy!)
The story of our photo op for Melissa McBride (Carol Peletier in AMC's "The Walking Dead") ,starts with Steven Yeun (Glenn Rhee in AMC's "The Walking Dead"). No wait actually the story started in a cafe. I was in a cafe for quiz night, when the tickets for the photo ops (For Walker Stalker London) came up for sale. Because I was in the middle of the quiz night, I thought I'd buy the photo ops we wanted afterwards. How naive can you be?I was at home at that moment and since I do not own a creditcard or Paypal-account, I was rendered useless in this situation and all I could do was watch our dreams go up in smoke.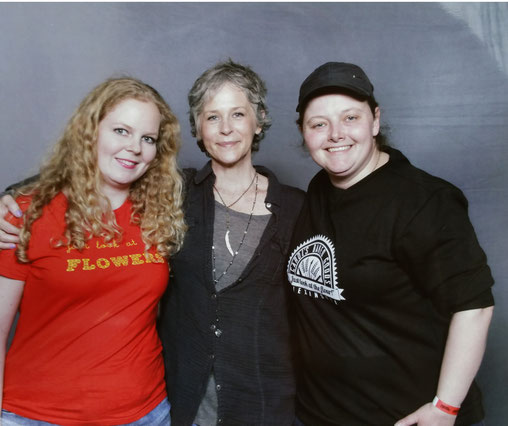 Photo made by photo op Walker Stalker
Getting a ticket to meet Melissa McBride
Of course the tickets for Melissa McBride sold out within an hour or so. And we got a little stressed out , when we saw how quickly other tickets sold out. So after a short deliberation we decided to get a photo op for Steven Yeun. Just in time by the way because within the hour they sold out too.
Carol and Abraham are my favorite characters in the Walking dead, so I was a bit disappointed that we weren't able to buy the ticket for Melissa in time. Yup...Carol is one of my favorite characters too. I think her character development, from a scared and physically abused housewife to the badass she is in the last seasons, is awesome. But well, a photo with Steven Yeun is not bad ;). I know I was over the moon, because I was so happy we managed to get a photo op at all and it was "Glenn's"!. What's not to like about Glenn? He is one of the characters that are in the show from scratch and everybody loves Glenn, right? He is funny, brave and kind to everyone. So no "Carol", but in my opinion we had the next best thing.
But then the day came that Steven had to cancel Walker Stalker London. At that moment it felt like there was nothing left.. Melissa, Norman and many others already sold out.. And now we also didn't get to see Steven. At that moment my face would have made grumpy cat look like a choirboy. All of a sudden we had no photo op at all.
Little did we know, that Walker Stalker had a surprise (Can I get a Hallelujah). There were still some tickets for Melissa and they were going on sale a few days after Steven's cancellation. And, OH YEAH, we were lucky enough to buy a photo ticket. They sold out within minutes! (Imagine a whole choir of grumpy cats singing Handel's Messiah) So thanks Steven, for giving us Melissa. But still.. Hope to meet you some other time ;).
Meeting Melissa McBride
At Walker Stalker, we got in line 30 minutes prior to the time the photo op was scheduled. It was very well organised, short queues for the photo's and everything went quickly. This was because they split up the photo ops in multiple groups, so not everyone had their photo op with Melissa at the same time. We were excited to see Melissa in real person, she was very kind and we loved taking the picture! When we walked out of the photo op-area we got our picture immediately. Again great organisation.
We tried to catch a glimpse of Melissa the rest of the day, which was hard. It was impossible! There was an enormous queue for an autograph and she was sitting upstairs so she was kind of shielded. We hope to see/ hear more of her on another con! Yes it would have been great to catch her in a panel, but there was no panel scheduled, so better luck next time. We will meet again Melissa McBride! ;)