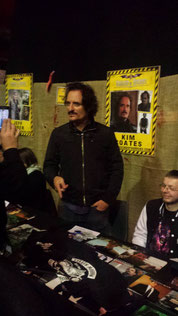 Kim Coates is the first actor we met. In "Gaiazoo started it all" you already read how the convention madness started.(If not shame on you...) Where Gaiazoo was the start of everything, Kim Coates was the one who gave us a (huge) nudge in the right direction. If it wasn't for him, I don't know if we would ever dared to go to a convention again! It was in the times that I was still naive. I had no clue in how conventions worked and what to expect. I went in so open minded. It makes me laugh just to think about it. 
 First of all:  Who is Kim Coates?
Kim was born in Saskatoon, (Saskatchewan, Canada)  on February 21, 1958. He is mostly known for his role of Alexander "Tig" Trager in "Sons of Anarchy. He is also known for his role of Sgt. Tim "Griz" Martin in the award winning Ridley Scott film "Black Hawk Down". (Great movie btw). But besides these roles he played in a lot of movies and tv shows (for example: Prison Break, CSI: Miami, Battlefield Earth, Pearl Harbor, Waterworld,  Resident Evil: Afterlife, The Last Boyscout and Silent Hill). He also worked on Broadway ("A Streetcar Named Desire") and he played the lead role in MacBeth at the legendary Stratford Theatre.
I was so excited to see Kim Coates! I love Sons of Anarchy where he plays the role of Tig. Tig is a greatly developed character. He has so many different sides. Tig is loveable and scary at the same time. Yes Tig is a great character. He is very violent and obviously has some serious psychological problems, but he is also very loveable and very loyal. He also shows sensitivity when it comes to women and animals.  At Weekend of Horrors we ran around like crazy. Staring at the actors, going to a Q&A, go back staring at the actors. Well.. Maybe another Q&A. Lol I guess we must have looked like two weirdos and I would like to take this moment to express my sincere apologies for scaring you. I remember Kim Coates and Robert Lasardo mostly. We were so excited to see them, but at the same time intimidated. They both have this look.. When I got there, I just felt like we would look at all of them.  But not that they would actually notice us too (Yeah, I warned you: Naive!). But when they looked, I tended to run away and scream sorry, sorry and go sit in a corner. Though they both turned out to be extremely nice! 
At weekend of Horrors, you get really close to the actors. Haha yes I remember we walked into the hall scanning the horizon for actors, but what we did not notice is that we were walking past them already. It was a relatively quiet day, so there weren't always people in line for an autograph. But I just felt I could look (stare!) at them and they wouldn't notice me. But of course they did. And I felt like a deer staring in headlights. OMG he SAW me. What do I do. Run away! But I didn't move. Just turned around, thinking 'now I can't turn back around anymore. I look stupid'. (No shit Sherlock, Of course I looked stupid!)
 Again our sincere apologies for this!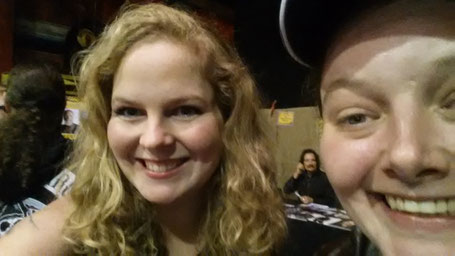 No chance, that I would go for an autograph. No way. Just the thought, of actually having to say something. So we kept a distance and made a million pictures (Still thinking nobody was noticing us).As the day progressed we decided it was enough. Our motto became (and still is): Throw away all the shame. And: Let's do this!! We pushed eachother's adrenaline levels to new heights and walked around like two teenagers at a Justin Bieber concert. Yeah, it resulted in some 'awesome' selfies. Mainly to laugh about afterwards, I love how excited I was. Do you see the tiny Kim in the selfie here?  And do you see how he sees us, lol?
We started making pictures, selfies, even getting a bit closer. And we talked about going one step further.. Would we actually dare to speak to Kim? Yes we were going to! Walking towards him we decided maybe not. This is too awkward. But.. we might never see him again. It would be so cool!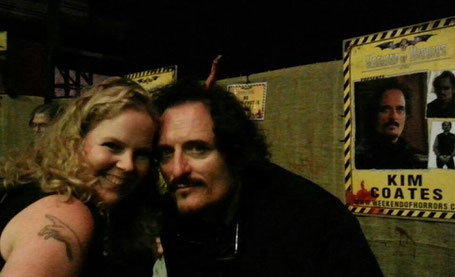 So.. we did it!! (Oh, I'm so proud!). I remember walking towards him (Scared as hell). And he was the nicest guy ever! He gave us a big smile and started a conversation. He was so interested. He asked me questions about Sons of Anarchy, episodes I've seen and scenes he played in. It was a great conversation and while I stood there, I just couldn't believe this was really happening. A few weeks ago I didn't even know that conventions existed, and now I was here talking to KIM COATES!!  And then I got an autograph. I loved it. Liv and I were filming each other during our conversations and were so excited! And Kim immediately said we could take a picture too. He has no idea how happy he made us that day. We were over the moon. It litteraly cost us all our courage just to walk towards him. And it couldn't have gone any better. I'm so glad that Kim was the first I met. He was incredibly kind and couldn't image a better first autograph! Even now we're used to conventions more and go quite often, Kim is still of the nicest actors I've met!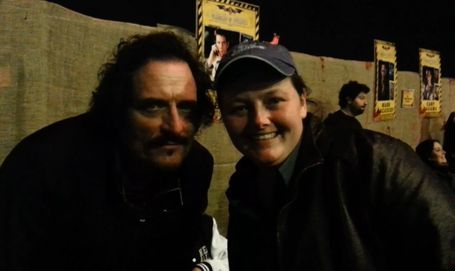 He sure is! He was absolutely fabulous! I picked a picture of Black Hawk Down because I loved that movie and I hadn't seen an episode of SOA yet...actually I was planning to begin watching it for a while, but meeting Kim was the final push I needed. Nowadays it's one of my favourite shows. But back to Kim. I remember I was very nervous when we walked up to him, but they were gone the moment I shook his hand. He made me feel very relaxed and he talked about how he loved my name. Mr. Coates it was a great pleasure to meet you!
We filmed meeting Kim Coates, check out our video: 
Love Sons of Anarchy? We also met David Labrava and Mark Boone Junior. Check out what we thought about meeting them!