Just watching the photo ops of Norman Reedus and Andrew Lincoln vanish in a matter of seconds in the online presale, we knew we had to pull off some Ethan Hunt-like behavior to get close to them (let alone meet them). When we got to the Olympia in London to attend Walker Stalker Con, it seemed like we could add another name to that list: Chandler Riggs. He plays Carl Grimes in AMC's "The Walking Dead". The convention had only just begun and there was a huge queue almost immediately.
In my opinion Carl is one of the strongest characters in "The Walking Dead" (and I guess I am not the only one to think that). Aged only 10 when the show started "Coral" went from a (honestly sometimes quite obnoxious) kid to a strong young man, ready to walk in his father's footsteps. 
Back to Walker Stalker: people kept lining up for an autograph and walking past Chandler's booth you couldn't even see the guy, because he was blocked by dozens of people waiting in line. Since I think it's kind of a waste of time to spend almost the whole convention waiting in a queue, my chances to meet Chandler Riggs seemed to slim every minute (cue the "Mission Impossible"-theme).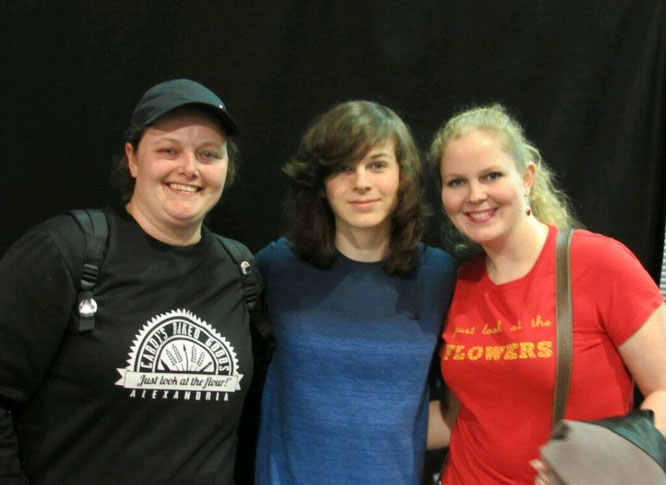 A photo with Chandler Riggs at Walker Stalker Con London
 Seeing that we had some other photo ops and we got a chance to meet Sarah Wayne Callies, we had a great day. It was only 5-10 minutes 'till closing time and we were gradually making our way out, since almost everyone had bailed anyway. But then we walked by Mr. Riggs and he was still going strong. Really the guy ran out of pictures to sign hours ago and as far as I saw was in his booth almost the whole day(where others took long breaks multiple times). Just glad to finally get a glimpse, we stood in front of his booth and thinking it was too late to take this opportunity. At that moment the volunteer (who was very nice btw, something that can not be said about all of them) looked at us and said the magic words: "Come on in, we're still open". We looked at each other  and at our almost empty wallets, when the man said we could be in the picture together ("Mission Impossible"-theme swells).  And there we were, just seconds away from meeting Chandler Riggs. And after all the hours of signing and posing and apparently an upcoming flu, the guy was so nice. He really seemed to take pleasure in meeting his fans. For me this really was the icing on the cake. Again it paid off to stay until the end of a convention. 
I really hope to see Chandler Riggs again on a con and maybe have the chance to catch him in a panel or "q&a".  
Mission accomplished!