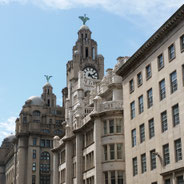 Back again with a new article about Comic Con Liverpool...the fifth already! We have been talking about it for weeks now and you can read the other articles by clicking the tiles below the article. In the last two articles we have been talking about some of the reunions that will take place at Comic Con Liverpool: The "Sabrina the Teenage Witch" Reunion and The "American Pie" Reunion. There are still some reunions to talk about, but you will read about them in upcoming articles. Today we will talk about some other great names on Liverpool's amazing guest list....are you ready? We are! So let's go!
Erika Eleniak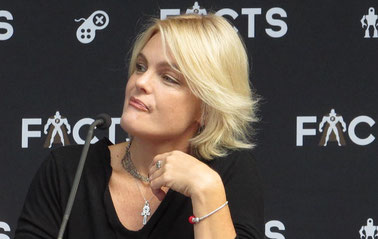 The red bathing suits, the beaches of Malibu, the slow motion running scenes and drums at the beginning. I am of course talking about one of the (if not thé) most watched television series of the 90s: "Baywatch". And this guest was one of the original stars of the show. She played the role of Shauni McClain in the first two seasons of the show, her name is Erika Eleniak and with her Malibu is coming to Liverpool Comic Con.
Erika Maya Eleniak was born in Glendale (Los Angeles) on September 29, 1969. She is the eldest daughter in a family with four girls and one boy. Her Canadian father moved from Canada to Los Angeles and dreamed of becoming an actor. Erika's parents divorced when Erika was still young. Her father moved on to a new relationship with a woman that had a casting agency. This was her way into the acting world and through her father's girlfriend she got some jobs in TV commercials. She also was an extra on some movie and TV shows. When a talent scout (working for Spielberg)  attended a performer's audition showcase, he spotted Erika and she was cast for the role of 'pretty girl' in "E.T.". And there she was, a 10 year old girl walking around on the set of a big production. At that point no one knew that this movie was going to be one of the most influential movies in the history of movie, but it was a Spielberg production so it was all very impressive. And even more exciting was the fact that she would get her first movie kiss from the actor playing Elliot (Henry Thomas, in the classroom scene). You could get nervous for lesser reasons! She later mentioned that the kiss was somewhat traumatic for her. She said she cried in her little trailer before she had to do the scene. Steven Spielberg came into the trailer and talked to her and her mom for 10 minutes. He told her that it was a closed set and that only the people that had to be there would be on set. Luckily all went well and she described Spielberg as a fun big kid, who always made his cast laugh. At that point Erika knew she wanted to become an actress.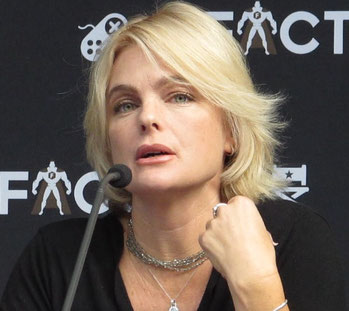 Her mother, however, wanted Erika to have a normal childhood. Because of this she only worked a few jobs during her childhood and adolescence. This gave Erika the chance to graduate from high school. Her first real film role after graduation was in the 1988 horror movie  "The Blob" , which was a remake from the 1958 movie with the same name. She played Vicki De Soto, a girl that falls victim to the Blob. In 1989 (when she was 19 years old) Erika was doing more modelling jobs and in July she appeared in an issue of Playboy. She played the recurring role of Stephanie Curtis in "Charles in Charge". Also in 1989, she landed her breakthrough role as Shauni McClain in "Baywatch" (after not one but 5 or 6 auditions!). The show revolved around the Los Angeles County Lifeguards on the beaches of Malibu. The pilot ("Baywatch: Panic at Malibu Pier") was a TV Movie and the show got picked up for the first season. Although the ratings were OK, the show got cancelled after the first season. But David Hasselhoff believed in the show and put some of his own money in it. Because of this "Baywatch" stayed on television and grew out to be the most watched TV show in the world during the 90s. Later on Erika talked about her time on "Baywatch" as being great, but hard work. The show was taped in January and the beaches would be very cold and windy during that time. There were huge lamps on the beaches, to make it look like it was summertime. During the shoots (in the red bathing suits...BRRR) they would spray the actors with cold water to make it look like they were sweating. You can imagine that the actors were very cold on some occasions. She even said that there were moments that their lips turned blue from the cold and that footage could not be used. Erika played the role of Shauni for 2 seasons and 3 episodes, before she left the show. According to Erika, the show was going through a fantastic transition, but she said she didn't feel like she fit into it anymore...Later on in her career Erika looked back on her time on "Baywatch" and being a Playmate as a great time. She said it opened a lot of doors for her, but it also labelled her in her further career. She said she as perfectly aware of that when she did it, but it also cost her some roles in more serious movies and she always had the feeling she had to go that extra mile to prove herself as a serious actress.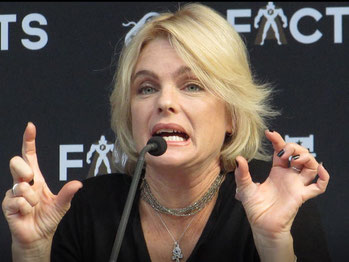 In 1992, Erika returned back to the movies with her role as Jordan Tate in "Under Siege". Fun Fact:  In "Under Siege" Erika plays a Playboy Playmate hired to do a striptease for the captain of the navy ship. They refer to her as Miss July 1989 and as you've read already this was not a lie. Erika was Playmate of that month in real life. About working on "Under Siege" she said that she learned a lot about acting by watching Tommy Lee Jones and Gary Busey. work. She also enjoyed working with Steven Seagal.In 1993 she had a starring role in the family comedy "The Beverly Hillbillies" (as Elly May Clampett). In 1994 Eleniak joined Tom Berenger and William McNamara as the main cast for the movie "Chasers". Erika plays the role of Toni Johnson who has to be escorted to prison by two US Navy SP's. Of course, Toni will try everything to escape. A few years ago, Erika was a guest at FACTS in Ghent and during her Q&A she talked about her time on set. She mentioned that the movie was filmed late Spring and early Summer. It was terribly hot and most of the movie is set in a van. She said it must have been 110 degrees (43 °C) with a 110 % humidity. You can watch her talk about it in the video below.
 In 1995, she worked with William McNamara again in the movie "Girl in the Cadillac". Another movie Erika appeared in this year is the romantic comedy "A Pyromaniac's Love Story". Besides this she also played an identical twin in the interactive game "Panic in the Park". In the decades that followed, Erika played in a lot of independent movies. She says she loved playing the amazing roles she had in these indie movies. In 2001 (while she was filming the movie "Snowbound") in Calgary (Canada), she fell in love with the city and Roch Daigle (a key grip on the set of the movie). She bought a house in Calgary and she and Roche had a daughter together in 2006. Eventually they split up... Erika and her daughter moved back to Los Angeles. A In her 40 years on the job Erika has played in a lot of movies and series. Check out her IMDb page for more about that. Besides acting, Erika has another 'job' as a therapist. She used acting as a therapy for young people that lost their way and became addicted to drugs. She had another project named "Ride it Out", a TV program that had kids with psychological problems work with horses.
Erika Eleniak will be appearing at Comic Con Liverpool on Saturday and Sunday.
Autograph: £31,50 (€37)
Photo Op: £31,50 (€37)
Ryan Hurst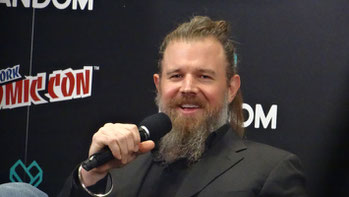 You may know him as Opie...you may know him as Beta, but his name is Ryan Hurst and he is coming to Liverpool!!! Now we have to say that we think there is a curse on us meeting Ryan, because it just always seems to go wrong. There were a few times that Ryan has been announced at a con, but he had to cancel or we could not go. But last year we were at Comic Con Los Angeles and we were there! We would be there on Saturday and Sunday and so would Ryan. We already had a lot of photo ops for the Saturday, so we decided to do Ryan's on Sunday. We did see him once when we passed by his autograph booth on Saturday and we simply could not wait to finally meet him on Sunday. But Sunday morning we got the message: Ryan had cancelled his appearance on Sunday! We were absolutely gutted. Carola did attend his panel once at Comic Con New York, but it was so crowded over there that she did not get the chance to meet him. You can imagine that we are checkingour phones multiple times a day, checking if Ryan is still announced as a guest.Hopefully we will get the chance to finally meet this amazing actor in a few weeks....But enough about our drama, back to Ryan Hurst.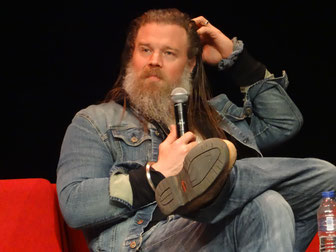 Ryan Douglas Hurst was born on the 19th of June 1976 in Santa Monica California as the son of Candace (an acting coach) and Rick Hurst (an actor). His father is best known for his role as Cletus in "The Dukes of Hazzard" (1980-1983). Since he grew up in a Hollywood family, it's not that strange that Ryan became an actor. There is not much to find about his childhood and eraly life, other than the fact that he attended Santa Monica High School. In 1993 (he was 17 at the time) he made his screen debut on the TV show "Saved by the Bell: The New Class".. He played the role of Crunch Grabowski on two episodes of the show. Over the next two years he played a small role as a student actor in an episode of the 4th season of "Beverly Hills 90210" (1994). In 1995 he played Dirk Grover in an episode of "JAG". Also in 1995 he took on a bigger role in the TV series "Campus Cops". He says he was broke at the time, so he really needed the job. It was his first bigger role in a series. At the time he had long hair and a goatee. He got cast and the show got picked up. When he showed up on the first day, the casting director took out a pair of scissors to take off his beard and long hair.At that point (and remember that he was broke) Ryan told the man that if he touched the beard, he would quit. After he made his point clear to the executive producers, Ryan could keep his long hair and beard and it was that beard that became iconic later on in his career. In 1998, he got a taste of the big work when he landed the role of Paratrooper Michaelson in the epic movie "Saving Private Ryan". This was also the first time he got to work with Tom Hanks and Ryan says that Hanks had a positive impact on his life. He says that in the beginning he had a lot of problems getting used to being recognized. He is pretty introvert and was put off by people just approaching him without asking. But then he saw how Tom approached every fan with patience and kindness. That had a big impact on how he turned out to be with fans.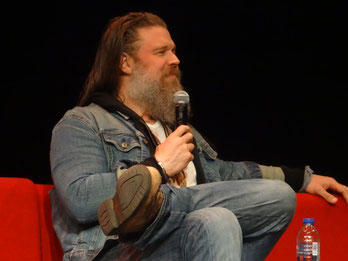 In 2000, Ryan shared the screen with another big star in  "Remember the Titans". The movie stars Denzel Washington and tells the true story of African American football coach who is appointed to lead a team at a integrated school.He gets to deal with a lot of racial tension within his team. Hurst plays the role of linebacker Gerry Bertier. In 2002 Ryan plays a soldier again in the war drama "We Were Soldiers", starring Mel Gibson. Chris Klein, who will also be a guest at Comic Con Liverpool also plays a role in this movie. In the years that follow, Ryan more and more becomes a household name in Hollywood and he plays roles in movies and TV shows, like: "Lone Star State of Mind" (2002, as Tinker) and "Taken" (2002, 5 episodes, as adult Tom Clarke). In 2004, he returns to a role as a football player and a new collaboration with Tom Hanks in "The Ladykillers". In 2005 he takes on another role in a TV series. In "Wanted" he plays the role of ATF agent Jimmy McGloin in 13 episodes. Hurst gained recognition playing Michael Benoit in 3 episodes of "Medium" from 2005 until 2007. In 2008 Ryan get his big break, when he gets cast as Harry 'Opie' Winston in "Sons of Anarchy" and he quickly grows out to be the fan favorite of the show. Originally Opie was written as a recurring character, but because of his popularity, he was turned into a main character and Jax' best friend. Hurst played the role of Opie for 5 seasons, in a total 54 episodes. But why was Opie such a fan favorite? Well this mostly because of the fact that Opie is one of the few SAMCRO members with a heart. He is loyal to his friend Jax (played by Charlie Hunnam). When he left the show, a video of his costars Mark Boone Jr. and Charlie Hunnam hit the internet. In the video they say goodbye to Ryan (and his character Opie)  by cutting of his beard with a samurai sword. This is part of the old Bushido Samurai Code, when a warrior lays down his sword there is a ceremony. During this ceremony everyone that contributed to the warrior's career gets to tip off a piece of his topknot or beard. The cast of "Sons of Anarchy" felt like family and this was their way to say goodbye to a friend.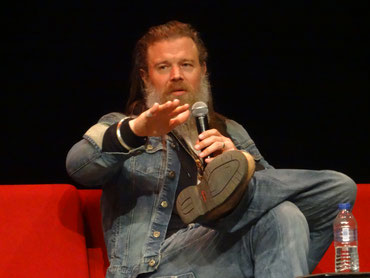 After his impressive performance in "Sons of Anarchy" Ryan had really made a name for himself and was offered a steady stream of jobs. He played the role of Edgar Roy in 10 episodes of the crime show "King & Maxwell" (2013). Also in 2013 he played the role of Mad Mountain in "CBGB", a movie about the New York punk rock scene in the well known club with the same name. In the years following he played in two TV shows: in "Bates Motel" he played the role of Chick Hogan in 15 episodes (2015-2017) of the show (that serves as a contemporary prequel to the movie "Psycho"). He also played the role of "Lil Foster" Farell in "Outsiders" for 26 episodes (2016-2017). The show revolves around the interactions between a clan of mountain folk (the Farrell clan) and the locals of a nearby town. Ryan himself described the show as a mix between "Little House on the Prairie" and "Mad Max". Currently Hurst is playing the role of Alpha's right hand Beta in "The Walking Dead". He has been playing this role since the 9th season in 2019 and he is still going strong! And he still has his characteristic beard and long hair. I for one thought that he grew it for the role of Opie and he liked it so much that he kept it, but there is more to that story. Besides being an actor, Ryan is also a Yoga instructor and a follower of the religion called Sikhism (which is one of the largest religions in the world). One of the principles of the religion is to never cut your hair and beard. The chin and the top of the head are energy centers and two of the most emotional spots of the body. According to the Sikhs, women are emotionally stronger, so they don't need the protection. But men do. Ryan says that he does feel stronger and more protected with his beard.He also says that the Sikh men with a beard often wear a hat to protect their head. He says the iconic beanie that Opie wore in "Sons of Anarchy" was his own beanie. He has had that beanie for more than 20 years.
Ryan Hurst will be appearing at Comic Con Liverpool on Friday, Saturday and Sunday.
Autograph: Available on the signing table - cash only
Photo Op: £62 (€75)
James Cosmo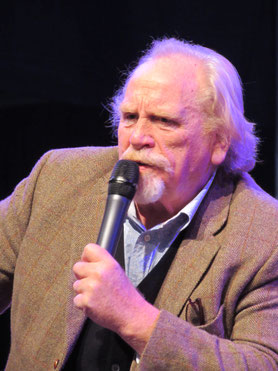 He played Jeor Mormont, the Lord Commander of the Night Watch in "Game of Thrones" and he is one of the nicest actors I've ever met...I am talking about James Cosmo. This Scottish actor was not only in "Game of Thrones", but he also played in a lot of my favorite movies and series. I've already mentioned his role as Jeor Mormont in "Game of Thrones", but what to think about: Mr. Renton in "Trainspotting" , Campbell in "Braveheart" and Father Kellan Ashby in "Sons of Anarchy". But there is a lot more to Mr. James Cosmo and we will tell you some more about him now...
James Copeland (Cosmo is his stage name) was born on May 24th, 1948 in Dumbarton (Scotland). He is the son of Scottish actor James Copeland and his wife Helen Copeland. He has a sister named Laura. Being the son of an actor, James grew up with actors around him. As a little boy James played cricket with Sean Connery when his dad was hanging out in the pub with his friend Peter O'Toole James says he was often found on movie sets and that was a great introduction to the business. James attended Hartfield primary school in Dumbarton. When he was 15 years old, James left school and went to work in a ship-breakers' yard in Dalmuir (northwest of Glasgow). This was hard work and James decided he wanted to try his luck as an actor. In 1966 (at the age of 18) he played the role of Charlie Mine in the TV mini series "Ransom for a Pretty Girl". He landed a role in the TV series  "Dr. Finlay's Casebook" (in which his father was starring). James' first movie role was Jamie in "The Battle of Britain" (1969). During the decades that followed he played a lot of roles in TV series and movies. For example: "The Virgin Soldiers" (as Waller, 1969), "Warship" (as Fuller, 20 episodes, 1973-1976), "George & Mildred" (as Keith, 1977), "The MacKenzie Affair" (as James MacKenzie, 5 episodes, 1977), "Dick Barton: Special Agent" (as Jock Anderson, 29 episodes, 1979), "Thundercloud" (as CPO Hawkins, 13 episodes, 1979), "King's Royal" (as Colin Lindsay, 4 episodes, 1982), "Highlander" (as Angus MacLeod, 1986), "Running Scared" (as DI McNeil, 6 episodes, 1986), "The Nightwatch" (as James Smithson, 1989), "Treasure Island" (as Redruth, 1990) and "Heartbeat" (as Matthew Chapman, 1992). During the mid 90s James was going through a very bad period as an actor and then something happened that would change his career for the good. One evening the phone rang at the Cosmo house. James did not want to talk to anyone. So Annie (his partner) picked up the phone.  
Although, James had said he did not want to talk to anyone, she handed him the phone anyways, because she knew he would want to take this call...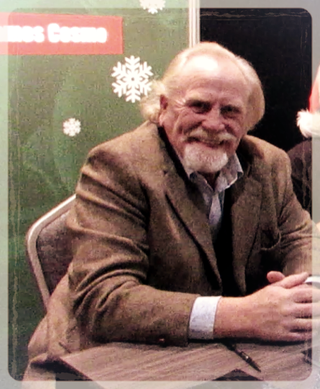 Why? Well...it was Mel Gibson on the on the other end and he had an offer James could not refuse. Gibson was working on a little movie called "Braveheart" (1995) and he offered James the role of Campbell. The movie won 5 Academy Awards (including the one for Best Picture). His role in the movie gave James' career the reboot it needed and the job offers started pouring in. In 1996 he played the role of Renton's dad in Danny Boyle's "Trainspotting, one of the most iconic movies of the nineties (and he reprised this role in the 2017 sequel "T2 Trainspotting"). During the following years he had a steady stream of income, playing in numerous movies and TV Shows.In 2000 he married his long term girlfriend in Hawaii. In 2004, he played alongside Orlando Bloom and Brad Pitt, in the blockbuster "Troy" (he played the role of Glaucus). Because of his imposing stature, James had been playing a lot of warriors and war veterans, but in 2005 he took on a whole other role in "The Chronicles of Narnia: The Lion, The Witch and The Wardrobe". He played the role of Father Christmas...but it wasn't the first and not the last time James was Santa. In 1997 he played Santa in the short film "Santa Claws" and in 2010 he played (Saint) Nick in the TV movie "The Santa Incident".
Also in 2010 he took on the role of Father Kellan Ashby in the third season of "Sons of Anarchy"(8 episodes). Around this time, he landed another iconic role in his career, when it was announced that he would be playing Jeor Mormont in HBO's "Game of Thrones". And even before the show started it already had an enormous fan base, because it was based on the popular books of the series  "A Song of Ice and Fire" by George R.R. Martin. In fact, it was Martin himself who announced that James would be playing Jeor on his website and he also mentioned that James nailed his audition and that he blew away some very good contenders. When Cosmo first walked onto the set of The Wall, he was blown away by how big it was. he said that it felt like you walked on the set of a big budget movie. He played the role for 3 seasons. In the years that followed up until now James kept on doing what he loves most: acting. At the time of writing there are 211 credits to his name on his IMDb page and he is still going strong! Fun Fact: James and his wife Annie have two sons called Findlay and Ethan. Another Fun Fact: He finished 4th in the 2017 edition of Celebrity Big Brother!
James Cosmo will be appearing at Comic Con Liverpool on Saturday and Sunday.
Autograph: £ 21 (€25)
Photograph: £ 21 (€25)
Lori Petty
"There's no crying in baseball!"...an iconic line by Tom hanks in the 1992 movie "A League of Their Own", which can be seen as one of the most memorable sport movies of all time. It is a fictionalized story of the real All American Girls Professional Baseball League, which was called to life during World War II, when most of the male players were out fighting in the war. The story centers on the Rockford Peaches and especially on Dottie Hinson (Geena Davis)  and her younger sister Kit Keller, played by Lori Petty. Well, Comic Con Liverpool hits the ball out of the park, because Lori Petty will be a guest in a few weeks. Of course she is also known for her role in "Orange is the New Black", "Point Break", "Tank Girl" and a lot more. Let us tell you all about this versatile actress/director.
Lori Lee Petty was born in Chattanooga (Tennessee)  on October 14, 1963. She is the oldest of three children (as she has two younger sisters). Her  father was a Pentecostal Minister with an average wage and he traveled around the USA to preach his gospel. Lori and her sisters often went with their father on these missionary trips. But her childhood was not that great. In 2008 she co-wrote and directed the movie "The Poker House", which is dramatized autobiography of her life (more about that later). Her parents divorced, because her father used to beat her mother, her and her sisters. After this Lori's mother became addicted to drugs and alcohol and neglected her daughters. This drug abuse led to Lori's mother resorting to prostitution to pay the bills. As a young teen, Lori was sexually abused by someone she trusted. When she was 18 years old (1981) she graduated from North High School in Sioux City (Iowa). At this school she was the first ever female editor of the school's newspaper. Because of the financial problems her family was in, Lori did not go to college. Instead she took on all kinds of jobs to make ends meet and pay the bills. She worked as a graphic designer in Omaha (Nebraska) for a while. At one point she was sick of this job and she suddenly felt a desire to pursue acting.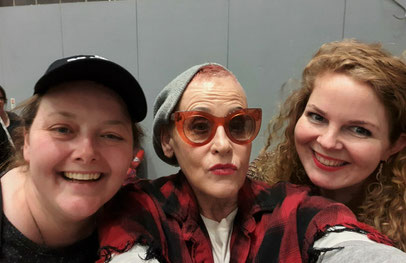 Lori moved to New York and in between auditions and acting classes, she worked as a waitress. She did not have a home, instead she slept on friends' couches, the YMCA and sometimes even in Central Park. While she was in New York she applied for a lot of Broadway auditions and advertisements but none of them were very successful. Eventually she moved to Los Angeles to try her luck there and started auditioning more frequently. After years of struggle, she finally got some minor roles in TV shows like: "The Equalizer" (1985) ,"The Twilight Zone" (1986) and "Stingray" (1987). In the years that followed she was seen in a string of bigger TV roles in both TV series and TV movies, like: "Bates Motel" (as Willie, 1987), "The Line" (as Jo Lanier, 1987), "Miami Vice" (as Carol,1 episode, 1988) and "The Thorns" (as Cricket, 12 episodes, 1988). In 1988, Lori also starred in the short film "...They Haven't Seen This...". She began drawing attention when she landed the role of Suzanne Dunne (10 episodes) in the short lived TV series "Booker", starring Richard Grieco. In 1990 she made her film debut as Lila in the comedy "Cadillac Man", starring Robin Williams and Tim Robbins". Her real break came when she got the role Keanu Reeves' love interest Tyler in the 1991 movie "Point Break". The story revolves around Johnny Utah (Keanu Reeves), a young FBI agent. When he gets a job at the FBI's robbery unit in Los Angeles, he gets teamed up with FBI veteran Pappas (Gary Busey), who at first is not very happy with this. Pappas has been chasing a team of bank robbers that call themselves the Ex-Presidents (because of the masks they are wearing) that only rob banks for a few months in the summer. He has been on this case for years now and frankly he has given up hope. Johnny is young and eager to break a big case and this fire ignites a little spark of hope in Pappas. He thinks the bank robbers are surfers, so Johnny goes undercover as a surfer to gain information. Then Johnny meets Tyler (Lori Petty) and through her he gets involved with a group of surfers led by the spiritual daredevil Bodhi (Patrick Swayze). The movie was a success and Lori was a big part of it. A year later in 1992, she played the role of Kit Keller in the successful sports drama "A League of Their Own", which paved the way for stardom and even bigger roles, like her role in "Free Willy". In this 1993 family movie about a killer whale named Willy, Lori plays the role of Rae, Willy's trainer. Also in 1993, Lori starred alongside Janet Jackson, Tupac Shakur and Regina King in the movie "Poetic Justice". In 1994, Lori proved just how versatile
she is as an actress, when she plays the female recruit Christine Johnson in the comedy "In The Army Now". In this iconic role she shows a great talent for comedy, with an impeccable comic timing. In 1995 she plays the leading lady and titular role in the science fiction action comedy "Tank Girl". The movie was based on the British comic book series. It is set in Australia in 2033 after a meteor hit the Earth in 2022. This impact left the world in a drought. A big company controls most of the still remaining water resources, except for one water well that is protected by the anti hero Tank Girl. Although the movie was financially unsuccessful, it grew out to be a cult classic and still has a big cult following. It also was noted for its feminist theme. But at the time the movie did not get good  reviews. In 1996 she created her own dream job, when she teamed up with her good friend Karyn Parsons (Hillary from "The Fresh Prince of Bell Air", who will also be at Comic Con Liverpool). She wrote, produced and co-starred in her own TV show called "Lush Life" on FOX.  Lori decided to take a break from the big Hollywood productions. The series was seen as too unconventional for national TV and FOX pulled the plug out of it halfway through the first season. Petty was one of the last ones to find out about it. She showed up at the set and wondered where everyone was and why people were dismantling the set. The security gurad told er that the show was cancelled and that she had to move her car out of the parking place. At this point in her career, Petty decided to take a break from the big Hollywood productions and she was tired of being in the spotlights. But she didn't stop doing what she loved (acting), she just became more selective in choosing her jobs. She starred in more indie movies, that remained unknown for the mainstream audiences. Some examples are: "Clubland" (1999), "MacArthur Park" (2001), "Prey for Rock and Roll" (2003) and many more. In 2008 she made a big comeback wit another milestone in her career, when she was the script writer and director for the movie "The Poker House" which was based on her childhood years. The movie was a big critical success and it introduced the world to Jennifer Lawrence". In the 12 years since then, Lori remained very much active in the business and we surely haven't seen the last of her yet. She truly is a jack of all trades and this amazing woman is coming to Liverpool for you to meet her! Oh and by the way... Lori played the role of Lolly Whitehill in 17 episode of "Orange is The New Black", which is considered as some of her best work.
Lori Petty will be appearing at Comic Con Liverpool on Saturday and Sunday.
Autograph: £31,50 (€37)
Photo Op: £31,50 (€37)
Steve Guttenberg
"Police Academy", "Three Men and a Baby", "Short Circuit". These are just some examples of the movies this guy starred in. He was one of the biggest names in the 80s and early 90s. When I think of him, I can hear Lieutenant Harris scream 'Mahoney!'. I am of course talking about the one and only Steve Guttenberg and yes he will be in Liverpool!
Steven Robert Guttenberg was born on August 24 1958 in Brooklyn, New York. He's the son of Stanley (an electrical engineer) and Ann Iris (a surgical assistant)  Guttenberg. He has two sisters. The family moved to Queens, before eventually moving to North Massapequa. He went to Plainedge High School and during his time here, he attended a summer program  studying dance, drama and music at the Juilliard School in New York City. Through this he won a role in the off Broadway production of "The Lion in Winter". In 1976 (at the age of 18) he graduated from High School and continued his studies at the State University of New York. Steve wanted to pursue an acting career and to succeed he moved to Los Angeles. Once he was there he snuck onto the Paramount Studios Lot and he set up an office in an empty building. He says he just started to stake out the lot and at that time there were no cell phones or computers. There was just a security guard with a telephone. He started punching a blank card at the time punching machine. When he was on the lot he found an old Lucille Ball make up building which was empty and decided to set up office there. He went over to the props department and told them he needed chairs, a desk and tables for "Happy Days". The guy at the props department started asking questions and Steve bluffed his way through this by telling the guy to call Garry Marshal (the producer). The props guy caved and gave him the furniture. From his 'own' office he started making phone calls to agents and producers. Within a few weeks he made his television debut opposite Colonel Sanders in a commercial for Kentucky Fried Chicken. He began landing auditions and made some minor appearances in TV movies and TV shows. His first screen credit was his role in the TV movie "Something for Joey" (1977).Also in 1977 he played a starring role as David Kessler in the high school comedy "The Chicken Chronicles", which is set on a Beverly Hills High School in 1969. 
His first big role was the one of Barry Kohler in the 1978 movie "The Boys From Brazil", starring Laurence Oliver and Gregory Peck (just to name a few). The movie is based on the Ira Levin bestseller with the same name. Steve's character Barry Kohler discovers that there is a secret organisation of Third Reich criminals holding meetings in Paraguay. What is even more disturbing is that the notorious Auschwitz doctor Joseph Mengele (Gregory Peck) is among them. He calls famous Nazi hunter Lieberman (Laurence Oliver) to help him. At first Lieberman does not believe Kohler. But then something happens that opens Lieberman's eyes and he discovers their gruesome plans. When Steve was asked how it was working with these big names he remembers one particular diner Olivier, Mason, Peck and Shaffner (the director). While the big names were discussing the script, Steve decided to mingle in the conversation. He asked the director about a monologue that Olivier had into movie and uttered his concern that the point would not come across. The director answered: "Young man...the greatest living actor in the world is saying those words. The point will come across". Steve says he did not open his mouth again through the rest of diner. Over the following years, Guttenberg gained recognition appearing in movies and TV series, like: "Billy" (1979), "Players" (1979", "Can't Stop The Music" (1980), "Miracle on Ice" (1981), the critically acclaimed movie classic "Diner" (1982) and "The Man Who Wasn't There" (1983). In 1984 he had his big break with the role of Carey Mahoney in the immensely successful movie "Police Academy", which would grow out to be one of the best earning franchises in movie history.
Following this, Guttenberg rose to fame reprising this role in the 1985 sequel "Police Academy 2: Their First Assignment" and his role as Jack Bonner in Ron Howard's "Cocoon" (which was another big success at the box office). Also in 1985 he had the starring role in the comedy "Bad Medicine". In 1986, Guttenberg returned to the character that was his breakthrough for the third installment of "Police Academy", called "Police Academy 3: Back in Training". He also returned to the science fiction genre with his role as Newton Crosby in the groundbreaking AI comedy "Short Circuit". In this movie Guttenberg plays alongside Ally Sheedy. The story revolves around number 5, an experimental military robot that is developed by Crosby. When 5 gets hit by lightning he short-circuits and develops a mind of his own. Guttenberg also stars in the thriller "Bedroom Window" with Isabelle Huppert. In 1987, he returns to Mahoney one more time for his last "Police Academy movie: "Police Academy 4: Citizens on Patrol". The franchise went on with three more movies, without Guttenberg", but the last movies could not live up to the standards of its 4 predecessors. In 1987, Guttenberg joined two other big stars of the 80s (Ted Danson and Tom Selleck) for the Disney movie "Three Men and a Baby". The film was directed by Leonard Nimoy, who is mostly known for his role as Spock in the "Star Trek" franchise. The movie was a big success and got a sequel in 1990, called "Three Men and a Little Lady" (also a big success). The story revolves around three single roommates and friends, living in New York. They live a carefree life, until one of them finds a baby on their doorstep. This will change their lives forever. 1990 turned out to be the year of sequels for Steve, for it was also the year that "Cocoon: The Return" hit the screens, but this turned out to be a bit of a disappointment. In the decades that followed he kept on acting, but he slowly disappeared from the spotlights and fell off the A List. Nevertheless, Steve has had an amazing career, with 102 acting credits on his name up to now. And he is still going strong. He also broadened his work field and took up writing, producing and directing. You could call Steve an allround businessman, but he is also a big philanthropic. He is very involved in charities that work with and try to improve the opportunities of homeless and young  people. He also founded the Guttenhouse Project, which houses foster children. 
Steve Guttenberg will be appearing at Comic Con Liverpool on Saturday and Sunday.
Autograph: £41,50 (€50)
Photo Op: £41,50 (€50)
Tickets for Comic Con Liverpool can be bought on their website. See you soon with yet another article, because the list goes on and on! Check out our other articles in this series by clicking the buttons below.