I was excited to hear that Weekend of Hell invited IronE Singleton as a guest! I know him as T-Dog from "The Walking Dead" and I loved his role that series. A couples of years ago, we saw IronE at a con in Oberhausen. At that con, we didn't get an autograph or photo (I know... WHY???). But what I mainly remember, was that he was so energetic & enthusiastic. He was never sitting behind the table. Always in front of it, hugging fans & talking with them. Remembering that, I was glad to get a second chance at Weekend of Hell! I was wondering that as well, why didn't we get an autograph or photo back then??? We were both very enthusiastic about him coming and thought he was great in his panels and at his table. But Weekend of Hell gave us a second chance this year and we were sure we wanted to grab that chance with both hands.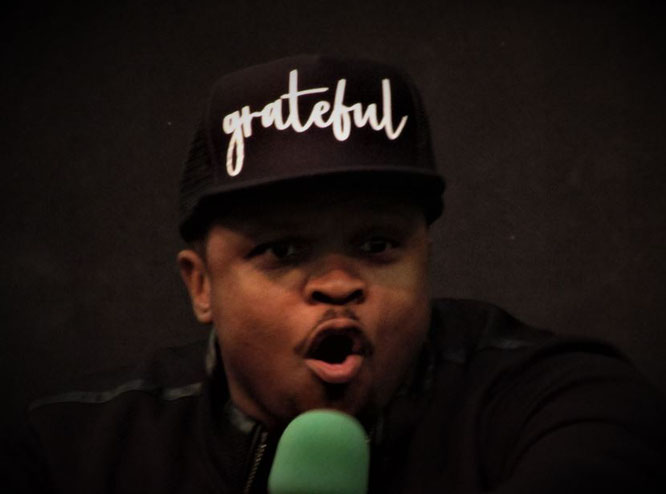 IronE Singleton at Weekend of Hell
We were over the moon! Liv & I walked around at Weekend of Hell and we soon noticed that IronE Singleton was still the same as a few years ago. Happy & energetic as ever! We knew we couldn't miss the chance this time and we really wanted to talk to him, but first we explored Weekend of Hell a little bit more. (Read: Walk by the star guests a million times). Ha Ha, exactly...after our short panick attack about Alan van Sprang, we had to make sure that all the guests were there to stay, lol. But yeah, we soon noticed that IronE hadn't changed one bit. I never saw him sit once. He was constantly talking to people and hugging, he did a lot of hugging.
IronE Singleton did a panel on both days at WoH. It was a 'Walking Dead' panel together with co-stars Chad L. Coleman (Tyreese) and Brighton Sharbino (Lizzie). Of course we attended the panel. It was wonderful to see all three of them on stage, they were having so much fun! Irone was positive and friendly as always, Chad was psyched and Brighton was very enthusiastic. I loved the panel. They also took a moment to remember Scott Wilson, which was beautiful. IronE also talked about his book ("Blindsided by The Walking Dead") and about how he struggled to get away from a life of drugs and violence. He grew up in a low income housing project and he spent quite some time on the streets of Atlanta. His mother was an addict and she died from the complications of HIV/AIDS. His father was absent and he saw his brother spend most of his young life in the prison system. IronE Singleton, however, swore to overcome this and make something of his life. This story is told in his book. Besides an actor and a writer, IronE Singleton is also a musician and during his panel he sang a little bit of his single "We are the Walking Dead" ...
Are you curious to see the panel? Watch the video below! 
Photo time!
Liv and I were already 'pushing' each other to do 'something' on Saturday already (as always). We decided to get a picture with IronE Singleton at his booth. We walked over to the guest area and went to his booth. There were people standing in line to meet him, so we walked by and just went for a coffee (because when in doubt, get a coffee). We always want to go to actors, but usually when it's too busy (or when there's no one at all, or just basically always) we get scared (okay, okay, I chicken out more often than Liv). Ahhh that's so true, I usually get to a point, where I just don't think anymore and just do! Mostly, because of an enormous amount of caffeine in my system. But anyway, we didn't go and went for a coffee. (Don't judge, the coffee was amazing!! ;) ). 
But, never give up! You know us right? We don't give up and we always try to feel like a winner! We walked around until the moment was right. At that point we went over there, and actually got the picture with IronE Singleton. Oh yeah, we did! And he was amazing. We talked to him, got a big hug and had a chat. He truly is wonderful to his fans and really cares about everyone. It was great to meet him. And if you're scaredy-cats like us (me), I can reassure you: Just go over to him if you see him at a comic con. He's really great!  IronE SIngleton has so much energy and positivism, your nervousness will go away! Want to see our pictures? Check it out below!  
Sunday - Meeting Irone Singleton again
We were lucky enough to be at Weekend of Hell for two days! On the second day, we had few photo ops and walked around a lot! Liv saw a little bit of the Walking Dead panel again.  At the end of the day, we were making our usual rounds. We always end our convention weekends with a round or 100 around the actors alley hahahaha. And this weekend, was no different! When we were walking around again, IronE Singleton pointed at us and started talking. Of course we walked towards him and we had a chat again about the con and we also told him about our website. It was so fun to talk to him again and I think it's great that he's reaching out to people pro actively. Couldn't agree more, the man is fantastic with his fans. He really makes you feel at ease. We talked about how we loved that he was always in front of his booth and he said he just wants to really connect with people and that is more difficult with a booth in between. He also said that it's much easier to hug people when he is in front of his booth and then he gave us both a big hug. It was absolutely great to meet him at Weekend of Hell and it would be great to see IronE Singleton at another con some time!  Oh yeah and IronE, you said we should tag you when the article came online and that you would read it. So if you are actually reading this: Thank you for being so incredibly nice, you rock!. Keep up the good vibes and hopefully till next time!