2018 was a year full of highlights, excitement and adventure. We've attended so many comic cons, done many great interviews. And above all we had SO MUCH fun! We definitely also loved meeting some of you at conventions. Hopefully we'll see each other again next year! 
For now, let's look back at 2018 for a moment. A year to never forget.. 
It's hot and it's cold...
I remember doing the weekly vlogs last winter, and I kept complaining that it TERRIBLY cold. And it snowed AGAIN. (Spoiler alert: I'm not a winter person!). When Liv and I went to Ahoy comic con, it was COLD. The weather was so bad, lots of flights were cancelled and with that, a lot of actors had to cancel their appearance as well. I can handle winter until right after the holidays. Then I'm done and ready for summer. And I won't stop complaining about the weather, until it gets warm enough to go outside without a jacket. Oh yes, I so agree with that! The most wonderful day of the year is: the first day you can walk outside without a jacket. I mean, unlike Carola I actually like it when it snows. I love walking around in the snow, but after January it's done...I've had enough of it and welcome Spring with open arms. Unfortunately for me, I can't control the weather and when we made our way to Comic Con Ahoy (in March!) it was so very cold. I had to leave for the train station at 5.45 a.m. and the bike paths were not sprinkled, so getting to the station required some Level A acrobatics. At that point and at that time of day, I was so done with the cold and the winter. We both were and we could not imagine that it would ever be warm again...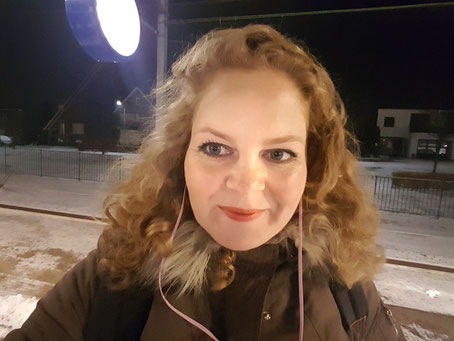 After the winter, things turned around. And it got warm! Like really, really warm. The top of the heat was during Wolfcon. On Friday, we went to the Park Plaza Hotel for registration. After that, we headed to Amsterdam city centre for the interviews with Ryan, Andrew and Max. At that moment, we took the tram to Amsterdam. A tram without air conditioning. And it was like 39 degrees celcius. Waterfalls were pouring out of my forehead. It was so warm. We had a tram ride on the Friday of Wolfcon and that really was the hottest day of the Summer. I really thought I was going to melt. Sweat was pouring out of me, even my legs were sweating. It was what Mordor must have felt like for poor Frodo and Sam. But really, I prefer that to snow! So it was a year of warmth and coldness. And since it has already snowed this winter again, I expect nothing less than a warm summer again for 2019 ;). 
Be afraid... be VERY afraid
With a busy con life, comes a bit of worrying, being afraid and insecure! The more you like the guest that's been announced, the bigger the worry that he or she will cancelled. And 2018, was a pretty terrifying year for us both!  We had a panic attack because of Alan van Sprang at Weekend of Hell.  Somehow, I was too afraid to talk to Rutger Hauer. And at Ahoy comic con all are fears became reality when lots of the guests had to cancel because of the weather. At Wolfcon, there were fearful moments. The flight of Adelaide Kane was cancelled and she had to move heaven and earth to come to Amsterdam. I was also afraid to meet Lochlyn Munro this Spring, because Liv wasn't there to push me. Luckily, Lochlyn turned out to be very nice! Oh and the "where is Gillies?" moments at Dutch Comic Con Winter Edition. Seriously, we visited his table 10 times on Saturday and Sunday and he was never there. I really thought we were not gonna be able to get an autograph. We were joking around about how we should go to the infostand and tell them that "Daniel Gillies should return to his table" or that "Daniel Gillies was lost and that he should be returned to his table if anyone found him". Luckily on Sunday (late in the afternoon!) we finally found him and di some selfies and an autograph. After meeting the guy two times this year we can officially say: We love Gillies!
What's happening?
2018 was also a year of singing and dancing. And we noticed we have our standard songs & quotes! While writing this, I am developing a new song habit actually. Liv and I working together on Conmose, while listening to "I am your gummy bear." Yup... for real. I have never heard of this song. But thanks to Spotify, I'm now hearing: "Oh, I'm a Yummy, Chummy, Funny, Lucky Gummy Bear." So... if you hear me about gummy bears in a vlog.. This is when it happened!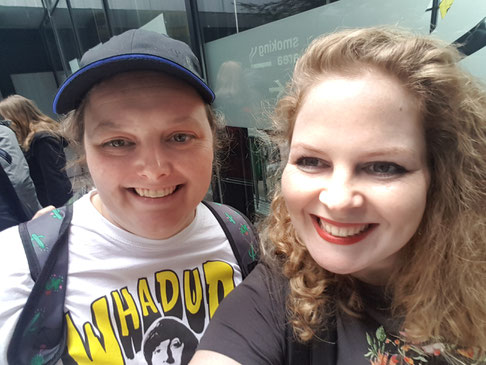 But.... I was talking about quotes and songs. At Dutch Comic Con, we sang 'This girl is on fire' the entire second day. Sorry, not sorry. So if you heard that song, somewhere at a distance. It was probably us! And ohhh yeah, in 2018, we were ON FIRE!
What we also like to say is "Whats haaaaaappening?" and "feel like a winner"(I promise, it works!). 
Many people will also know our famous Wolfcooooooooooooooon shout. 
The dutchies around us might have noticed our (my) love for the song "Hier stond je dan vanavond". (Yup, Henny Huisman). And above all: We like to make noise & sounds whenever inappropriate. If you're walking in the crowd and you hear a high "RRRRRRRR" or "Whoop whoop"  we're close! 
And that's not all, nooooooo we're not there just yet! Remember "Dit is de stad van Tom Hopper" (This is Tom Hopper's city). We sang that in Utrecht. Yeah? Well, that's not on this list. That was last year. Keep concentrating! This year, we sang "Emilie de Ravin can't you see" (on: I am a raver can't you see). 
And we continued to sing our Elijaaaaaaaah song. 
And we sang and said SO much more. DO you have nice one? Let us know! 
Excited is an understatement
We're ending our view on 2018 with a BANG! Of course, our motto comes by: Excited is an understatement. And I said that SO often this year. Excited really is an understatement. Sometimes, just sometimes, I look at myself and I just think: "I feel so tired even by just looking at myself". I have that so often, I can understand if people get tired of us. We were lyrical, loud, happy and excited. And yes, still an understatement. 
I mean... it was AWESOME to meet some of you this year (Next year again?). We made new friends, saw old friends & we hope to meet more people in 2019! 
We also did some awesome interviews with Kelly, Dan, Maurice and Dutch Tardis. 
Also meeting the stars was once again amazing. Really....  We met a King and two Queens (Queen of Scots and the Evil Queen). (We literally screamed in the car when we knew we would meet the king!).
Liv met John Barrowman, Gillian Anderson, Joe Keery, Dwight Schultz, Katie Cassidy, Gaten Matarazzo and Cobie Smulders. We found ourselves midst a few vampires (Candice King, Daniel Gillies, Phoebe Tonkin). We loved doing the interviews at Wolfcon and meeting Jerome Flynn was definitely a highlight as well. Actually 2018 was one big highlight convention wise!!!
Special thanks
A special thanks, because 2018 wouldn't have been the same without: