When I saw Candice King for the first time in the Vampire Diaries as Caroline, I thought Caroline was actually quite annoying. Caroline seemed naive and maybe even a bit shallow.  I guessed she wouldn't be killed soon by one of the vampires. Little did I know, she'd become one of the strongest characters. When Caroline turned into a vampire, everything changed. Every season, I like her more. She's really one of my favorite characters now!  I felt exactly the same! During the first couple of episodes, Caroline really annoyed me. Like Carola said, I thought she was shallow and even a bit dumb. But after Caroline 'turned', she grew on me and turned out to be one of my favorite characters of the show. In my opinion Caroline has the best character arc of the show...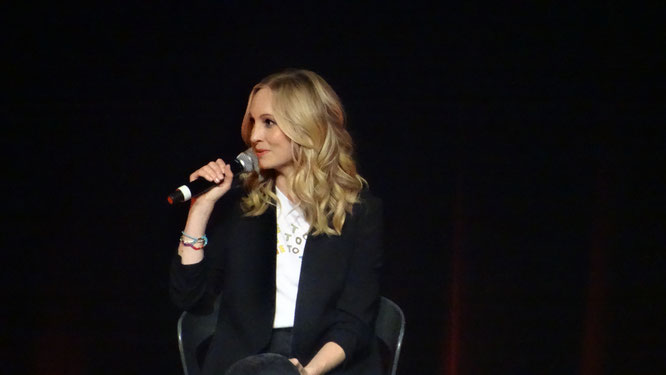 As you all might know, we went to Bloody Night Con Brussels!! The guest list was amazing and Candice King was one of their guests. No need to explain, that I was thrilled that we would be able to meet her! Yes, we always talked about how Candice King would be one of our dreamguests for Bloody Night Con and now our dream would come true.
About Candice King
Later on we will talk about meeting Candice at Bloody Night Con Europe 2018, but first let us tell you a bit more about her.
Candice Rene King (née Accola) was born in Houston, Texas (US) at May 13, 1987. Besides being a great actress, Candice is also known for her singing capacities. In December 2006 she released her independent debut album: "It's always the Innocent Ones". She also toured the US and Canada as a background singer for Miley Cyrus in her "Best of Both Worlds Tour" and she also appeared in the 3D concert film "Hannah Montana & Miley Cyrus' Best of Both Worlds Concert". 
Of course, we know Candice King as the good vampire Caroline in "The Vampire Diaries", but before this she also appeared in tv shows like: "How I Met Your Mother", "Drop Dead Diva" and "Supernatural". Candice was born Candice Accola, but in 2014 she married Joe King (The Fray) and in 2015 Candice gave birth to their first child, a daughter called Florence May. Candice King is a supporter of the "It Gets Better Project", together with her TVD co-stars Ian Somerhalder and Michael Trevino. This project aims to prevent suicide amongst the LGBT youth. She also started a new project, called "Collective Journeys", to support smaller local charities. We will tell you more about this later. 
Candice King played the role of Caroline Forbes in (all) 8 seasons of "The Vampire Diaries" and she is one of the 6 actors to appear in every episode. She also has a recurring guest role in "The Originals". 
The panels
We bought a photo op, but first there were a few panels at Bloody Night Con! For the fans of Tyler & Caroline: Watch the highlights of the panel of Candice King & Michael Trevino below!
Candice King also had a panel just for herself. Want to know what she said? Check it out below. 
Collective journeys
At Bloody Night Con, Candice King also talked about Collective Journeys, her new project. She started this, because of her desire to give a spotlight to the smaller charities, that make big impact on their communities. She told in her panel that even though everyone wants to save the world, sometimes you just have to look around in your own community and support the smaller local charities. She wants to create awareness and give back to the people behind these good causes, that do amazing work with limited fundings. To do this, Candice is closely involved with the designing of a bracelet that stands for the cause she is supporting that month. By buying the bracelet or gifting it to a friend or family member, you can join the cause. A portion of the earnings will go to the selected charity of that month.
We ordered the first 2 bracelets as soon we were back home from Bloody Night Con. Want to know more? Watch Candice King tell about this project below. 
The photo op
On day 2, it was finally time for the photo op!  That day, we would have a photo op with Candice, Daniel and Phoebe. Candice King would be our first photo op! We were totally excited for the second day of Bloody Night Con. And I couldn't wait for the photo ops to start. The day kicked off with an Originals panel with Nate Buzolic, Phoebe Tonkin, Riley Voelkel and Daniel Gillies. After that, we were called for the photo op! Whooop whoooop! 
I was pretty nervous. It was the first photo op of the day. And a photo with Candice King! I loved her panels and she seemed very nice. But it's always different to actually meet someone for the photo op or autographs. Candice was great, so nice and above all, very patient. "Patient?" You might think? Yes. Because I did the blinking thing again! When I met Ernie Hudson, I had to go back 3 times, because my eyes were closed at the photo every time.  I finally felt like I've let this behind me. I wasn't scared anymore at a photo op to have my eyes closed. And then, it happened again! They needed to take 3 photos of Candice and me before  I finally succeeded in keeping my eyes open (Can you see in the picture how hard I'm trying?). At some point I was just staring at the photographer to check if my picture finally was okay, and luckily the third time it was. I'm glad they check though! Happy to have pic with my eyes open. Now I think about it: Would be a nice pose next time at a con, just do a pic with closed eyes hahahaha.  Do think I should try that? 
Well, I'm happy I did the photo op and luckily Candice was very patient and not irritated as well. At most, I may have irritated Liv a bit. She was waiting behind me for her photo op haha. Candice King was wonderful and if anything, I was lucky to "have" to do the pose 3 times in a row :). Irritated Liv? Hell no! I was laughing so hard, that I didn't even get the chance to get really nervous. When we were waiting in the queue, I was getting a bit worked up, but when Carola did her blinking thing I was totally relaxed and I was still laughing about Carola when it was my turn. Carola already mentioned that Candice King was really nice and I am very happy to get the chance to meet her. I really enjoyed her panels and I was really impressed by her talk about "Collective Journeys". At some point in her panel she said that if you want to change the world (and we all want that), you have to start changing things in your neighborhood. I strongly encourage you to take a look at the Collective Journeys website and  read some more about the project. 
I was very happy to meet her and would definitely love to see her again at a con.