Daniel is the reason we went to Boody Night Con. Last year, we bought tickets for Bloody Night Con early. Daniel had been announced as a guest before that and we were over the moon. Ian Somerhalder, Claire Holt & Daniel Gillies would be coming to Brussels. We made songs about Daniel Gillies and drove everyone crazy. I remember us singing Elijaaaaaaaaaah the whole evening of my birthday. My family members know all to well know who Elijah is and sometimes they sing it too. We did drive everyone crazy, we walked through Valkenburg singing our "Elijah song" and Tristan and Sigmund walked 15 metres behind us. At your birthday we were really wound up and I remember I almost laughed my ass off, when your older sisters started to join in on our song. Unfortunately for us, Ian, Claire and Daniel cancelled. (Luckily they also had other great guests and found some awesome replacements! Check out our Bloody Night Con 2017 page) But we didn't meet Daniel Gillies and we really wanted to! Oh yes, I remember we were so not amused when they cancelled, but like Carola said, KLZ had great replacements and we had a great time. But we did not sing the song as much  anymore and when we did, it felt bittersweet...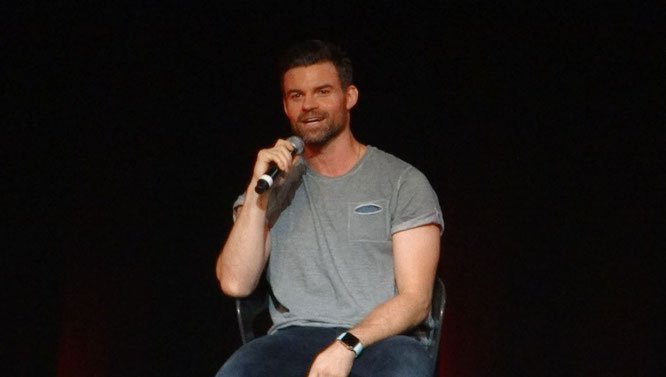 This year, Daniel Gillies was announced quite soon as well. But for us it wasn't clear if we would be able to go to Bloody Night Con again. Something with planning, other comic cons etc. Quite last minute (about 1,5 week before the con), we bought the tickets anyway! We were talking about it for months, KLZ had a great guestlist and I never gave up on going to Brussels. So when we decided to go I was over the moon.And with that, we also immediately bought tickets for a photo op with Daniel Gillies. Finally we were able to sing our Elijaaaaaaah song full of enthusiasm again. 
Daniel Gillies: The panels
If you want to know more about our complete days at Bloody Night Con, read our overview of Saturday an Sunday.  When we were having a coffee in Brussels just before Bloody Night Con, we were already so excited about meeting Daniel Gillies. We made a little video, sang our song and posted it on Instagram. Luckily for us, we would see Daniel quickly that day. His panel was scheduled for 10:45. I loved the panel. Daniel Gillies was very energetic and so funny. He has a great sense of humor and I just loved listening to the panel. His humor is a kind of dry and I really love that. He really has our kind of humour. He can be very cynical and he is very spontaneous. Daniel is the complete opposite of Elijah and I think that is so cool. Want to see it for yourself? Check out the video below! 
Day 2: Daniel Gillies panel
The second day, we were lucky enough to see Daniel Gillies in 3 panels! There was an Originals panel, a "Mikaelsons" panel (Daniel, Nate and Riley) and he had a panel scheduled with Nate. Nate was still signing though, so it became a panel for just Daniel! In every panel Daniel Gillies was funny and great to listen to. It was just a pity that Nate and Daniel didn't impersonate each other (someone did ask). I just love Nate's imitation of Elijah! Want to the Originals panel? Watch it below! 
A photo op with Daniel Gillies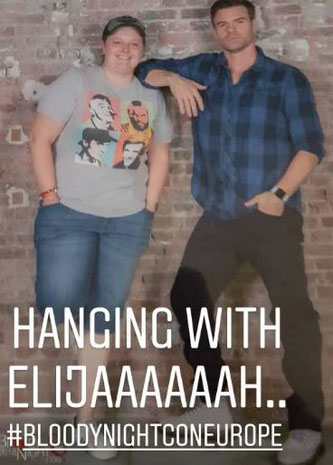 On Sunday, we had all our photo ops scheduled. (Except for the photo op Liv had with with Steven because he was only there on Saturday.  Our first photo op on Sunday was the one with Candice King. After that, we saw a bit of Riley's panel and then started queuing for Daniel!  I was so excited and also very nervous! I had to do the photo op with Candice 3 times because I was constantly blinking again (I had the same with Ernie Hudson) . Of course I was afraid that my other photo ops would go the same way. 
We waited for a bit, not very long. I was excited to enter the photo op room. Daniel Gillies was very relaxed and doing a lot of poses. I was still kind of nervous (hah, who am I kidding, VERY nervous). Daniel did a lot of different poses. That was inspiring and me come up with something! This pose (Check out the photo below), has been on my to do list. And I actually like it! I'm really happy with the picture. I have to admit I was very nervous too. I hadn't been this nervous for a long time. I decided to do a "hanging out and chilling" pose and Daniel Gillies was very willing to do this. I'm happy with the result and the picture is gonna get a nice place on the wall of fame.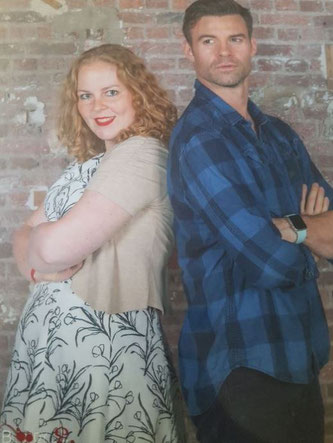 Back to meeting Daniel Gillies! Of course it was quite short. Photo ops always are. But I loved it. He was happy and great in doing all the poses for everyone. Liv & I both asked for a specific pose and it was all good! It was great to meet him and take the picture. And luckily I didn't blink!! I'm very happy with this photo op. Meeting Daniel Gillies was legen....wait for it....dary! Elijah has been one of my favorite characters from both "The Vampire Diaries" and "The Originals" and I really can't wait to see where his storyline will end (why is it taking so long for the new episode to come to Netflix?!?). Have you also met Daniel? Let us know how experience was in the comments! 
UPDATE: We have met Daniel Gillies for second time! And it was even more EPIC! Check out the article.