When I saw that Dutch Comic Con had announced Emilie de Ravin as a guest, I knew I wanted to go! And also do a photo op with her. I love Once Upon A Time, but also know her for other movies and series. I really wanted to meet her and I had no idea how she would be at a con. She's played such a diversity of roles. It was hard to imagine for me how she would be when I'd actually meet her. From the beginning on, Liv and I sang an "Emilie de Ravin" song. (On the song of "I'm a Raver"). You can see it in our Dutch Comic Con vlog.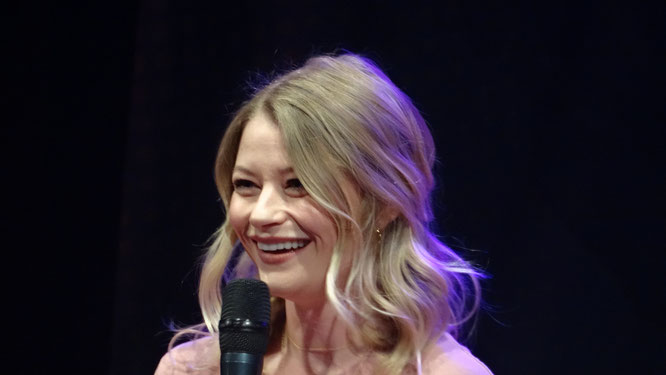 Once Upon A Time
I started watching Once Upon A Time one or two years ago and I instantly loved it. I actually thought it wouldn't really be something for me. But since someone recommended it to me, so I just gave it a try. I really like Once Upon Time. The story line, the characters. Everything is great! I had a few doubts around the season with Peter Pan, but after that I totally loved it again. Still have to watch the latest season though.  
Dutch Comic Con has the great habit of inviting Once Upon A Time actors and actresses. I really like that and it always makes me visit Dutch Comic Con. For their winter edition they have already invited Jennifer Morrison! Before seeing Emilie at Dutch Comic Con, I had already met Sean Maguire , Jared Gilmore and Keegan Connor Tracy. In 2017, I also visited New York Comic Con and watched the Once Upon A Time panel with Lana Parilla (Regina/ the Evil Queen) and executive producers Edward Kitsis and Adam Horowitz. We also watched episode 1 of season 7 there. 
In Once Upon A Time, Emilie plays the role of Belle. She's really one of my favorite characters! I love her connection to Rumpelstiltskin in this series and the way her character develops. 
Movies/ TV Series
I knew Emilie de Ravin already before I started watching Once Upon A Time. I have watched a few seasons of Lost as Claire Littleton. I liked her role in that series as well, even though I never completely finished watching Lost. 
Another role I really like Emilie de Ravin for is the one in the Hills Have Eyes. I'm a huge fan of horror movies and I remember leaving the cinema with mixed feelings after watching this movie. Now I think it's incredible. At the time the movie had left me a bit shocked somehow (even though I've been watching horror movie since I was like 12 or so). She plays the daughter of the family, Brenda. And she's really awesome in the movie.  
Other movies or series you might know her for are Roswell, Brick, Public Enemies, the Submarine Kid and more! 
Emilie the Ravin: The panel
At Dutch Comic Con, Emilie also did a panel. I really loved listening to her stories. She's such a kind and friendly person. Very happy also, she was smiling throughout the whole panel. Want to see a bit of the panel? Check out the video with the highlights of the Sunday panel below!   
A photo op with Emilie de Ravin
I remember that the queue for her photo op was incredibly long! I was so thrilled to get a picture with her. I had bought the photo op as soon as I could when it was available online. Liv didn't have a photo op with her and went to the panels, to watch the panel of Dwight Schultz. So I was looking at a huge queue on my own! And I'm so very impatient haha. Little did I know, that we would have to wait even longer because Emilie was a bit late. 
But I was very lucky. Next to me in the queue there was a girl, also alone queuing. We started chatting soon and it was great! We were both looking forward to meet Emilie and kept talking. Time flew and before we knew it, we having our photo op with Emilie. So, shout out to Natascha who I met at Dutch Comic Con: Thanks for having so much fun in Emilie's queue!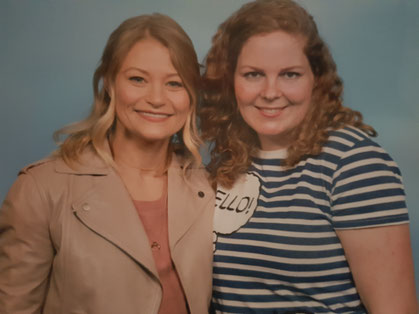 It was absolutely great to meet Emilie! She's very energetic and happy. She makes everyone feel welcome. I loved watching her panel and I'm so happy I did the photo op as well. I look a bit strange haha, I don't know why. But Emilie was great. She was very kind. If she's visit another con, I'd definitely want to meet her again!