Rutger Hauer attended Weekend of Hell! Even though he is a Dutch actor and the Netherlands is not that big, I had never met Rutger before. So I was thrilled to get the opportunity to meet him in Germany. That's right, Rutger is a legend in The Netherlands, but he also made a name for himself in Hollywood. From the moment he was announced I was sure I wanted to meet him. Rutger Hauer has acted in a lot of English and Dutch movies an TV series. He well known for "Blade Runner". In this movie he plays the role of Roy Batty, the lovable villain of the movie. But he also played in movies like "Hobo With A Shotgun" (as Hobo), "Batman Begins" (as Earle), "Sin City" (as Roark), "The Hitcher" (as John Ryder), "Blind Fury" (as Nick Parker), "Ladyhawke" (as Navarre) and way more! As for Dutch movies, you might have seen him in "Michiel de Ruyter" (as Maarten Tromp), De Heineken Ontvoering ("21 days: The Heineken Kidnapping", as Freddy Heinken), "Turks Fruit" ("Turkish Delight", as Eric) and so much more.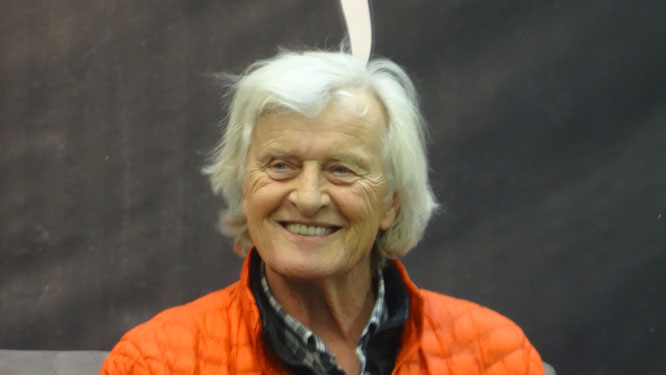 Before Weekend of Hell, I re-watched a couple of his movies like "The Hitcher", "De Heineken Ontvoering", "Hobo With A Shotgun" and "Blade Runner". I also (re-)watched some of Rutger's movies, like "Blade Runner" and "De Heineken Ontvoering) .The more I watched, the more enthusiastic I got. He's a really great actor and I couldn't wait to meet him at Weekend of Hell.  
Rutger at Weekend of Hell
Rutger was great at Weekend of Hell. From the first second I saw him at Weekend of Hell, I was so happy to get a photo with him. He really looked like a nice guy. He was at his signing table a lot, chatting with fans and signing autographs. And at the con, he moved around with a scooter (Not sure if you know what I mean like this, in Dutch we call it a 'step'.) haha. That was great to see. I also loved his panels. What I loved most about Rutger Hauer is that he seemed really down-to-earth and very happy to be there and meet his fans. He was very funny and appreciative, during his panels. It was great to hear him talk about his movies and especially about his famous last monologue of the movie (the "Tears in the rain-monologue). He delivers this monologue right after he saves Deckard (who had the task to kill Batty). The alteration in the monologue makes that you sympathize with the character just before he dies. I love that scene and for those of you, who don't exactly know what I am talking about; this is the monologue: 
I've... seen things you people wouldn't believe...
Attack ships on fire off the shoulder of Orion.
I watched C-Beams glitter in the dark
Near the Tannhäuser Gates.
All those... moments... will be lost in time,
Like tears... in... rain.
You can see him talk about this (and more) in our overview of Rutger Hauer's panels. Just click the video below...
It was great to see how Rutger was never on stage. He was always close to the audience. During his panel on Sunday, he was even sitting in the audience. He likes to be close to everyone. And it was such a fun and interactive panel! Yes it was amazing. For the Saturday Panel, he stood in front of the audience (off stage) and walked towards the people having a question. For the Sunday Panel he did something I never saw anyone do during a panel: he asked for some chairs in the middle of the audience and took a seat there. He always tried to face the person asking the question, but sometimes that was not possible because of some interference on the sound system. Nevertheless it was one of the best panels I ever attended.
Photo op with Rutger Hauer
On Sunday, it was finally time for our photo ops! Liv and I both got a photo op with Rutger Hauer. Check out the photos below! We were so excited to finally meet one of the biggest actors our little country ever had. Now we were only hoping that he was as nice during the photo as he was during his panels. Well, let me tell you: he was. What a wonderful man, he is.
Getting the photo op was great! Rutger was very nice. He was sitting on a chair and greeting everyone who came for a photo op. Liv even had a chat with him. I asked him (in Dutch), how he was and he answered that he was doing ok, but he was a little under the weather (as was I). He seemed to be surprised that I talked Dutch to him, haha. He also asked how I was. So I don't know if you can call it a conversation, but I did have a little chat with him. I didn't. Not really haha. I totally shut down. I just 'Hi'. And then he said 'Hi'. And he looked at me. Like I was going to say something else. Which of course I wanted. But all I could say was "Hi" for the second time. And he sais "Hi" for the second time as well hahahahahaha. Great converation isn't it? Next time, I'll make sure I know what say haha. But well, it did make me have a photo with a big smile haha. I love how it seems like Rutger Hauer is also still laughing about the moment. It was truly great to meet him. And I would love to see him again at con!