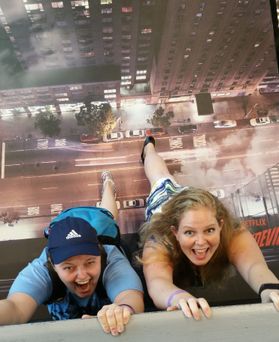 In just a few weeks time (30th of August and September 1st 2019), Comic Con Amsterdam will be going into its 4th round and like the previous editions, it will take place in the RAI in Amsterdam. While we are not sure if we are going yet, we do want to tell you all about the movie and television guests that will make an appearance at CCA. The first edition of Comic Con Amsterdam took place in the summer of 2016 and we were there. As always we had a great time in the capitol of The Netherlands and we met actors like: Robert Englund, Natalia Tena, Sean Astin, James Marsters and Devon Murray. Unfortunately we could not attend Comic Con Amsterdam in 2017 and 2018, but they kept up the high standard regarding the guest list. This edition is no exception and there are some very cool names making up the guest list. Without further ado...let us introduce you to the Guests of Comic Con Amsterdam 2019!
This article contain affiliate links as well as internal website links.
Manu Bennett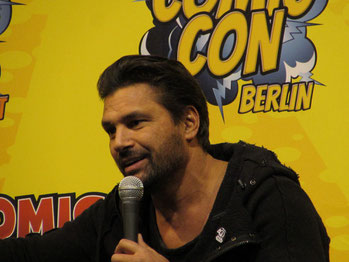 You might know him as Slade Wilson in "Arrow" , as Crixus in "Spartacus" or as Allanon in "The Shannara Chronicles". I know him as one of the nicest actors I have ever met (and there are a lot). I already met him at Comic Con Ahoy, last year and a few months later he was a guest at FACTS and he is just so great with his fans. For those of you who don't know Manu, let us give you a short introduction...
Jonathan Manu Bennett was born in Roturua (New Zealand) on October 10th, 1969. Manu was born into an entertainment family. His father (Ted) was a singer and his mother was an Australian Bikini model. When Manu was just a few years old, his family moved to Australia, where he spent his childhood. When Manu was 15 years old, he tragically lost his mother and older brother in a car accident. In interviews he stated that his brother died in his hands.To cope with this tragedy, Manu threw himself into sports. He also says that he got into acting because of this, he realized that art was a form of dealing with stuff. He thinks acting is a way of projecting his inner emotions, to connect with people. Back to the sport....when Manu was 17 years old he moved back to New Zealand and attended Te Aute college and played rugby for the First XV (The Premier Rugby Union competition for colleges). When he moved back to Australia again, he was chosen to be a member of the New South Wales Schoolboys Rugby Union Team. Soon after this he began to develop an interest in modern dance, classical ballet and playing the piano. (Fun Fact: Manu's uncle was a piano player for The King: Elvis Presley). At one point he double booked to appear in a production of "Swan Lake" on the same day as some very important rugby trials, which caused him to quit the rugby team. Later he mentioned he had committed himself to the dance production before his knowledge of the trials. He missed the trials and his spot on the tour, which led him to quitting the team all together.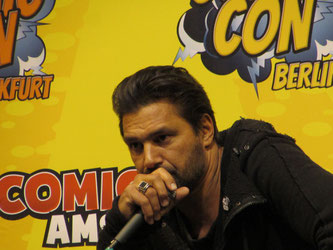 Manu got a scholarship to attend the Lee Strasberg Theatre Institute and he moved to Los Angeles to pursue his dreams. This Institute is famous for the lessons in Method Acting. In 1993, Bennett's professional acting career began when he landed the role of Kirk Barsby in "Paradise Beach". I remember when Slade Wilson first appeared on "Arrow", I kept thinking: "Where do I know him from". When writing an "In the Spotlight" article about Manu a few years ago, I read about his role in "Paradise Beach" and it hit me. I used to watch that show and that was where I knew him from!
Following his role in "Paradise Beach", Bennett played some roles in Australian TV shows, like: "All Saints", "Beast Master" and "Xena: Warrior Princess". In 1999 he  got his first leading role in a movie called "Tomoko". Up until then he was still using the name Jon Bennett. When he moved back to New Zealand in 2001/2002 he decided to go by his middle name Manu, which means 'bird' in the Maori language. In the years following, Manu played roles in movies and series, like: "The Condemned", "Shortland Street" and "30 Days of Night". In 2010 Manu got his big break, when he lands the role of gladiator Crixus in "Spartacus: Blood and Sand" (he also played in the prequel "Spartacus: Gods of the Arena").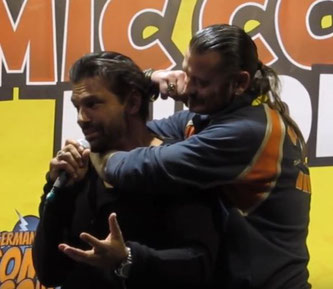 During his panel at Comic Con Ahoy Manu talked about how he used the Haka (Maori war dance) to get into the mindset of a warrior. 2012 was a good year for Manu, as he landed two big roles. First of all he landed the role of Orc leader Azog in Peter Jackson's "The Hobbit". Also in 2012 Manu auditioned for the role of Slade Wilson in "Arrow". During his audition he had to do a scene where he has Oliver in a chokehold. He asked the guy who read Oliver's lines to get in front of the camera so he could do this hold on him. Halfway through the audition the guy collapsed and Manu thought he blew it, but he got the role...and the rest my friends is history...
As I mentioned before: I already met Manu Bennett and I attended two of his panels. Both of these panels were so very interesting. Manu is a lovely guy and he has a wonderful way of telling his stories and interacting with the audience. You can check out both of the panels below.
Manu Bennett will be attending Comic Con Amsterdam on Saturday and Sunday.
Autograph: €30
Photo Op: €30
Casper van Dien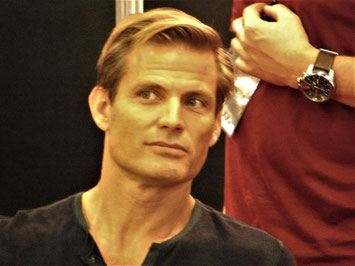 Casper Robert van Dien Jr. was born on the 18th of December 1969. He is mostly known for his role as Johnny Rico in the 1997 Paul Verhoeven movie "Starship Troopers". In 2019 he played the role of Amok in "Alita: Battle Angel" (produced by James Cameron and based on the 1990s Japanese Manga series "Battle Angel Alita".  
As you might expect (regarding his name), van Dien descends from an old Dutch family that settled in the New York area. There is also a long military tradition in van Dien's family.  Casper was raised in New Jersey, by his father Casper van Dien Sr. (a U.S. Navy Commander and fighter pilot) and his mother Diane van Dien (a nursery school teacher). They lived on van Dien Avenue in Ridgewood (which was named after his great-great-great grandfather.
When Casper was older, his family moved to Florida. He enrolled at the Admiral Farragut Academy, where he often got in fights because people kept on referring to him as "Ken Doll" (because of his good looks). After High School he attended  Florida State University in Tallahassee.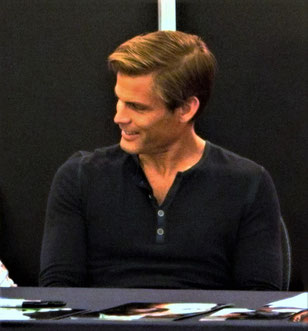 His acting career started in Los Angeles and when he first got there he landed some roles in TV shows and movies, like: "One Life to Live" (as Ty Moody) , "Dangerous Women" (as Brad Morris), "Beverly Hills 90210" (as Griffin Stone), "Married with Children" (as Eric Waters), "Beastmaster III: The eye of Braxus" (as King Tal). He also took a part in the video game "Wing Commander IV". His big break came in 1997, when he landed the leading role of Johnny Rico in Paul Verhoeven's "Starship Troopers" ( a movie that to this day has a massive cult following). In some interviews van Dien states that people still shout 'Hey Johnny Rico" to him on the streets, He says he almost always replies with his famous quote: 'You know what to do!". After his success in "Starship Troopers", van Dien got cast as Tarzan in "Tarzan and the Lost City" and in 1999 he was cast in Tim Burton's "Sleepy Hollow" (as Brom van Brunt), alongside Johnny Depp and Christina Ricci. In the 20 years that followed Casper van Dien played a lot of roles and up to today he has an amount of 129 credits to his name. To name all of them would be a lot of typing, but you can check it all out on Casper's IMDb page. Of course I will name some of them and I'll list them below:
Casper van Dien will be attending Comic Con Amsterdam on Saturday and Sunday.
Autograph: €30
Photo Op: €30
Kim Hartman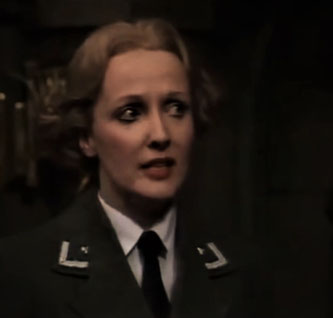 'GENERAL VON KLINKERHOFFEN!'. If you have ever watched "Allo, Allo", you know exactly who the next guest is. I am of course talking about Kim Hartman, who is mostly known for her role as Helga Geerhart in BBC's "Allo, Allo". Helga was the Colonel's secretary and love interest of Herr Flick of the Gestapo. By the way...if you have never watched "Allo, Allo" you should check it out. It is set in France during WWII and tells the fictional story of café owner René Artois (played by the late Gorden Kaye). The German Army and their allies have occupied the town and taken all valuable artefacts. Two of them have ept two paintings for themselves and coersed René into hiding them in the café. But Hitler himself wants these paintings and sends Herr Flick (from the Gestapo) to find them. In the meantime René is part of the French Resistance, which he has to keep a secret from the Germans and he has multiple affairs with his female servers, which he has to keep from his wife. Those are a lot of secrets to keep and you can imagine that all of this leads to some very funny situations.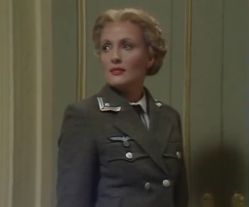 Kim Lesley Hartman was born in Hammersmith London on January 11, 1952. When Kim was 9 years old the family moved from Essex to Stratford-on-Avon. She frequently joined her mum on trips to the Royal Shakespeare Theatre and it's there that she developed her love for the stage. She spent a year working as Assistent Stage Manager at The Belgrade Theatre (where she met David Croft, the writer and maker of "Allo, Allo"). After her work in Coventry she attended the Webber Douglas Academy in London for three years. Kim had lost her heart to the stage and her early work, took her to theatres all over Great Britain. Before she got the role of Helga in "Allo, Allo" in 1982, she had made a name for herself on stage. But Kim had almost no experience with TV work. At the age of 30 this changed and everyone got to know Hartman as Helga from "Allo, Allo", a role she played for 10 years (she played in all of the 85 episodes of the show). When the show ended, Kim and some of the others actors of the show took part in a theatre version of "Allo, Allo" and this took her to Australia and New Zealand (as well as Britain). Kim spent most of her career on stages, but she did play The Stewardess in Christopher Nolan's "Dunkirk". Kim has also been travelling all over the world together with her good friend Richard Gibson, who played Herr Flick in "Allo, Allo". They have been talking about their roles of Helga and Herr Flick and doing sketches on events. Speaking of Richard Gibson.....read on!
Kim Hartman will be attending Comic Con Amsterdam on SATURDAY ONLY! 
Autograph: €15
Photo Op: €15
Richard Gibson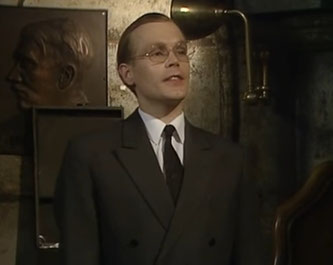 Exactly! Where Helga goes, Herr Flick will follow (or is it the other way around). Yes, Richard Gibson will also be coming to Amsterdam. 
Richard Gibson was born in Kampala, Uganda on January 1st 1954. At that time Uganda was a protectorate of Great Britain and Richard's father worked in the Civil Service. When Uganda regained independence, the Gibson family moved back to England. But they were still living in Uganda, when Richard was bitten by the acting bug. There were a lot of small theatres in Uganda and Richard's parents had been involved with amateur theater ever since they arrived there. When the family moved to Kampala, the people over there had just built a very large theatre, that started putting on plays. At first Richard was banned from participating, because he was very loud and disruptive. When he was a bit older he started doing it. According to Richard himslef, that was mainly because of his looks. He had blonde hair and blue eyes. Since he attended an all boys highs school, there were no girls. So whenever they needed someone to play a girl in a play, the pretty blonde guys ended up playing them.
Back in England, Gibson received his formal training at the Royal Central School of Speech and Drama in London. Richard's first major film role came in 1971 when he was 17 years old. He landed the role of Marcus in the movie "The Go-Between". During the 1970's Gibson appeared in quite some British TV shows and mini series. One of these shows was "The Children of the New Forrest" and Richard played opposite Becky Croft (right Croft as in David Croft's daughter). A few years later when David Croft was casting for "Allo, Allo", they originally had another actor in mind for Herr Flick. They were looking for a tall and powerful person, but then David Croft's wife mentioned that it would be fun if Herr Flick would look the least threatening, although he is the most powerful. So David called Richard and asked him if it was alright if he would send him a script for a new pilot he had been working on. He read the script and went to audition for the role of Flick. Weeks went by and he did not hear a thing. Curious about what happened Gibson called his agent to ask about it. His agent told him that he had got the job, but that he forget to tell him. And the rest is history...
Richard Gibson will be attending Comic Con Amsterdam on SATURDAY ONLY!
Autograph: €15
Photo Op: €15
Well that's it for the first part of this article, more will follow soon. So keep an eye on our website and social media this week.