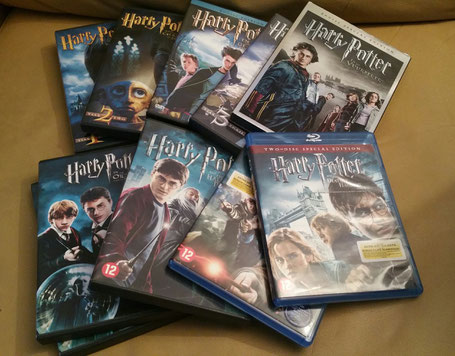 "Who is Devon Murray?", you may ask. Well let me tell you. Remember the Irish kid, that always used to blow things up at "Hogwarts School of Witchcraft and Wizardry"? His name was Seamus Finnigan and he was played by Irish born actor Devon Murray. Murray played this role in all of  the (eight) "Harry Potter" movies. He is one of the few actors to appear in all of the movies. At the time of the first movie, Devon was 13 years old. He had done a few acting jobs, three to be exact ("Yesterday's Children", "Angela's Ashes" and "This is my father").
I love the "Harry Potter" movies, so I was very pleased to hear that Comic Con Amsterdam announced two "Harry Potter" guests, being Devon Murray and Natalia Tena (Tops). Devon Murray would have a Q&A on Sunday and I was glad Carola decided to join me for this one (Carola hasn't seen any of the movies).
Q&A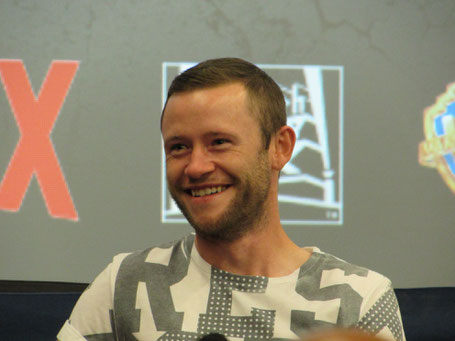 When it was time for the Q&A, we got a very nice surprise: Natalia Tena decided to join Devon Murray, making the Q&A a true Harry Potter Talk. This was a lot of fun. Devon seemed to have a great time: he had a constant sparkle in his eyes. He reminded me of a kid in a huge toy store. Devon talked about his time on the set and about his current life. At the moment he doesn't have time for acting, because he is too busy with his horses. Apparently Murray is an avid horse fanatic. He owns and runs "Ashe Haven Stables", in Ireland. He talked about how he works long days, but you can see how much he loves it.
His favourite "Harry Potter" movie is  the first one ("Harry Potter and the Philosopher's stone"). And if he had to choose another character to play, he would choosie to play Hermoine (lol) and "Dark Arts" is his favourite subject. Like I said before he talked about his time on set and apparently he did not break things on screen only, he talked about how he owns the record of the most broken magic wands on set in one day and throughout the series. When they were done filming he got a half of one of his wands for his birthday. He also got the rings he wore throughout the movies.
"I have my rings, that I wore and they're absolutely disgusting!
They were my rings originally (...) I thought it was the cutest thing ever I was
gonna get to wear my own rings. But then I grew up and I was still wearing 
these rings from when I was 16 years old and I thought : "Aaargh"."
He also got the feather he blew up in Dr. Flitwick's class and some books and stuff. He was very disappointed he didn't get to keep his own wand. 
He said he liked playing Seamus, because Seamus is so much like him in real life. Murray does not consider himself to be an actor: 
"I more of a horseman. I started acting when I was 5 or 6, but 
it was kinda so I could pay for my horses. And then during "Harry Potter",
I had to give up my horse riding in case I fell off and broke my back or 
something like that. So I had to stop riding for like 8 years.It was so
annoying. But it was worth it, because if it wasn't for "Harry Potter",
I wouldn't have had the horses I have now."
I had a great time during the Q&A and at the end of it I had decided I wanted to go for an autograph of Devon. He was just so nice and down to earth.
Autograph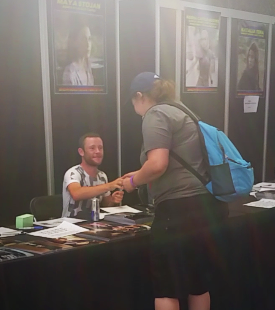 It was going towards the end of the day, so I did my famous: "Let's do this" move and stepped up to the table. Devon was chatting with his chaperone and he just sat there with a big smile. I shook his hand and while I was deciding what picture to take, he noticed my ("Suicide Squad") t-shirt. He asked me if I had seen the movie and what I thought about it. He hadn't seen it yet and mentioned the many bad reviews the movie got. While he was signing, we had a little talk about the movie. When I walked away it hit me: why didn't I tell him about the duo review on our (this) site? I told Carola about it and felt like a complete jackass. I smiled and joked that I should go back and give him a business card.of Conmose.com. Now you must know that at the end of a convention I am tired and without shame, so I am kinda reckless (lol). So I thought "What the hell, let's do this!" (What was I thinking?). But I did it: I walked back and gave him the card with the message that he should check out our review at the website. So Mr. Murray if you ever read this and if you have seen the movie in the meantime: let me know what you think about it.
What I remember most about meeting Devon Murray is that he seemed to be a very relaxed guy. He doesn't consider himself to be a celebrity and he seems to really enjoy his life right now. I am so glad I got the opportunity to meet him and I hope to catch him on another convention some time!
Cheerio!