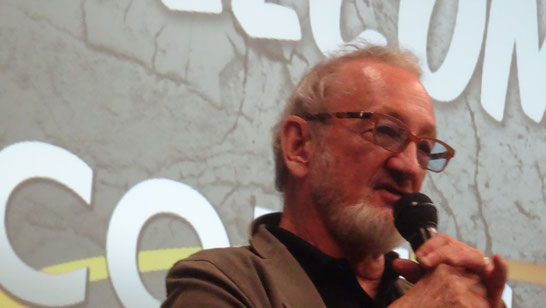 I was so excited to hear that Robert Englund would attend Comic Con Amsterdam!! Robert Englund is best known for his role as Freddy Krueger in the "Nightmare on Elm Street" movies. I really loved these movies. These are real horror classics! Freddy Krueger is just such an important character in the horror genre. As a big horror fan, of course it was my wish to once meet the man behind Freddy Krueger: Robert Englund! And I got this chance at Amsterdam Comic Con. We bought our photo op ticket in advance, to be really sure we would be able to do a photo op. Freddy Krueger is legendary! Mr Englund was one of the first guests to be announced for Amsterdam Comic Con, so we had to wait a really long time.But it was worth the wait!  We were lucky that he also did 2 Q&A's. We visited one of them. The Q&A on Saturday! 
Q&A Robert Englund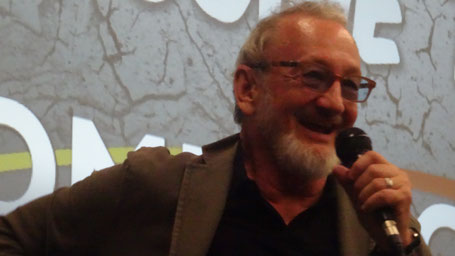 Robert Englund's Q&A was great. He started his Q&A with a little promotion moment for his upcoming movies, which are "Nightworld"  (a horror movie set in Bulgaria). "The Midnight Man"(an independant crime thriller) and "Echo of Evil" (a horror movie). It was great to see him talk about his new projects so passionately.
What I noticed most, during the Q&A, is the great knowledge of movies (old and new) Robert possesses. It was awesome to hear him talk about the whole movie scene, I hung on his every word. He talked about his role of the Phantom in "The Phantom of the Opera" (1989). He talked about how it was supposed to be a two-parter. The second script took place in contemporary New York and the Phantom was supposed to live beneath the streets of New York (like in the movie "Mimic") in an old train car. The girl sings in the subway station as a busker and the Phantom hears her sing. The girl is blind, so she doesn't see that he is disfigured. The Phantom starts training her and gives her his own music to sing. Then the girl gets discovered by the New York City Opera Company and they give her the money for an eye operation. The Phantom is afraid she is disgusted by his looks (he has fallen in love with her) and he hides himself during her first show. The last scene of the movie should have been the Phantom walking down 5th Avenue and opening up a manhole cover. He goes back underneath the surface. Unfortunately they never made this movie, but it was nice to hear him talk about it.
Mr Englund also talked about the change in superhero movies. He said there are so much superheroes, that it was to change something to still be original. He said that the cynisism added to the genre is the reason behind the succes of movies like: "Deadpool" and "Suicide Squad".  
Photo op Robert Englund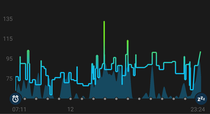 I was really really happy we were going to do a photo op with Robert Englund. This would be really amazing. But of course I was very nervous. Liv and I went to queue for the photo op. This was after seeing some Q&A's already. I was very nervous as usual. But this time Liv and I could queue together (We couldn't for the photo op of Sean Astin).   So we were taking together and keeping each other busy haha. Everything went quite quickly and soon we entered the photo op room. There we had to wait a bit longer: There were some issues with the printer. Robert Englund was amazing. While everyone was worrying about the printer, he went all Freddy Krueger. Pointing to people and making faces at a little child. I'm glad there were issues with the printer. It was an awesome moment to witness. And for a moment you could really feel like Freddy Krueger was in the room haha. Robert Englund initiated a lot of poses. I loved this a lot. It made me less nervous (No last minute stress about thinking which pose to do). But.. as you can see on the picture here, my heart rate went up like crazy as soon as it was my turn. Do you see that peak going up to 135? That was the moment.. On these moments I really love my activity tracker haha. It shows me afterwards how my heart rate really responds to all of this. 
Taking the photo went smooth and quick. It was fun and Robert Englund did a great pose. At the last moment I was thinking: Should I look scared or just look normal? Well, normal is never an option in a photo op for me haha. I always look strange! But I decided not to pull a scared face. I mean, you only get one shot at a photo op. And if your scared face doesn't look well, then you'll photo won't turn out the way you want it. So I just did my regular convention face.. You can see it on the photo! 
My conclusion: Robert Englund was for me the number 1 guest I attended Comic Con Amsterdam for. I bought the photo op up front. I was sure I wanted to meet him! I really enjoyed seeing the Q&A. He had some very interesting views on film making. And doing the photo op was an unique experience. I loved that he had the Freddy Krueger glove. It made it a real unforgettable experience.  I wish I could have talked to him a bit. Maybe some day at another convention.. When there isn't a long queue at his signing table!