We went to Comic Con Amsterdam this year! It was the first edition. In this post we're share our experience with you and tell you our opinion.  Ofcourse we were psyched about another convention in our small country and the guestlist was very promising, although there were a LOT of cancellations in the last week. Kristían Nairn (Hodor from "Game of Thrones") cancelled on Saturday morning, just a few hours before Comic Con started! But hey that can happen, it would be nice to know why they cancelled. But aside from that I was really looking forward to this one and I jumped out of bed that morning (and those who know me, know that certainly doesnt happen every day).

Panels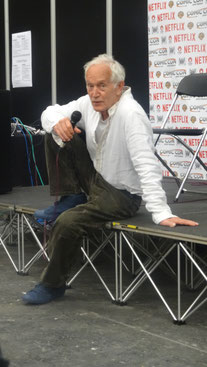 The Q&A space was situated in a bigger room: the room that included the food court and the wrestling area. You could hear everything that was going on in the food court and at wrestling. So I can tell you: the noise was terrible. Sometimes you couldn't hear the the question, or the actors answer very well. Other times you just heard a loud smack or AAAH while listening to the actors. The actors noticed it as well. They were either surprised, annoyed or they laughed. During the Q&A of Sean Astin & Sylvester McCoy (Which was a paid Q&A!) we even screamed with the whole group: "Be quiet!!!". (Not that it worked though...). I hated that and I think they could have put a little more thought into that one, I understand that the organization wants to give the wrestlers a stage, but this was awful placement.We attended lots of Q&A and at some it was worse than during others. Yes there were times, when it was really quiet, but that was mostly at moments without a Q&A. There must be a better way to plan these things. We attended the following Q&A's: Robert Englund (free), Sean Astin & Sylvester McCoy (paid), James Marsters (paid), Lance Henriksen and Natalia Tena & Devon Murray. Not all Q&A were free to attend. I thought that was a real pity! I've never seen that at a con before and I honestly don't get it. (Unless it's an 'extra' guest, a really really big name). But having to pay for Q&A's is a big disadvantage for me. Especially with the cancellations. We paid 10 euros for a Q&A with James Marsters AND Julie Benz. But Julie Benz cancelled. Fortunately I really like James Marsters too, but imagine we only paid for Julie Benz, that would have been a pretty big waste of money. Fortunately that wasn't the case, but still. I think it's weird to have paid Q&A's. You bought an entrance ticket and that should be enough. Also: not all guests did a Q&A. The planning was published a few days before the Comic Con. Maybe there were too many guests to be able to arrange a Q&A for all of them. But I feel like it could have been more. (I would have loved to seen more). Oh, and Ray Park never showed up for his Q&A. He was replaced by Daniel Logan (Boba Fett). We weren't told why. It even seemed like it that Ray Park wouldn't come at all on Sunday, but eventually he did. (just signing, no Q&A). In the Q&A room, there were seats enough and the lighting was good (yay!). The stage looked a bit improvised though.  True! I enjoyed the Q&A's we attended and ofcourse we made a lot of great pictures.
Signing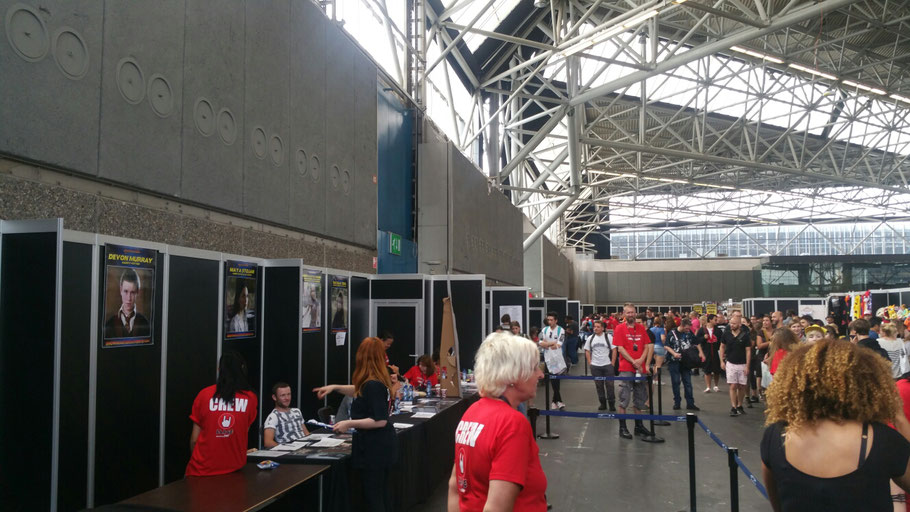 All the actors were signing all day (unless they had a Q&A or a photo op). They were seated at the side of the merch room. This was perfectly fine. It was open and the actors were easy to approach as you can see on the picture (you can see Devon Murray sitting on the left). If it wasn't allowed to take pictures of a certain actor, there was a clear sign. So it was evident what you were of weren't allowed to do. Many actors were very much at ease and would allow pictures & even making a video. We made videos of getting autographs of James Marsters, Lance Henriksen and Devon Murray. That was awesome. The queues weren't too long. (If there even was a queue). SO that's very nice. I think mainly Sean Astin, Ian McDiarmid and Robert Englund had a queue almost all day. Prices for the autographs were ok. Not too expensive (Except for Ian McDiarmid). I agree the seating of the actors was fine, although at some moments it was crowded in the merch area and with that it was also crowded at the artist alley . All in all the signing area was just fine.
Photo ops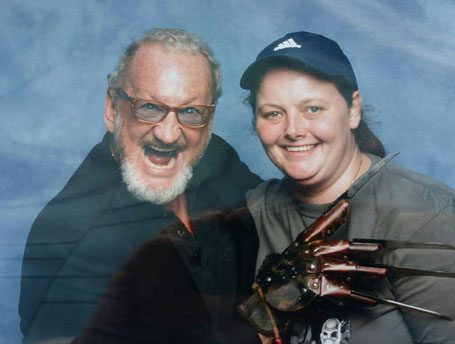 Liv and I both did 3 photo ops: Robert Englund, Sean Astin and Natalia Tena. When I was buying the ticket for Sean Astin a guy was complaining at the desk: there was chaos at the photo ops. He didn't believe the schedule would work. Well, it made me curious! However: I know from experience that the time slots are usually ok. Photo ops can go very quickly.  And as you might have read in our article about Sean Astin: The ticket system was down. So I had to wait... and wait.. In the mean time Liv went outside for  smoke. I already bought my photo op beforehand. And I waited. But the ticket system stayed down. Eventually, I received a handwritten ticket. I was relieved, I could still get my photo with Sean Astin!  That was a great moment, 'cause at first you didn't really want a photo op with Sean Astin. After his Q&A however, Carloa said: I think I'm gonna buy a ticket for the photo op. My jaw hit the ground. This was the girl. who had never seen "The Goonies" or "Lord of the Rings", untill a few weeks earlier. I knew you did not like "The Goonies", but you hadn't really talked about "LOTR". The only thing you said was that it was "hard work". Well apparently you liked it and you liked Sean Astin. That was great.
So Liv and I walked to the photo op room. Luckily we already knew where it was. In the morning we went looking for it, just to know where everything was situated. And it wasn't that easy to find. Various people (From Comic Con Amsterdam) sent us in different directions. There were no clear signs. But we made it!
 I was quite nervous because my ticket was handwritten and didn't had a group on it. (All the tickets were divided in groups, to show you your place in the queue). Soon we learned it wasn't all chaos. It may have looked chaotic. But at least it was organised chaos. There wasn't a really clear queue. But there was a guy making sure everyone would be in the right spot. So it could have been organised more clearly. But it worked. To be honest: I don't think the groups on the tickets had an added value. But I think the guy who was standing there did the best he could, looking at what he had to work with. That's very true, when we arrived it looked like absolute chaos, but kudos for the guy at the booth. It could have been a lot more organized with the placement of some row dividers (is that what you call the airport thingies?). Because people who had a photo op and people who came out of the photo op came together at the same point it was pretty crowded. Maybe they could have switched the wrestling stage and the photo op booth.
After making the photo, you would immediately receive the photo. That's a big plus! Sometimes you have to wait quite a while for your photo. But at Comic Con Amsterdam this went very smoothly. Besides that: Compared to other Comic Cons the prices for photo ops were quite cheap (Also except for Ian McDiarmid). Agree!
Food
I believe the food could have been arranged better. When we wanted to grab some lunch around 13:30 - 14:00, the queues were HUGE. But like.. HUGE. There weren't that much food stands either. Would love to see some more next year. And it was expensive. I don't expect super low prices on food at a Comic Con. But 8 euros for a burger (A really really simple burger) is just too much. I liked that there was a 'La Place'. We went there for some breakfast at the beginning of the second day.  Again poor placement, with a little more effort they could have made better use of the immensive foodhall. This was awful. Like Carola said the queues were unbelieveable.

Props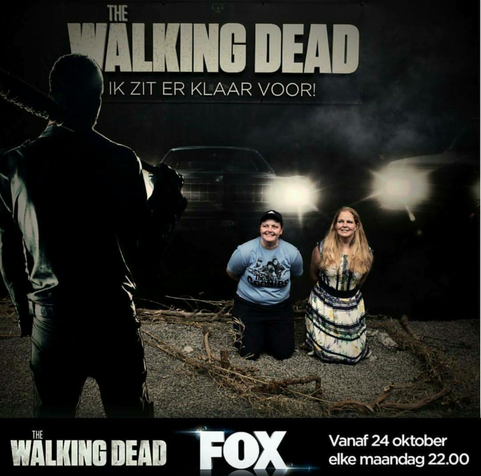 At Comic Con Amsterdam we could see the Delorean again. (The car from Back to the Future).  That is always fun. And there was a scene from The Walking Dead. (You can see it in the picture). You would sit with you knees on the pebbles. Auch, that hurt! You can see in the picture I tried to pull my dress over my knees haha. Oh and by the way, we will have a vlog for you about this TWD scene ;). (In our funniest and most embarrassing moments).  Oh my God...the horror...the horror. I was in absolute pain! My knees were purple after this and they did not turn to their normal colour, untill hours later. 
There was also a Netflix stand. Oh we loved that one! We made lots of pictures there. It would seem like we were hanging at the edge of a building. Or stuck under a car. We also made some Orange is the New Black pictures. We had a lot of fun and spent some time there. Hope this stand will there also next year! I loved it. especially the hanging on the building part. Great pictures. lol. Besides these things, there weren't that much props at Comic Con Amsterdam. But of course we managed to find a Stormtrooper again.That's something you'll find at almost every Comic Con. Luckily!   
Overall thoughts
We'll share some our overall thoughts with you about this convention. We loved being there. The guests were great! All the actors were very relaxed and had time for a chat. They were very kind! There were a lot of guests from Star Wars. Which is always a nice thing. 
But it was a pity that they had a lot of cancellations as well. I had a list of actors I wanted to meet and lots of them cancelled unfortunately. And they weren't able to get replacements for everyone. A few examples of actors I had hoped to meet, but cancelled: Julie Benz (Dexter), Jodi Lyn O'Keefe (The Vampire Diaries), Kristian Nairn (Game of Thrones)  and Dave Prowse (Star Wars). There will always be actors who will have to cancel. But this time a lot of actors I was coming for cancelled. The cancellations were also quite last minute (one on the same day as the Comic Con started).  Next year I hope to see more guests! 
We had a great time meeting the actors, hanging around at the Netflix stand, making pictures and buy merch. It was definitely worth my time and I'm glad we went to Amsterdam! I had have expected though, that everything would be organised a bit better. Comic Con Amsterdam is organised by Showmasters Events. They already have a lot of experience in the UK. That's why I didn't expect the noise at the Q&A, too few food stands and photo ops that weren't arranged very clearly. But.. these are all things that are possible to improve. So we're looking forward to next year! We certainly are!