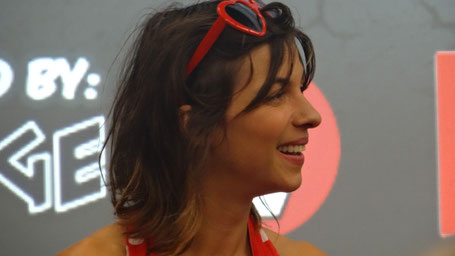 On Sunday, Liv and I walked around at Amsterdam Comic Con and soon we noticed Natalia Tena!  Natalia attended Amsterdam Comic Con only on Sunday. She was sitting at her signing table in a bright red dress with white dots with matching sunglasses. She was very happy and it seemed like she loved to be there. I was glad Natalia was attending Amsterdam Comic Con. Even though she had no Q&A scheduled (Just signing and photo op). Natalia Tena is best known for her roles in the "Harry Potter" movies (Nymphadora Tonks) and for "Game of Thrones" (Osha). I know her for playing Osha. What a difference! Osha isn't exactly the most bright and colorful character. I almost wouldn't recognize Natalia Tena. It was surprising to see the person behind Osha. She's a great actress. Her expressions, way of moving and talking are very different from Osha. So now I can really see the work she put into that character.  I am a huge fan of Harry Potter and Game of Thrones so I was very happy when Natalia was announced to be attending ACC. In the Harry Potter franchise Natalia plays the role of Nymphadora Tonks, or just Tonks (she hates her first name). She is an auror and a member of The Order of the Phoenix. She is also a Metamorphmagus (a witch or magician that can change his or her looks when necessary or wanted). As a result of this, Tonks is constantly changing her hairdo. She likes it bubblegum pink and no one knows her real haircolour..Tonks makes her first appearnace in "Harry Potter and The Order of the Phoenix (2007, the fifth part of the franchise). I instantly liked Tonks, she is kind of rebellious, smart, independent, strong and  very loyal.
Needless to say I was delighted to see Natalia in her role of Osha in "Game of Thrones".
Q&A Natalia Tena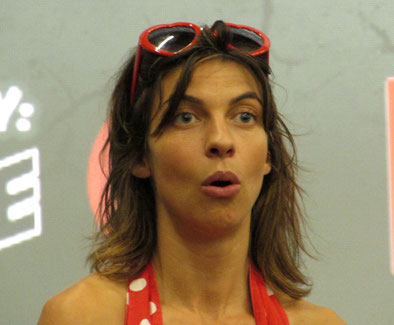 Liv and decided to attend Devon Murray's Q&A. I have read and watched all the Harry Potter books and movies, so I really didnt want to miss this one. I always like to see Q&A's so I came along. We were there in time and then Devon Murray arrived. And also... Natalia Tena! Yeayyy! The schedule said it was just a Devon Murray Q&A. But Natalia Tena joined. The Q&A was turned into a "Harry Potter" panel! Now I was extra happy that we decided to see the Q&A. Well, how should I describe our impression of Natalia.. Haha. I'd say: Very, very active and enthusiastic. It was quite hard to make a good photo haha. She was very expressive and moving all the time. She is very energetic and it was great to see the contrast with Devon Murray. He was very calm and relaxed.
There were a lot of Harry Potter questions and that was great for me, but for Carola it was very incomprehensable I think.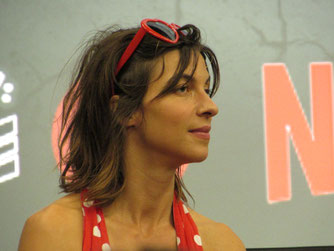 Let me give you some Fun Facts, Natalia talked about:
- If she could be any other character in the "Harry Potter" movies she would be Bellatrix.
- Her patronus (a spirit guardian) would be a goat or an otter. (Tonks patronus changed from a jack rabbit to a (were)wolf).
- Her favourite "Harry Potter" movie is the first one "Harry Potter and the Philosopher's Stone).
- Her favourite subject at Hogwarts would be either "Tessomancy"(the art of reading tealeaves)  or "Defence against Dark Arts". 
- When she first read the script, she thought it was pretty weird, but after the first premiere she got that it was a big thing.
- if she could change anything about her role as Nymphadora, she says she would change everything. She would do it "the same, but better."
- She has read the "Harry Potter" books, but she says she forgot everything. But she recently got them all. When it comes to Christmas she says she will sit on her new boat, in front of the fire, with a bottle of wine and she will read them all. She called this her mission.
- She wanted to steal her wand from the set and someone said she should just take it, but she felt too guilty about that (so she didn't). However when she does get something from a set, it's mostly her pants and socks. She says she can't remember the last time she bought socks.
- When asked what was her favourite animal in the franchise, she asked if the eating boo counts as an animal, because she thinks it is pretty cool. When the interviewer said that it didn't, she answered that she would love to be a mermaid.
- She has her own band, called "Molotov Jukebox".. The music is a mix of salsa and balkan sounds (and it sounds great). She just wants to make people happy and dance. Natalia sings and plays the accordeon. Check it out!
- Natalia is of Spanish decent.
For me the Q&A was fun just to watch. Natalia has energy for 10 people! Right then and there we decided we needed to have a photo op with her haha. That would be fun. And it would be great to meet her. So we went to get a ticket and everything went smoothly.  
Photo op Natalia Tena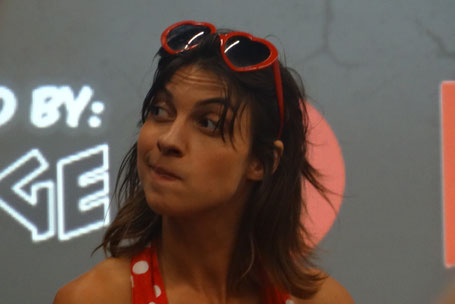 We  queued for the photo and it all went quite quickly. Soon we were in the photo op room and could see the picture being taken. Again she proved to have energy for the whole world! Jumping around and looking happy. It's hard to describe but she's very energtic and doesn't stand still haha. Well, a moment for the picture to be taken. And she thanked every single person after taking the photo. I really liked doing the photo op and she is very kind and sweet.  Indeed haha watching the other photo ops from the queue was great. There was a lot of liveliness in the room and that made me smile the whole time.
We saw her again after her 'Harry Potter' photoshoot (the shoot together with Devon Murray). She was obviously in a hurry (I think to catch her plane).  It was almost the end of the convention and she really needed to go. But: She didn't ignore a single fan. There were people waiting for her to sign something and she signed it for all of them! She didn't leave until she was done. And then when she was ready to leave, she seemed to have forgotten something. She ran back to the photo op room and when she came back we saw what she ran back for. She forgot her sunglasses, lol.
Amsterdam Comic Con was very lucky to have her as a guest. She was absolutely awesome to all of her fans. She's so spontaneous. Make sure to visit her if you ever see her at a convention! I really hope to see her again on a convention some time soon, i would have loved to have a talk with her. She is an interesting and talented woman. Also I hope to see her in another role on a small or big screen (or on a stage) in the near future. 
Cheerio!