Just a few more days until ArcCon, so just in time for another countdown article. And since it's Wednesday it's time for another "In the Spotlight". This week our spotlight will be on the actor, which gave evil a face in the first seasons of "Arrow": Menu Bennett. In Arrow Manu plays Slade Wilson/Deathstroke. You might also know him as Crixus in the TV series "Spartacus", as Orc-leader Azog in Peter Jackson's "The Hobbit" Trilogy or as Alanon in the MTV series "The Shanara Chronicles".
Mini-Bio: Who is Manu Bennett?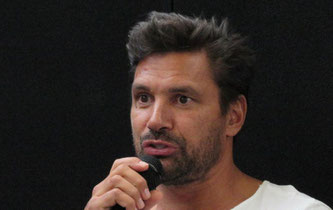 Manu was born Jonathan Manu Bennett, October 10th 1969 in Roturua New Zealand. With his mother (Jean Bennett) being an Australian bikini model and his father (Ted Bennett) being a New Zealand singer, Manu was born into an entertainment family. When Manu was just a few months old, the family moved to Australia. He was raised in Australia and also attended high school in Australia. In 1985 he lost his mother and his older brother in a car accident and Manu threw himself into sports. In 1986 (at the age of 17) he returned to New Zealand to attend Te Aute College and played for the First XV (the Premier Rugby Union competition for colleges in New Zealand). When he returned to Australia Manu was chosen to be a member of the New South Wales Schoolboys Rugby Union Team. Soon he developed an interest in modern dancing, piano (Fun Fact: his uncle was a piano player for Elvis Presley) and classical ballet; causing him to quit the rugby team and attend university to study dance and drama. He actually quit rugby after he double booked to appear in a production of "Swan Lake" at the same day he had an important rugby match. He later said that he committed to the dance production prior to his knowledge of the rugby trials, so he had to pull out of them and doing this caused him to fail to make it on the tour.  After getting a scholarship for Lee Strasberg Theatre Institute Manu moved to Los Angeles.
Acting career & Arrow
Bennett's professional acting career started in 1993 with the role of Kirk Barsby in the teen soap:  "Paradise Beach". I actually used to watch this show when I was young, but I totally forgot about it, until just now. I watched the opening credits on YouTube and it's all coming back to me now. I remember when Slade Wilson made his first appearance in "Arrow" I kept thinking "I've seen him before", but I never found out where I knew him from...until this moment! Following his role in "Paradise Beach" he starred in several Australian TV Dramas, like: "All Saints" and "Beast Master". He also made an appearance in "Xena Warrior Princess". In 1999 Bennett landed his first leading role in a movie, when he stars in a film called "Tomoko". Note that in all of these productions Manu is credited as Jon Bennet. He adopted his Maori middle name Manu (meaning bird), when he moved back to New Zealand somewhere around 2001/2002. Following his return to New Zealand he played roles in some TV series, like: the popular "Shortland Street" and "Street Legal". In the years following Manu plays in movies, like: "The Condemned" alongside Vinnie Jones and in "30 Days of Night" with Josh Hartnett. 
In 2010 Bennett landed a major role in the TV series "Spartacus: Blood and Sand" and its prequel "Spartacus: Gods of the Arena". Manu plays the key role of Crixus, a Gallic gladiator and Champion of the Capua. Manu is the only cast member to play in all three seasons of the show and the prequel (39 episodes). In 2012 Bennett landed the role of Orc-leader "Azog the Defiler" in the highly anticipated Peter Jackson adaptation of Tolkien's "The Hobbit". He played this role in all 3 movies and considers this as a highlight in his career.
So let's talk some Arrow: Manu auditioned for Arrow in 2012 around the time of the premiere of the first "Hobbit" movie. He was about to fly back to New Zealand for the premiere, when his manager called and said he had to go and audition for a show called "Arrow". In an interview Manu talked about this and he said he knew the show, because he had met Stephen Amell, when he auditioned for the role of Spartacus (he didn't get the role).  Arriving at the studios Manu took a quick look at the script and discovered he had to read the scene where Slade gets Oliver in a chokehold. He asked if the guy who read Oliver's lines could get in front of the camera so he could take him in this hold. Halfway through the audition the guy collapsed and Manu thought he was going to be escorted out by the police. But somehow he nailed it and the day after he got a phone call and was told he got the job and had to fly to Vancouver to start filming his scenes as Slade Wilson/Deathstroke.
So who is Slade Wilson?  (SPOILERSS AHEAD)
Slade Wilson is a former agent of the Australian Secret Intelligence Service (ASIS). We first meet Slade in Oliver's flashbacks to his time on Lian Yu. Initially they are allies on the island and together with Shado, Slade teaches Oliver his combat skills. Slade is in love with Shado, but Shado has her eye on Oliver. When Slade gets badly hurt Oliver injects him with a medicine called Mirakuru, which is supposed to cure him. After this injection blood comes out of Slade's eyes and he slips into unconsciousness. Oliver, Shado and Sara (who joined the team in the meantime) think Slade is dead. When Slade wakes up he discovers that Ivo's men killed Shado and Slade goes mental. Due to his enhanced powers after the Mirakuru injection Ivo's men are chanceless against Slade and after he kills all of them, he swears to avenge Shado's death. However the Mirakuru starts to control his mind and he becomes more aggressive by the minute. When Slade overhears a conversation about the day Shado was killed, he discovers that Ivo forced Oliver to choose between Shado and Sara. Oliver chose Sara and Ivo killed Shado. From that moment on Slade blames Oliver for the death of the love of his life. When it comes to a face off Oliver has to choose between trying to cure Slade and killing him. After Slade starts taunting him, Oliver decides to kill Slade by smashing an arrow through his eye. Years later it becomes clear that Slade survived, when he turns up in Starling City. He tells Oliver he is going to make him suffer and promises him to take away everything he loves. Slade later kills Oliver's mom and sets up an army of Mirakuru soldiers. After Slade threatens to kill Felicity, Oliver hits him with a cure for the Mirakuru and apprehends him.  Slade begs Oliver to kill him, but instead of this he puts him away in a maximum security prison bunker on Lian Yu. 
I loved Manu Bennett in the role of Slade Wilson/Deathstroke and although I know it will bring a lot of bad things to Team Arrow, I still hope he will make a comeback in the series. Spartacus is also on my to watch list and I saw Manu in "The Hobbit" and "30 days of night". I for one can't wait to meet him this weekend at ArcCon. We already bought an autograph and I'm thinking of buying a photo op too! 
Cheerio!