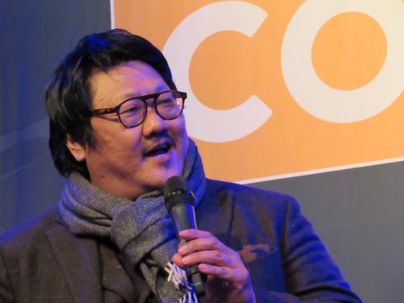 A few months ago we made our way to Dutch Comic Con Spring Edition 2019. As always they had an amazing actor/actress guest list, consisting of: Shannen Doherty, Tom Felton, Jennifer Morrison, Katherine McNamara, Sophie Skelton and Benedict Wong. I was so excited for Benedict to come to the Netherlands, as I am a huge Marvel fan (and DC for that matter). In 2016, Benedict set his first steps in the Marvel Cinematic Universe (MCU), when he was casted for the character of Wong (what a coincidence) in Marvel's "Doctor Strange", starring Benedict Cumberbatch (yes, another Benedict) as Doctor Stephen Strange. I knew I wanted to meet him, I just did not know if I would go for an autograph or a photo op yet. So are you curious about what I decided? Just read on!
Who is Benedict Wong?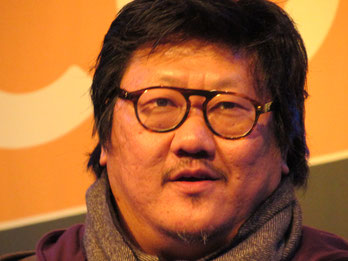 Benedict Wong was born on the 3rd of June 1971 in Eccles, Greater Manchester (UK). His parents were immigrants from Hong Kong. Benedict grew up in Salford, also situated in Greater Manchester. He took a two-year course of performing arts at the Salford City College. After he graduated from college things did not go easy for him and he often got turned down at auditions. It wasn't until he was 22, that he got his first guest role in the TV series "Screenplay". In 1993 he got a part in the BBC radio play: "Kai Mei Sauce". In the years following, Wong earned some small roles in British movies and TV shows, like: "Last of the Summer Wine", "The Chief" and "Nightwatch". In 1997 he landed his breakout role in the TV movie "Supply & Demand" (as Frankie Li) and he reprised this role in the mini series with the same name. He also got a recurring role in the TV show "The Bill". During his time on "The Bill", he also made his feature film debut in the 2001 thriller "Spy Game" (as Tran), starring Robert Redford and Brad Pitt. 
In the following year he played the role of Errol Spears, alongside Sean Lock, in the BBC sitcom "15 Storeys High". Unfortunately the sitcom was short-lived, but it has gained a fair share of cult following over the years. He also earned the part of Guo Yi in "Dirty Pretty Things", starring Audrey Tautou. He got nominated for the BIFA for "Best Supporting Actor" for this role. In the following years Benedict Wong kept on appearing in both Television shows and movies, like: Danny Boyle's "Sunshine" (alongside some big names,like: Chris Evans and Cillian Murphy), "Moon", "Spirit Warriors" "Law and Order: UK" and "Grow Your Own". His next big break came when he was cast for the 2012 Ridley Scott movie "Prometheus". This role can be marked as his break-through role in Hollywood.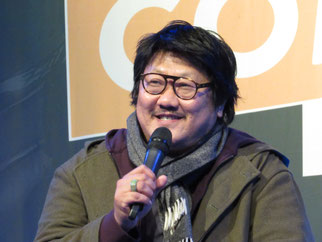 In 2014, Benedict Wong finally got the recognition he was looking for, when he was cast for the role of Kublai Khan in the immensely popular Netflix show "Marco Polo". He also landed a role in the movie "The Martian" (alongside Matt Damon), that ended up being nominated for an Oscar. In 2016 Wong took his first step in the Marvel Cinematic Universe, when he was cast as Wong in Marvel's "Doctor Strange". He reprised this role in the 2018 Marvel movie "Avengers: Infinity War" and in its 2019 sequel "Avengers: Endgame". In the meantime he also played some other roles, like the role of Lomax in the Netflix Original Movie "Annihilation" and as Master Lin in "Deadly Class". Unfortunately this last show got cancelled after one season, but it's rumoured that the creators and cast of the show are searching for another network or streaming service to pick it up again. Some of his upcoming projects are: "Gemini Man" (alongside Will Smith and Clive Owen), the live action remake of Disney's "Lady and the Tramp" (as the voice of Bull) and "The Personal History of David Copperfield" (alongside Gwendoline Christie and Tilda Swinton).
Benedict Wong at Dutch Comic Con
Carola and I were at Dutch Comic Con for two days and we decided to catch Benedict's panel on both days. During his panels, Benedict Wong was a delight to watch. Although he was a bit under the weather, he was happy to answer all the questions from fans, except for the "Endgame" questions. He was very funny and interactive with the people in the audience. Besides his role in the Marvel Cinematic Universe movies, he also talked about his work on "The Martian", "Annihilation" and Netflix' "Marco Polo" (among other things). We were able to record his Saturday panel and a part of his Sunday panel. You can find the videos below. I do have to say that the audio is not optimal, because of the echo in the hall.
Meeting Benedict Wong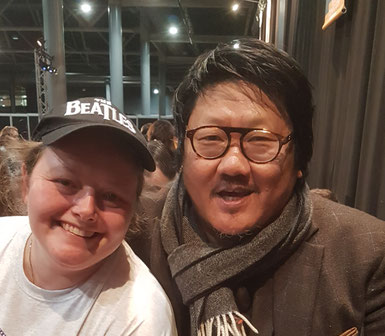 So what did I decide? On Saturday Carola and I were wearing our "Casa de Papel" onesie to Dutch Comic Con and I didn't want to do the photo op with the onesie on, because it was really hot in there with the onesie on. I actually decided I wanted to wait until I had my normal clothes on, before I went to meet Benedict Wong. But when we walked by his table around noon, there was no queue. I knew I had to take this opportunity to have a little chat with this amazing actor. I decided to take an autograph/selfie combination and it was awesome. I was very nervous and when Benedict Wong noticed this, he tried to calm me down. As I already mentioned, I was very overheated wearing the the onesie and my hair was pointing in all directions. When I saw the result of the selfie I was not very happy with the amount of hair that was peaking out behind my ear. Benedict noticed that I was not happy with the result and he made absolutely no problem of taking a new picture. Normally I would not mention it if I was unsatisfied, but he gave me the feeling that I could. The guy was so very nice. He also took the time to have a little chat with us. I talked about "Dirty Pretty Things" and "Doctor Strange". When he signed the autograph he also noticed that the gold pen I chose was not the best choice, so he took another pen and picture and did it again. He decided to keep the original picture and he named it the "Liv Test". He said he would use it to test pens for autographs. I was so happy afterwards (you can see this in our aftermovie of the  weekend)