When you want to get an autograph op at a convention, you might wonder: How does this work exactly? 
Well, that's what we are for! We'll help you through all the steps! 
We really love getting autographs. But there's also a lot to know and to think of to make sure everything will go exactly as you want it to go. Here's our top of things you NEED to know! In random order.. 
1. The price
An autograph at a convention usually isn't free.  So be aware upfront. Mostly you can find the price of the photo ops on the website of the convention you're attending. But often the prices for the autographs aren't online. It varies per convention. Usually you'll have to wait to check it out at the convention itself. Check out the table where the actor is sitting. There you'll see the price!  Prices vary a lot. I've seen prices go from 10 to 100 euros (12 - 112 dollars)! It all depends on how popular the actor is and how much the management asks. Mostly it is cheaper than a photo op. In some cases the same price. But we haven't seen autographs being more expensive than a photo op yet. 
2. Paying for the autograph
The way you can pay for your autograph differs per convention. The most commonway is paying at the table to the manager of the actor. In that case you always have to pay cash. There was one convention we attended (ArcCon), where it was possible to buy autographs upfront online.  I like that. It will feel like I'm spending less money at the convention itself. (because I paid the autograph upfront ;) ). 
3. Schedule
Make sure to know the schedule of the actor you want an autograph of. Is he or she signing all day? Where is the actor signing? Check out if there are long queues and what's the best time to go (Don't get in the queue a few minutes before the actors needs to do a Q&A). At some conventions (like Walker Stalker Con) you can get a ticket with a number on it, so you don't have to queue the whole time, but can come back later. 
4. What do you want to have signed?
Think about what you want to have signed. Where do you want the autograph on? If you are bringing an item to get signed, make sure it's allowed. Some actors don't want to sign specific things (for example clothes). Or sometimes you can only bring official merchandise. Usually the actors bring some photos which you can pick to have signed (without additional costs). That's what I've seen the most. One time we had to pay for these photos as well. That was at Arccon. There you had to buy the photo upfront. And take with you to the signing tables. You can also get your photo op signed, like I asked Rick Cosnett to do. 
Photo op with Rick Cosnett at Arccon
5. Planning photo op and autograph
If you want to have your photo op signed like I mentioned above: Make sure do have your planning right. Plan your photo op. And check out when and where you can pick up your photo. Is the actor still signing afterwards? Make sure there's enough time to get your autograph as well! 
6. Have a conversation
This is your chance! Sometimes it's VERY busy at a comic con and the queue is HUGE. But this is usually with he biggest guests at larger comic cons. When it's a bit smaller: This your chance to ask some questions and have a conversation with your favorite actor. This is the part I love the most. For me it's not about the autograph. It's about talking, laughing and getting to know the actor a bit better. We had great conversations with Kim Coates (check out the video), Set Gilliam and Ian Beattie, James Masters and Sean Astin! Don't be afraid. Even if they are busy signing your item. Just start talking! 
7. You can give gifts
When you're getting an autograph, this is also the moment to hand over a gift to the actor; if you want to of course. Some people do this, some don't. But if you really like to give them something, you can do it at the signing table. For this coming weekend of Hell we bought some 'stroopwafels' (dutch caramel cookies), "drop" (dutch candy) and "Schuimpjes" (Sinterklaas candy)  for the actors! 
8. Personalized autograph
Most actors personalize the signed item. You can give your name and they will sign it specifically for you! Sometimes this is not possible, because of length of the queue but then that will be clearly stated. When you go for an autograph you tell/ spell your name to the manager. They will write it down for the actor. Often actors will ad some text of their own as well, like a quote or reference to the movie or series they played in.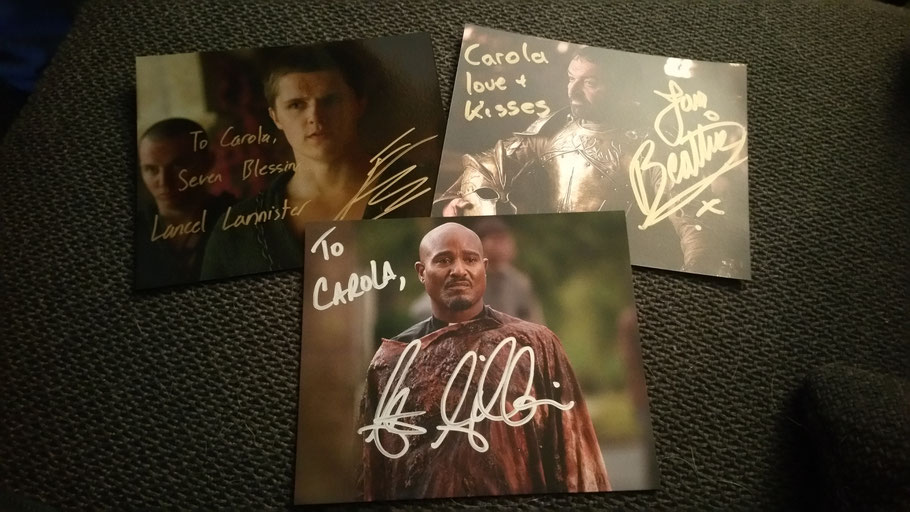 9. Pictures and selfies
This is different per convention and actor. Be sure to find out what the rules are. Check out: 
- If it's allowed to take pictures when the actors are signing (If it's not, usually you'll see clear signs saying you can't)
- If you want a selfie with the actor, ask if it's allowed and what the price is (Some charge for selfies, some don't). 
- If you want to film it: Check if that's ok. 
And don't use your flash while making pictures of the actors. This is usually very annoying ;). 
10. Enjoy!
Besides all this: Don't forget to enjoy!! You're meeting your favorite actor. Don't forget that!! Enjoy the moment. And say whatever you want to say. You have this chance. Take it!! 
Let us know in the comments: Did you ever get an autograph at a comic con? Do you have additional tips? 
Which actors did you meet?