"The power of three will set us free!" I heard it numerous times when I was younger in Charmed. It might have been my very first series addiction. My first DVD 'collection'. My favorite birthday present was a season of Charmed on DVD. I loved that series so much! Watching it until the middle of the night, always curious to see the next episode. And even after a few years of attending comic cons, I didn't expect I would be able to meet actresses or actors from Charmed. Luckily enough, Dutch Comic Con, invited Shannen Doherty!  Hopefully, this will be the start of meeting all the Charmed ones :). Same here, I used to tape every episode of Charmed when it was on TV in the Netherlands. I always drew the triquetra on every piece of paper I could find. I too, own the complete "Charmed" collection on DVD. I remember the first time we had diner at Sigmund and Carola's place...we walked in and the first thing that caught my eye was the "Charmed" collection. It turned out to be Carola's and at that moment I knew 'this was the beginning of a beautiful friendship'. When Dutch Comic Con announced Shannen Doherty, I was over the moon. Not only am I a huge fan of "Charmed", I also used to be a huge fan of "Beverly Hills 90210" and "Little House on the Prairie" is one of my 'guilty pleasures'.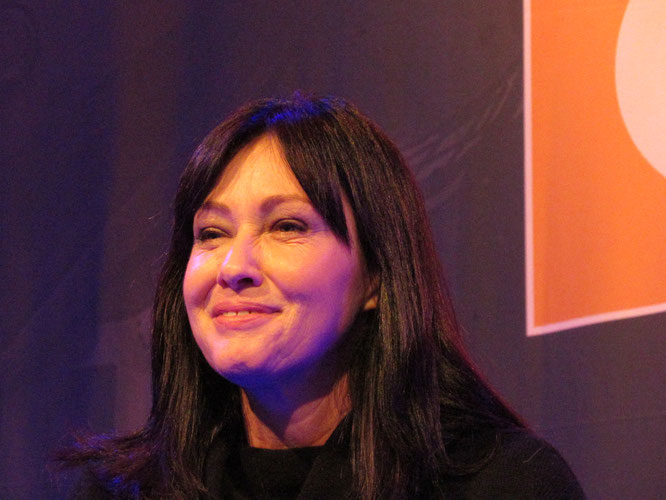 Shannen Doherty
Okay, Shannen Doherty is not just known for Charmed. I know haha. Where I know Shannen mainly as Prue, one of the Charmed sister, many others know her as well as Brenda from Beverly Hills 90210. 
And not just that! Shannen is also very well known for her roles in Heathers, Our House, North Shore and way more! So, let us tell you some more about Ms. Doherty.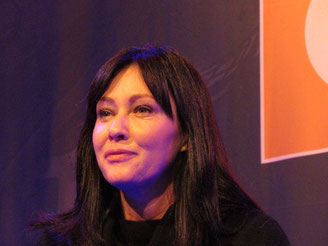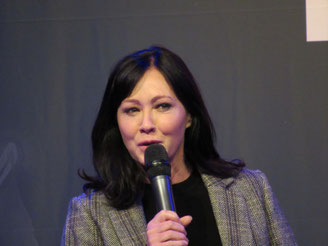 Shannen Maria Doherty was born on April 12, 1971 in Memphis, Tennessee. She was the youngest of two children and she grew up idolizing her big brother Sean. During her early childhood Shannen spent her time horse riding and she dreamed of making it to the Olympics. At the age of 7, the family moved to Los Angeles for her father's work. At the age of 9, she accompanied a friend to an audition for a children's theater production of "Snow White". When the producer invited Shannen to audition, she score one of the lead roles. This was when she caught the acting bug and she begged her parents to let her become an actress. After two years she won and in 1981, Shannen landed a guest role (for two episodes) in the "Father Murphy". This role brought her under the attention of Michael Landon and he offered her the role of Jenny Wilder in "Little House on the Prairie" (Landon played the role of Charles Ingalls and also acted as executive producer of the show). Throughout the 80's Shannen appeared in guest roles in numerous TV shows. In 1986  she landed the role of Kris Witherspoon, in the critically acclaimed TV drama "Our House".
While the young actress was making her name on the screen, she also attended a private school in Los Angeles (Le Lycee Francais). She was a hard working student and did good at school. After her graduation she could have applied to any college she wanted, but that was not what she wanted. Her passion was acting and in 1989, she appeared in her first big motion picture "Heathers" (as Heather Duke). By the time she was 18, she had a promising career in front of her, but her former accountant embezzled a lot of her money and this led to a period of financial problems and a lack of roles. But in 1990, the tables turned and Shannen got cast in the role that marked her breakthrough. She landed the role of Brenda Walsh in Aaron Spelling's "Beverly Hills 90210".. The show was a major success and won a ton of awards. After only four years, Doherty left the show (the alleged reason for her early departure were some conflicts on the set). In the years following she continued working on her movie career and she appeared in movies like: "Almost Dead" and "Mallrats".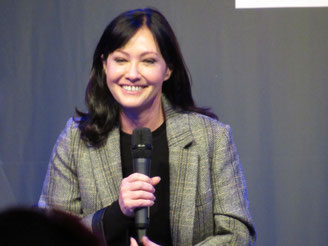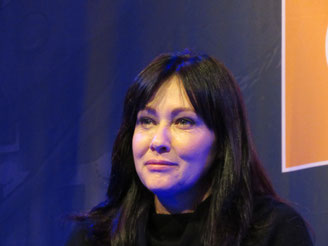 In 1998 Shanned reunited with Aaron Spelling for the next big role in her career. She gets the role of Prue Halliwell in WB's "Charmed". The story revolves around the Halliwell sisters Prue, Piper (Holly Marie Combs) and Phoebe (Alyssa Milano). One day they find out that they are actually the most powerful good witches ever and their life gets turned upside down. After three years, after some conflicts with Milano and Spelling, Shannen leaves the show. In this period, Shannen was also arrested for drunk driving.Over the last 18 years, Shannen Doherty has appeared in numerous movies and TV shows, like: "North Shore","The Rendering", "Another Day", "Love Inc"and "View of Terror". She hosted the first two seasons of "Scare Tactics", She also appeared in the "Beverly Hills 90210" spin-off "90210" and had her own reality show "Breaking up with Shannen". In this show she helps ordinary people break up and end friendships. In 2010 she was a contestant in "Dancing with the Stars" and in 2015 she reunited with "Charmed" co-star Holly Marie Combs for their reality road trip show "Off the map with Shannen and Holly". Also in 2015 Shannen gets diagnosed with breast cancer, that spread to the lymph nodes. After some surgeries it became clear that it might have spread further. She went into a trajectory of chemo and radiation and after a battle of 3 and a half years the cancer seems to be in remission now.
Shannen Doherty at Dutch Comic Con
The first thing of the day at Dutch Comic Con for us was the Shannen Doherty panel! It was a great way to see her instantly and get the chance to know more about her. Her panel was on both days the first of the day! In the video below, you can watch her Sunday panel. It was so cool to attend these panels. Like we already mentioned I never thought I would get the chance to meet one of the "Charmed Ones". And there was the woman behind Prue, sitting on stage at "our" Dutch Comic Con.
I knew before going to Dutch Comic Con already that I wanted a photo with Shannen Doherty. I just hadn't bought a photo op yet. I wanted to wait until the con. I wasn't sure yet if I wanted to do a photo op or selfie. That would depend on how busy it would be at her stand. The first day, Liv & I didn't want to get a selfie too soon, first, we were wearing our La Casa de Papel onesies and we wanted to do a picture in our 'normal' clothes. At the end of the day, we had changed our clothes and it was quiet at her booth. But at that point, I didn't have any cash in my purse. It was too late to get some because it really was the end of the day. So we had to wait until Sunday to go for a selfie or autograph! I decided to wait until Sunday too. I did have the cash, but I wanted to do this together with Carola.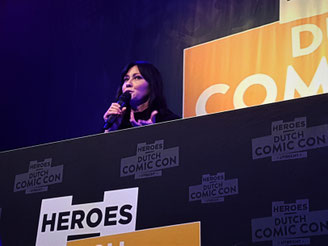 Trying to see Shannen Doherty
On Sunday, we went to her panel again. (Obviously, since we have the panel video haha). After that, it was quite busy at her booth so we decided to wait. We enjoyed the rest of the comic con and came back later. But then, Shannen Doherty wasn't at her boot. But luckily for us, there was a sign. It said that she would be back at 2 p.m. until 4 p.m. to sign. 
We went back again, enjoyed seeing other panels and parts of the comic con. It was a great day! When we arrived back again at Shannen's booth (between 2 and 4), she wasn't there! The lady at her booth said there were some changes and Shannen would be back around 4,30. That's almost the end of the con! Of course Liv and I almost had a panic attack. What if it would be very busy? What if something changed and she wouldn't return? Did we blow our chance to meet Shannen??? When it comes to the panic attack, it started to get real when it seemed that it was not sure if she would be there until the end of the con. I could not miss this. A waterfall of sweat started running down my face and my legs started to feel weak.
Just when I thought I was going to break down, something happened....
The lady at the booth told us that they planned in an extra photo op for Shannen! YESSSSS. We rushed to the ticket booth and bought a photo op ticket instantly. Well, not thát instantly. Of course, something had to go wrong. 1 ticket didn't print. So we stood there and waited. And it didn't work. And an extra volunteer had to be called in to have a look.. After some waiting, everything turned out well and Liv and I walked away with both a photo op ticket for Shannen! (Oh, by the way: The help from the DCC volunteers was great!)  
To photo op or not to photo op
It was 10 to four and time to queue!!! Liv and I went to the photo op queue to wait for Shannen Doherty. Okay, I admit: It might have been a bit earlier than 10 to 4. We couldn't miss this and that is when I get nervous. So we had to be there early. To our surprise, we didn't see anyone waiting! We were the first. Since this was an extra photo op, I expected it to be very busy (why else organize an extra photo op?). Eventually, one guy joined us in the queue and that was it. SO we waited. And waited. No Shannen. 
Luckily enough, the staff was very helpful, saying they would check where Shannen was and they were talking to us too. But somehow, we did get nervous of course. Shannen still wasn't there at 4.15. We were worrying. . Would she still come? Would she want to some for just 3 people? Maybe she would be annoyed to be called to the photo op for 3 people. At this point I had lost all hope, maybe it just wasn't meant to be...(yes I can be very dramatic when I want to).
Then the staff of DCC told us she was on her way. It still took a while, but she got there! And we were only with 3 people to get the photo op. I was excited and a little afraid too. Even though she was super nice during her panels. And I am happy to say that she was amazing at the photo op as well. Shannen Doherty welcomed us immediately, waved at us and we did the photo. I really loved it. It didn't feel like it was too much at all luckily. She was very kind and enthusiastic, which made me forget about the waiting completely. It was a great experience. Yes. it was. We were a bit afraid that she would be a bit annoyed (as Carola already mentioned), but that wasn't the case at all. She apologized for being late and seemed very happy to be there. It kind of felt like a VIP experience, since there were only three of us.  
And the.. there was the selfie with Shannen Doherty!
Even though we both really enjoyed the experience, Liv wanted to have another picture with Shannen. She also wanted a selfie, she liked that better. So we walked straight to Shannen's booth after the photo op. Shannen was indeed sitting there, signing again. We walked towards her and asked for the selfie. She was yet again, very kind and enthusiastic. And for us, it was a great opportunity to see Shannen again after the photo op. 
 I'm really happy that we spent the whole weekend at Dutch Comic Con. We watched both panels, got a photo op and Liv also went to get a selfie! We really did see Shannen Doherty a lot and it was wonderful! I'm happy that we met her. She such an inspirational and kind person. I hope you all will get the chance to meet her as well! Meeting Shannen was wonderful. It was great to hear her talk about her time on "Charmed" and "Beverly Hills 90210". She also talked about her illness and the way she fought against the cancer and still fights against the anxiety that comes with it. In spite of everything she went through, Shannen is a strong and positive woman. And she deserves all the respect she can get for that. She rocks!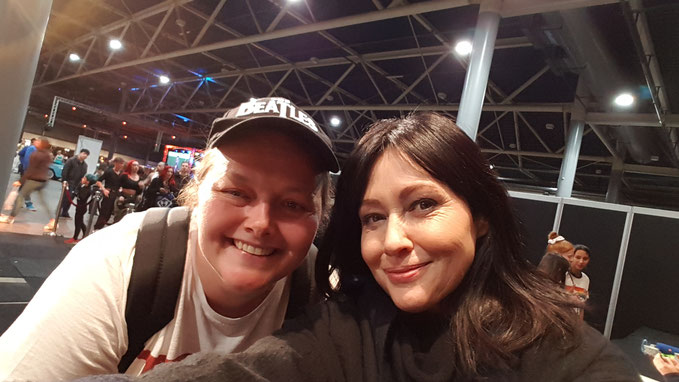 Want to read more about Charmed? Read our article about meeting Brian Krause!