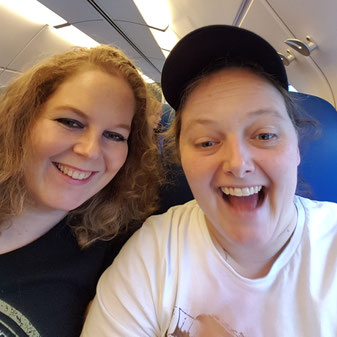 In just over a week our Comic Con season kicks off with Dutch Comic Con in Utrecht and we are really looking forward to it! We have been to every edition since it started in 2015 and we always have a lot of fun. Over the last couple of months, we have already talked about the guests that were announced and this week Dutch Comic Con announced its last guest for their 2019 Spring edition. The guest list up until this week already had some amazing names, like: Shannen Doherty, Jennifer Morrison, Tom Felton, Katherine McNamara and Benedict Wong. And now Dutch Comic Con announced its last movie and television guest and it's no one less than Sophie Skelton! Sophie is mostly known for her role as Brianna Randall Fraser in "Outlander". The combination of an amazing guest list, very cool cosplay, great merchandise and a lot of other cool things to do should be enough to persuade you to make your way to Utrecht on the 23rd and 24th of March (tickets are still available here). 
This article contains affiliate links.
Who is Sophie Skelton?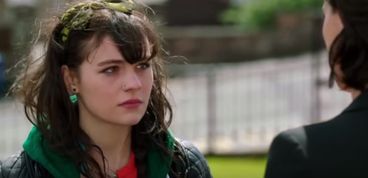 Sophie Alexandra Skelton was born 7 March 1994 in Woodford, Great Manchester/Cheshire (UK) as the youngest of three children (she has two older brothers). Sophie's parents, Simon and Ruth Skelton, are both self-employed inventors of children's toys and board games. Sophie, however, had her mind set on entertaining people from a very young age. At the age of three she started dancing and eventually she started training in ballet at the Royal Academy. But ballet was never what she wanted to do professionally, Sophie wanted to act. Growing up in Greater Manchester, she had been in amateur productions since she was three years old and later on she started doing shows (like "Oliver! and "Chicago") in the Palace Theater. In interviews she mentioned that although she loved doing stage work, she always dreamed of working in the film acting world. She says that on stage you make everything bigger and on camera it's more discrete, you can't lie on screen, because what you think is what people see.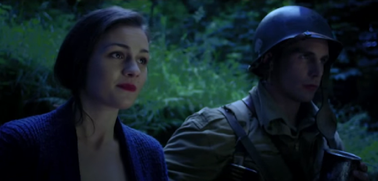 While Sophie dreamed of a career in acting, her parents wanted her to take the safer academic route and aim for a stable career. Skelton made a deal with her parents; if she would get  straight A's in her last year and earn a spot on a University, they would let her take a leap year to pursue a career in acting. Luckily Sophie did very well! In 2012 (at the age of 17), Sophie landed her first real acting job, a guest role in "DCI Banks". Earlier on, however she had played Snow White in a commercial for Sainsbury's starring Jamie Oliver and at the age of 12 she danced on the mystery guest section of Question of Sport with Ricky Hatton. Back to 2012...when Skelton got the role in "DCI Banks", she didn't tell her friends and kept on working on the make up department in a Manchester department store. In 2013, Sophie landed some other guest roles in British TV shows, like: "Waterloo Road", "The Dumping Ground" and "Doctors". Her first feature film role came in 2014, when she was cast as Margaret in the WWII drama "The War I Knew".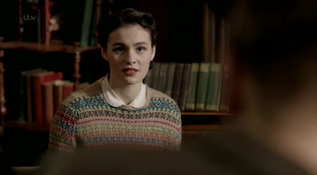 In 2015 Sophie Skelton returned to television, when she landed a guest role in the long running BBC series "Doctors" (for the second time). She also returned to WWII with a role in "Foyle's War". Later that year Sophie appears in 12 episodes of CBBC's "So Awkward" as Sofia Matthews and in one episode of "Casualty". 2016 turns out to be Skelton's breakthrough year, when she lands her first lead role in the short film "Blackbird", but more importantly Sophie gets the title role in the web series: "Ren; the girl with the Mark" and gets the role she is mostly known for: Brianna Randall Fraser in "Outlander".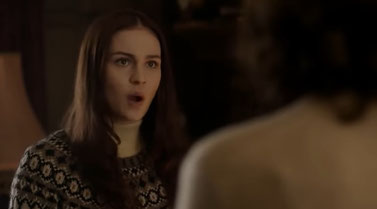 Skelton actually auditioned for the role somewhere in 2014 and when no one contacted her for a second audition over the following year, she assumed she did not get the role. What really happened was the following: it was planned that the character of Brianna would make an entrance at the end of season one, but that got postponed. Eventually Sophie got a new invitation to the audition and nailed it. She says she binged the first season of the show to get Claire's and Jamie's traits into the character. Over the years her role grew from a recurring role to a lead role. Over the last couple of years Sophie grew out to be one of the Top 10 Brits to watch, according to Variety. Besides her role in "Outlander", Sophie also played the lead role of Zoe in the 2018 remake "Day of the Dead: Bloodline" and she played Nicholas Cage's daughter in the 2018 action movie "211". We haven't seen the last of Miss Skelton yet!
Fun Facts:
- Apparently Sophie always travels with her pointe shoes, because she wants to try and keep up with dancing, just for fun!
- She always loved movies and going to the cinema. One of her big heroes is Audrey Hepburn. She also has an impeccable taste inn movies and TV. Among the ones that inspired her most are: "Band of Brothers", "Good Will Hunting" and "Saving Private Ryan".
- Her parents are self-employed toy inventors and she and her brothers were often used as guinea pigs while growing up. In an interview she talked about how, at the age of 7, her parents asked her to bring home some friends from school to star on the box cover of a game they designed. The day after at school her friends were talking about how cool it was that they got money for it....Sophie is still waiting for the cheque by the way.
Sophie Skelton will be attending Heroes Dutch Comic Con in the Jaarbeurshallen in Utrecht in the weekend of March 23-24.
Autograph: €35
Photo Op: €45