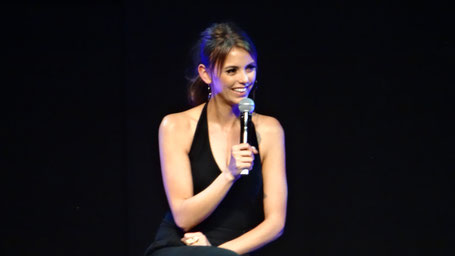 Oh yeaaaahhhhhh. We met Riley Voelkel!!! We were thrilled to see that KLZ events announced Riley as a guest for Bloody Night Con Brussels 2017. We already had tickets. And on a certain day.. Claire Holt (Rebekah in the Originals and the Vampire Diaries) cancelled. Of course I was very sad. Claire had already been announced as a guest in October 2016. And I was looking forward to meeting her a lot. But: KLZ had some great news as well. Claire would be replaced by Riley! It rained positive responses on Facebook.  I remember I checked my Facebook and saw the message that Claire cancelled. I knew I had to call Carola to tell her, because she was looking forward to meeting Claire so much (as was I). Of course I did not read the full statement, so I didn't read about Riley replacing Claire. After my phone call with Carola, we both noticed the good news. Riley voelkel was the replacement guest. I think Riley is pretty awesome as Freya Mikaelson (in The Originals), so I was very happy.
Riley had been a guest at Bloody Night Con before and I could tell the fans were very fond of her. I had never been to Bloody Night Con before. Nor had I met Riley before. I was thrilled nevertheless. Riley Voelkel plays the role of Freya Mikaelson in The Originals. And I totally love Freya. Especially in the last 2 seasons. So we couldn't wait to meet Riley Voelkel at Bloody Night Con! 
Riley Voelkel
Riley Voelkel is an American Canadian actress. She's 27 years old (Born in 1990). She's known for playing Jenna Johnson in The Newsroom. She also played the Young Fiona Goode in American Horror Story: Coven. Currently, she portrays Freya Mikaelson in The Originals. 
Bloody Night Con is a TV Series Fan convention, specifically about The Vampire Diaries and The Originals.
 The Originals is set in New Orleans and it revolves around the Mikaelson family; also called The Originals, because they are the original/first vampires. Freya is the oldest one of the siblings. At first everyone believed she died in Europe. Freya is, in contrary to her siblings, not an original vampire. She's a very powerful witch. 
Riley has also been starring in some movies, like: The Secret Lives of Dorks (as the popular Carrie), Hidden Moon (as Christine Brightman) and Prom (as Claire). Fun Fact: In Prom Riley Voelkel plays alongside Danielle Campbell (Davina in The Originals).
Panels Riley Voelkel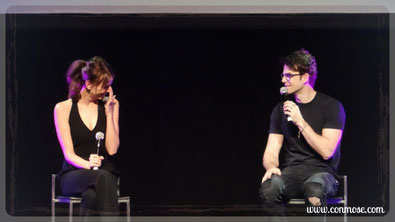 During the weekend of Bloody Night Con, we watched multiple panels of Riley. The first panel we saw was the one she did together with Nate Buzolic. She also did a panel together with Charles Michael Davis and 2 solo panels.  My first impression of Riley Voelkel: Wow, she so enthusiastic and kind!  I was really impressed. She had so much energy. Her duo panels were also a lot fun to watch. It was full of laughter, but also with inspirational answers.
You just had to be enthusiastic as well. It's impossible to watch Riley and not be happy! I'm really impressed by the way she handled the panels. She has so much love for her fans. She gives everyone the same attention and enthusiasm. It's incredible. Yes, she really was! I had a smile on my face during every panel Riley Voelkel was in.  At one point she,during her panel with Nate, they did a little play where she was a vampire and Nate was a witch. That was very cool. Check out our Highlights Video of this panel.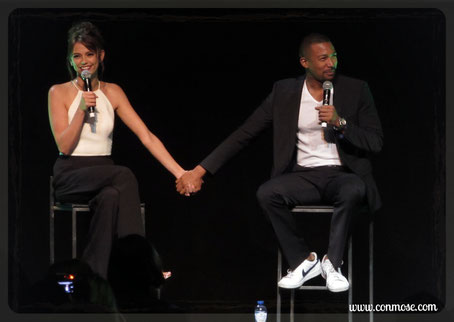 Just a few fun things we can share with you from the panels:
- If she could take a prop from the set of the Originals, she would take a thing that no one really knows what it's for. It looks like a giant paint brush. When Daniel Gillies is not on camera, he always uses it to make the cast laugh. 
- If you could bring someone back from the dead: Freya would bring Finn back. If she (Freya) could kill someone, it would be Marcel. 
- Her best friend on set: Summer Fontana (Hope).
- She has a cat! His name is Quentin Meowantino!  She always used to make fun of people, who were obsessed with their cats. But Quentin really is her best friend. She takes him with her on her travels (when it's possible). She has a special backpack for the cat (which makes him look like a space cat). She says she treats him like her son even though she knows that makes her a crazy cat lady.
- One actor she'd really like to act with: Morgan Freeman or Matt Dillon. But she's looking forward to working with everyone. 
- Riley Voelkel wasn't in Theater in High school, she was a softball player. At that time she wanted to be an architect. One month before she would start at school, Riley moved to Los Angeles to start modelling. AT one point the modelling agency started to put her in commercials. She took some acting classes. From the first moment she started with acting classes, Riley Voelkel knew this was what she wanted to do for the rest of her life. She took a job as a bartender, while she was auditioning for roles. And the rest is history...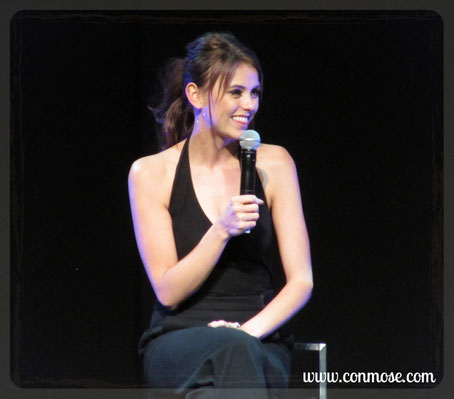 - Her ancestry goes all the way back to Romania and supposedly she is related to Vlad Dracula, so she might actually be a vampire.
- Riley loves Belgian Beer and Belgian Chocolate. She also loves the people and walking around in Brussels.
- She also loves Batman and she would love to play Batman some day (lol).
- Riley thinks Freya would rather be a vampire, than grow old and die as a witch. She does think Freya's personality would go off the hook with the heightened senses of a vampire.
 - If she could choose anyone of  The Originals to befriend in real life, Riley Voelkel would choose Klaus to be her friend. Because he could handle things for her and if he is your friend, you don't have to be afraid of him.
- She told a story about a prank war gone bad,between Joseph Morgan (Klaus) and Daniel Gillies (Elijah). One day Daniel Gillies wanted to park his car so close next to Morgan's car, that he could not get in. But he was too enthusiastic and hit Joseph Morgan's car. 
- She is very happy with the gay story line of Freya. She thinks it makes perfect sense that Freya falls in love with someone, who changes things for her. And it doesn't matter if it's a man or a woman.
- Riley Voelkel plays a little bit of guitar. She likes to blast music in her car and she likes to sing to it. She says she is pretty sure she scares people around her with that. She also likes going to the beach, hanging out with her family and friends and going to conventions.
Photo op with Riley Voelkel
We loved our photo op with Riley Voelkel! The photo ops I loved the most at Bloody Night Con is the photo op with Riley Voelkel and the photo op with Michael Malarkey! Riley was just as energetic and enthusiastic as she was on stage. It was so nice to do this photo op with her. She was so kind, that you didn't even need to feel (very very) nervous. She asked everyone if they wanted to do a pose or not. And she was so thankful to all of her fans. I feel very lucky to have met her. And if I get the chance to see her again, I'll definitely get an autograph as well. She's such a nice person and an awesome actress. I think you all can already tell that I think Riley is great! I really hope that she'll be invited to a lot of comic cons, so many fans will be able to meet her.  
I couldn't agree more. Riley Voelkel really seemed to have a lot of fun meeting her fans and she asked everyone which pose they wanted. I asked her if we could do a "witchy" pose and she immediately said yes and I thought that was really cool. So thank you Riley for making our weekend just a bit more magical!