Ernest Lee "Ernie" Hudson was born on december 17th, 1945 in Bentmore Harbor (Michigan). He is mostly known for his role as Winston Zeddemore in the "Ghostbusters" franchise. But also for his roles as Leo Glynn in  "Oz" (1997-2003) and as Police Sergeant Albrecht in "The Crow" (1994).We were going to meet Ernie at FACTS convention! We parked our car and walked towards the entrance of FACTS. Or better said: to the queue. There was a massive queue, it's a popular convention. We're just looking around and discussing what we wanted to do at the convention. Suddenly we see someone with a trolley walking to the side entrance. We nudged each other: OMG, that's Ernie Hudson! He had a big smile, waved and said "Hi guys". With a trembling voice and our eyes wide open in disbelieve we made a noise that should have sounded like hi (but sounded like a squeeking shoe). I hope we did not scare you Mr. Hudson...We were immediately lyrical to have seen the first actor! That's a good start. By the way the queue resolved in just a few minutes at the moment the doors opened. Great organization FACTS!
Of course we went to see Ernie's panel. It was very amusing! He told a lot about Ghostbusters (including the new one), the film industry and his roles. It was great to hear him talk about all these things. Yeah it was... we had great seats. Funny thing was: he had an enormous jetlag., wich made him lean on the desk like he was hanging at a bar. Because of this it was just like he was talking to his friends and it all felt very informal.
I was shocked to hear that he turned down the role of Dr. Webber in "Grey's Anatomy". I love "Grey's Anatomy" and am watching it for years now. How different would "Grey's Anatomy" have been with Ernie Hudson in this role?!
But Ernie has some amazing roles on his name. He played in my all time favourite series: "Oz" (and won a Golden Satellite Award for his role as Leo Glynn). That was enough for me to be excited to see him at FACTS. But, of course, I did my homework and watched some more of his films before the convention. I watched "Congo", "The Crow" and "Ghostbusters". Yeah, I know. Shame on me that I hadn't seen "Ghostbusters" until 2015. It was great to see Ernie in other roles and I was even more excited to see him at a convention. Ernie also talked about his role in "The Crow". "The Crow" stars Brandon Lee as Eric Draven. Brandon Lee died on the set of this movie due to a tragic accident. Ernie talked about this emotional time and the impact it had on him. If you haven't seen this movie already I recommend you go and watch it.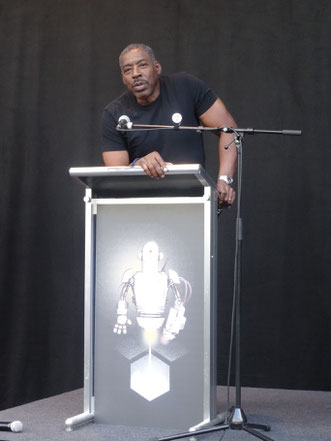 Time for the photo op! We hadn't decided beforehand to get one. But the early morning meeting and the panel convinced us to take a photo. And I'm glad we did. Ernie was really nice and gave us a big hug. Obviously not everything can go flawless.. I kept blinking in the photo and we had to go back 3 times! Of course I was embarassed to go back every time, but Ernie stayed very relaxed and even joked the last time: Maybe all of us should just close our eyes. That helped and kept my eyes wide open. Mission accomplished! Loved the photo. Yes the photo op was hilarious. When we first entered the photo op area I was nervous as hell but because of the "blinking-incident" and Ernie's reaction to it, by the time of the third try I was pretty relaxed.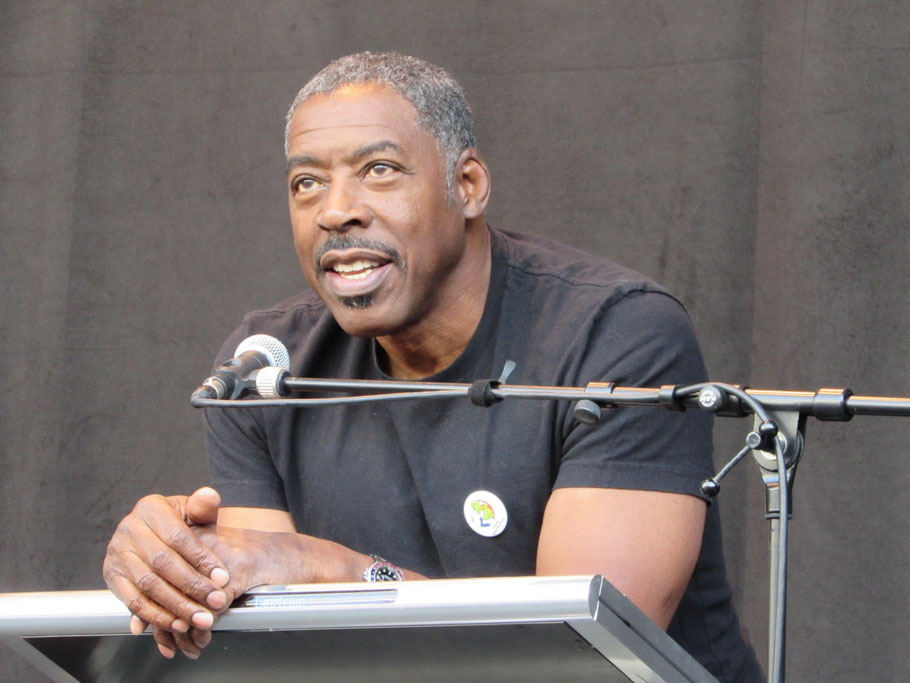 Ernie was so relaxed and kind, we really wanted an autograph too. So again, we were headed towards Ernie. It might not come as a surprise to you that I chose a picture of "Oz" to get signed.  We even talked a bit about "Oz" and I mentioned that this was my favourite serie ever (which is absolutely true). And he asked if the photo turned out fine now :). "Oz" is truly one of the best series ever and I hesitated a lot but I chose a "Ghostbusters"  picture. Hey what can I say: I grew up in the 80's and "Ghostbusters" is an 80's classic. After meeting him I can say Ernie is not only a great actor but also a great human being. 
Cheerio!