Oh yeah, we met Daniel Gillies  for the second time. In one year! Who would have thought this was possible. I remember that we were so happy when KLZ Events  announced Daniel for Bloody Night Con in Brussels. Of course Daniel is mostly known for his role as Elijah in "The Vampire Diaries"/ "The Originals" and he is one of our favorite characters. Earlier we already wrote about meeting Daniel Gillies for the first time. Now, it's time to discuss the second time we met Daniel! It all started at Dutch Comic Con... A few months ago there was a post on social media that they would announce a new guest soon, it said something like: "Our next guest is armed to the teeth and won't hold back to show his or her teeth. We think you won't want to question this original specimen, because he/she will definitely use his/her teeth." From that, we knew it would be a guest from "The Originals". We were speculating about who it could be and decided to record our reactions to the announcement. A few day later, they announced Daniel Gillies as a guest. Since we had loved meeting him earlier in 2018, we were excited to get the opportunity to see him again. And of course our Elijah Song made its comeback...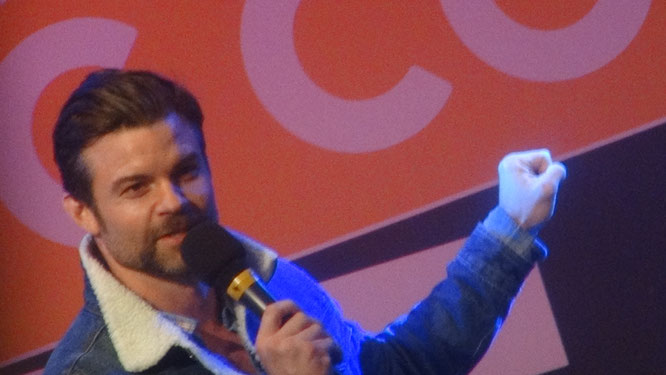 2018 was a great Gillies year for us! Daniel cancelled Bloody Night Con last year and Liv and I were so disappointed. We had been singing the Elijah song for weeks, making everyone around us go crazy. And all for nothing! Luckily Daniel made it up for it twice! 
Gillies, where are you?
At Dutch Comic Con, we headed towards the artist alley, only to see Daniel Gillies hadn't arrived yet. His table was still empty. We did see Gaten Matarazzo, Lana Parrilla and Rebecca Mader already! An hour of so later, we returned, only to find out Gillies was not at his table. Disappointment all over again ;). Where could Daniel be? Was he even in Utrecht? We went to see some panels, walked around and returned yet again. Still no Daniel Gillies. We had a lot of panels to attend on Saturday, so we had to give up. Only chance to see Daniel on Saturday, would be at his panel. And of course we did! We went to his panel and it was great. Daniel Gillies is so funny. But the moustache though.. Still wondering where that came from! The moustache did not bother me that much. Ok Daniel looked like he stepped right out of a Pam Grier movie from the seventies, but the man can get away with everything, haha...During his panel he even apologized for his moustache and that was a hilarious moment. There was someone that wanted to ask him a question and Daniel Gillies stopped her and said: "By the way: I need to stop this question before you ask...I need to apologize to a country, to everybody here, who paid good money to be here today...for my moustache. I'm so sorry for my...it's a disaster. No, no, no, no, no don't try and make me feel better about how shitty this is. This is a terrible mistake and I am very, very sorry...to the country, to all of you, for my facial hair today. My moustache apologizes too...from the bottom of his heart. But I can't break up with him, we have got a relationship going on now and he likes to sit on my face..." (Unfortunately I was not able to film that part, but I'm sure you can find it somewhere).
During his panel he, of course, also talked about "The Originals" and Joseph Morgan (who plays Klaus). I hope to see them both together at a con some day (maybe 2019??). That would be great. I think Joseph Morgan and Daniel Gillies would be great to have on stage together. And I would definitely buy a duo photo op.  Yeah me too, during his panels Daniel always makes fun of Joseph and I would love to see how that plays out when they are on stage together. At Bloody Night Con, Daniel talked about a prank war that was going on during the making of "The Originals". During one of the pranks, Daniel Gillies even accidentally made a big scratch on Joseph's car.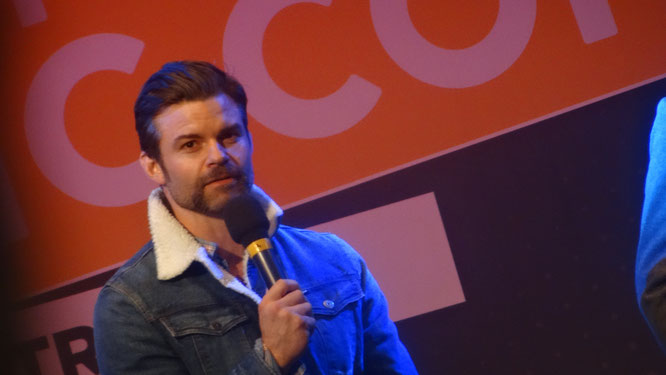 On Sunday, we were determined to see Daniel. Our day started with the photo op with Lana Parilla. But after that, we went to see Daniel Gillies. But we were out of luck again and he wasn't at his desk. We went to a panel and returned. Turns out, he had been sitting there to sign, but had just left. This was getting crazy and Liv and I even made a video with an urgent message for Daniel on Instagram. We kept joking about it: Maybe we should ask DCC to broadcast we lost someone. 'Daniel Gillies please return to the signing table'. Hahahaha. Yes, that was crazy indeed. I mean we knew he was in Utrecht, because we attended part of his Saturday panel, but we kept on missing him at his table. We almost put out an APB on him and started to wonder if we would even get a chance to get an autograph or selfie. I was thinking about getting an autograph, because I already had a photo op at Bloody Night Con.
Seeing Daniel Gillies part 1
At Dutch Comic Con I decided to get a new tattoo. I was so excited! I went over to their stand and we agreed I would return 2 hours later to get the tattoo. After that, I went back to Liv & Stevie. We walked around and later decided to try one more time to see Daniel Gillies. As huge fans of "The Originals" & The Vampire Diaries", we just couldn't give up on seeing the one and only actor behind Elijah Mikaelson for a second time. And yes! We were lucky. He was sitting at the table and signing.  But... there was a queue. Liv wanted to queue to get an autograph. I had my doubt. I wanted an autograph or selfie. But I didn't feel like rushing. And I was afraid it would feel that way, since I almost had to go for my tattoo. But I agreed to queue with Liv & Stevie. If it would take to long, I would leave. But... It didn't take that long as all, and I saw us moving forward quite quickly. So I started thinking about a selfie... And last minute I decided to do it! Liv got her autograph, and when she was done, I got my selfie(s). And look at the result!! No explanation needed. He definitely made up for all the waiting and searching. Oh yes he did, it was awesome to get an autograph of Daniel Gillies. I mean you do have more time to have a chat at the table. Daniel was very friendly and I was very happy to finally get my autograph...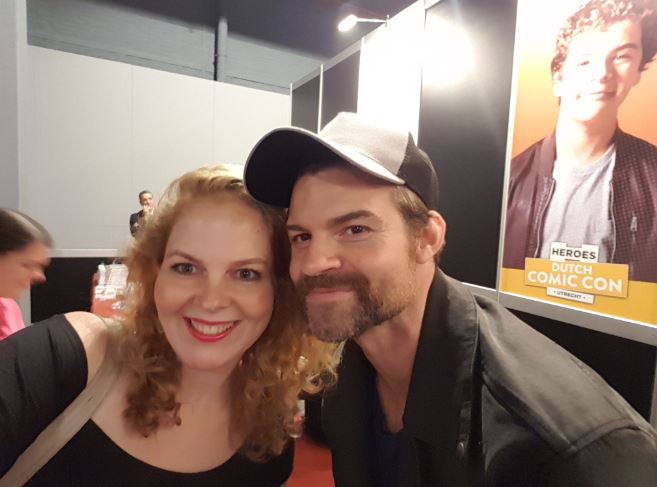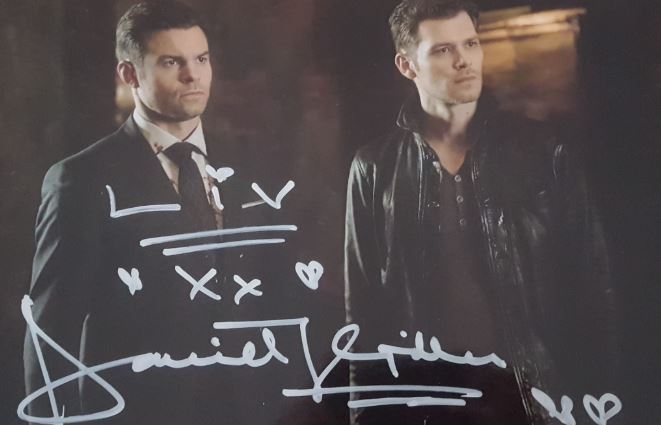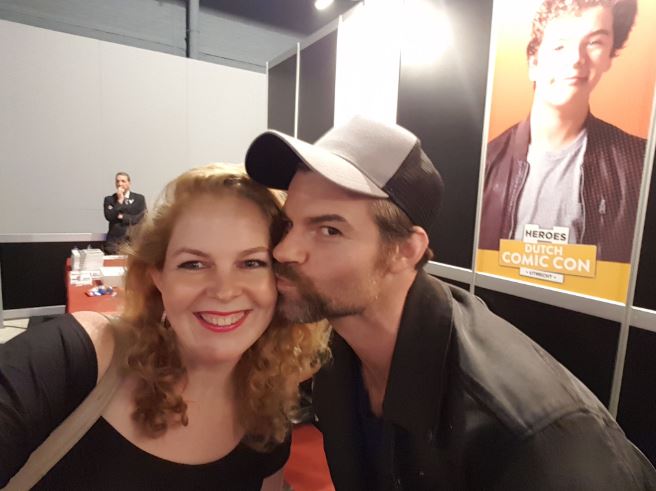 Daniel gillies: Part 2
Yes, there's a part 2! This isn't even the end. Liv attended Daniels panel. I couldn't do that, because I was getting my new tattoo at that time. Liv told me Daniel Gillies was funny as ever. I think we will always be happy to see Daniel at conventions. He's so funny and his panels will never be boring. Yes, I have seen quite some panels with Daniel Gillies in it and it is just so much fun to see him on stage. I think it is great to see that Daniel in real life is the complete opposite of his character Elijah. For example: Elijah is very serious all the time, Daniel at the stage is the complete opposite. He is constantly joking around and he is very sarcastic (I love that), but he can be serious when the situation needs it. I thought it was a pity, that I could not watch the entire panel on both days, but hey so much to do in so little time. On Sunday the panel was still going on when Carola sent me the message that the tattoo was finished. Of course I wanted to see the result, so I rushed to her. But I still had that feeling that I should go for a selfie with Daniel too...Even after the tattoo and the panel, we headed over to his table again. And since Liv got an autograph, but not a selfie, she started doubting again. A selfie would be great.... 
And well we all know how those doubt usually end ;)! Yes, she did a get a selfie with Daniel! Yes, I did and again he was so friendly. He really took the time to make sure you get a good picture. I just love that man! haha...
We were incredibly happy and Daniel Gillies definitely made our weekend at Dutch Comic Con. If I get to him again at a comic con, I'll definitely get an autograph. I have a selfie and photo op already, and I would love to still get an autograph as well. (I didn't get one yet, so now we will have to see Daniel Gillies again just for the autograph haha). I will probably go and do something too, haha. And for now all we can say is: Elijaaaaaahhhhhh!
Last request: Please get Daniel Gillies & Joseph Morgan to convention in Europe together! That would be so much fun :).