After a wonderful Saturday at Bloody Night Con Europe, we were excited to go back on Sunday! Lots of great things were still to come so we were definitely excited. We got up early. Very early. The guys wanted to go to a flea market close to Brussels. The guys went to the flea market and we still had 2 hours until Bloody Night Con would start again. Enough time to have some breakfast, discuss the upcoming day, drink a coffee and walk to the Egg.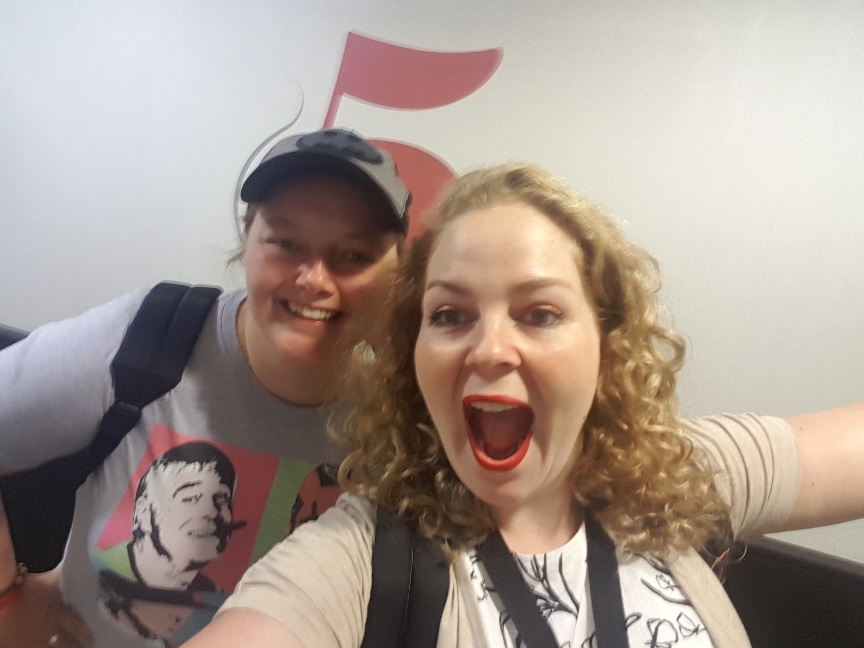 The Originals
We started off with a panel, followed by lots of photo ops! The very first panel of the day was an 'Originals' panel with Nate Buzolic, Phoebe Tonkin, Riley Voelkel and Daniel Gillies. One of my favorite panels! I love the Originals, so this panel was perfect. And they're so great together. Want to know more about the panel? Watch the video below. 
Photo ops
After that, it was time for us to all the photo ops! In between we saw a bit of Riley's panel. But we were mainly busy getting our photo ops. We'll talk about meeting the actors more in separate articles. But I can tell you I love photo ops. The actors were very nice and all willing to do some nice poses. I will already share my photo op pose with you here! 
The queue was long, but it all went well. the waiting didn't take too long and while queuing we had fun in talking to other people. I really like it that you queue in a long hall and that just a few people can enter the photo op room already. And there's a lot of room for your bag and lots of volunteers in the photo op room. That always makes me feel like my bag is safe and I can just enjoy my photo op. It was all arranged very well. 
More panels!
After doing the photo ops, we had a break. KLZ organized some nice competitions via Twitter to win photo ops, autographs etc. That also kept us busy during queuing and the breaks. You had to re-make a photo op with someone else, make a selfie with one of the people working at the con etc. I think a lot of people had fun and it was great (even though we didn't win anything haha). 
after the break, some more panels followed: 
Phoebe Tonkin
Candice King
Daniel Gillies & Nate Buzolic (Nate was still signing, so in the end it was just Daniel) 
Michael Trevino & Candice King
Nate Buzolic & Daniel Gillies & Riley Voelkel
Want to see the Candice King panel? Watch it below! 
It was fun again to listen to all the panels. There were a lot of the same people asking questions in every panel. And some repetitive questions. But well, I'm already so happy to be able to attend so many panels. Liv also asked 2 questions this in panels! In Phoebes panel and Daniels panel. 
She asked Phoebe about the trick she can do with her arms (fold them in some way and put them over her head). She did it on Saturday in her panel and Liv and had been fighting over how she did that haha. Phoebe was kind enough to do it again. 
I thought it was a pity that Daniel & Nate didn't do an impersonation of each other. Nate imitated Elijah last year and it was just incredible. If you've missed it last year, just watch this video below. This a video of Nate & Rileys panel at Bloody Night Con 2017. 
It's great, Isn't it? I hope to see Nate do that again in the future. It's so funny! The rest of the panels, you just have to see it for yourself. Watch some of the panels and definitely go to Bloody Night Con next year. It's fun and hilarious and there's so much opportunity to ask your questions. Check out some photos of the panels below!   
Back to the Netherlands!
Around 7 o'clock, Bloody Night Con ended. After a wonderful weekend we headed back to the Netherlands. The drive went well, not too long.  We ate something on the way and were back late in the evening! 
We had a great weekend. I loved the guests, they were all great. It was once again a very inspiring weekend. The atmosphere was amazing. Everyone was once again very friendly. We had great talks and made new friends. Hope to see you all very soon!