A month ago we went to Dutch Comic Con and as you may know one of the guests was Dirk Benedict. That's right! Dirk Benedict, the man behind legendary characters like Templeton "Faceman" Peck (The A-Team) and Lt. Starbuck (Battlestar Galactica)would be in Utrecht and I was gonna be able to meet him. I grew up with the A-Team and I loved Dirk Benedict's character Face. He was the team member that could always get anything they needed, but how he did this was a bit shady. Years ago ( in 2007) a friend and me went to a taping of a Dutch Late Night Show ("Jensen") and the guests for  that episode were Dirk Benedict and Dwight Schultz. Back then I already saw him in real life, but I didn't get the chance to meet him...and now 10 years later I would finally get my chance. I already bought my photo op ticket in advance, so I was sure I was gonna get the chance to shake his hand.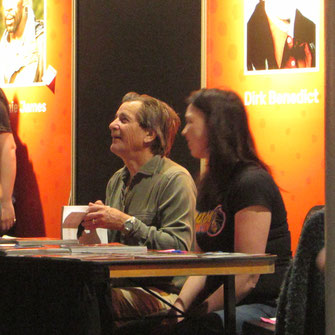 Saturday March 26th 2017, 5.30 a.m.
Yes it was that early. Because we would only go on Saturday we decided to leave home early, because Dirk Benedict's Q&A would be early in the morning and of course we did not want to miss it. Why 5.30 a.m.? It's a 2 hour drive to Utrecht!? Well we had to go to Carola and Sigmund's house first and since Tristan and I don't have a drivers license we had to go by train. To arrive at their house around 8.15, we had to take the train at 7.00. No we don't live that far apart, but the train system in The Netherlands can be very complicated...let's leave it at that. So we took the train at 7 a.m. and by 8.30 a.m. we were well on our way (estimated time of arrival 10.05, the Q&A was at 10.30 whoohoo). But then disaster struck; you know that warning lights at your dashboard? The ones that shouldn't light up? One of them lit up! After a quick google session we were all sure that there was something wrong with the brakes, so we all decided to stop at the next gas station (estimated time of arrival: ???).  At the gas stop there was some more googling and we decided it was necessary to call the ANWB (automobile service) and take this opportunity to get something to eat. By the time they arrived we already knew that we were going to miss the start Dirk's Q&A, but hey safety first right (estimated time of arrival 10.35, so maybe we could catch some of it).  When we arrived in Utrecht there was a lot of traffic and we ended up in a traffic jam and then a there was a new problem. The car was heating up in the sun. The fact that we were driving and stopping...and driving and stopping did not help. As the car was heating up, so were we (estimated time of arrival 11.00, we already knew we were gonna miss the Q&A but Carola had her first Photo op at 11.30 , so that was our next deadline). To make a long story a bit shorter, by the time we arrived it was 11.05 and Carola's head was kind of tomato red. But we made it! Guess what I wanted to say was that we missed the Q&A, so I can't tell you about that, haha. But I did have a photo op ticket and I could go for an autograph if we had the time.
Photo op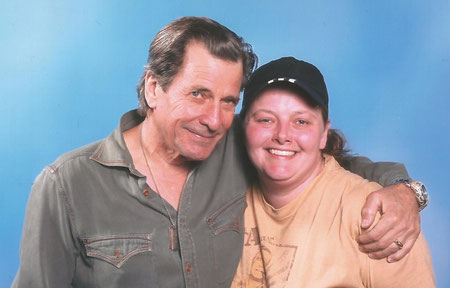 I bought my photo op ticket in advance, so I knew I was going to meet yet another childhood hero.  I made my way to the photo boot and the queue was huge (as expected). Because we only had the one day, Carola took this time to walk around in the merchandise and props hall, but she checked in multiple times.  And I got more nervous every time.  I already caught some glimpses of Benedict while walking past the area where the actors were and I already saw him in real life once, but now I was going to be able to shake the hand of  Dirk Benedict.  When it was finally my turn I walked up to him and shook his hand. I asked him if I could give him a hug and he answered: "Yeah sure...". We took the picture and I told him I had a present for him and I would give it to him later at his table. When I walked out I had a smile from ear to ear. He was so nice!
Autograph and present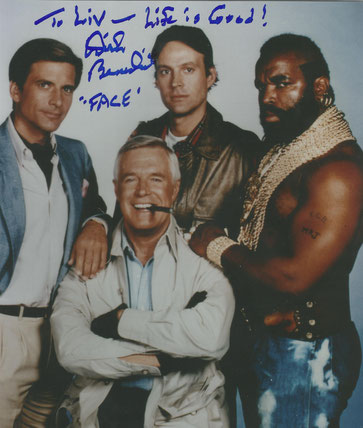 Like I already said, I still had a present for Mr. Benedict. Normally we give some "stroopwafels" or "drop", but not this time.  As you can read in our Spotlight Article, Mr. Benedict has been following a special diet for years now (macrobiotic diet), so I had to find something different. I had been reading about the macrobiotic diet and I hoped to find something that would fit the diet, but I decided I wasn't gonna take the risk. I also read that Dirk converted to Buddhism, so I decided to buy him a little Buddha statue.
There was a huge queue at his table throughout the day, but at one point I had to get in line because time was ticking. When it was my turn I gave him the present, with our card on it. He took a long look at it and began joking around about the name Conmose.  That was really funny. I already picked a photo to sign and my name was on a post it. When he saw my name he asked me if I was Scandinavian. I told him I wasn't, but my name was and I was named after the Swedish actress Liv Ullman. I knew Dirk had spent some time in Sweden when he was working on his first movie Georgia, Georgia and Dirk started telling me about his time there. He also talked about meeting Liv Ullman and about what a great actress and wonderful woman she is. It was a great moment for me and like I said before it is so nice to know that a hero from your childhood turns out to be a wonderful man in true life too. So thanks Mr. Benedict for making my day!