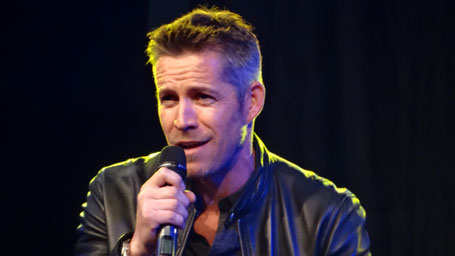 I rushed through the entrance of Dutch Comic Con. Wondering: Where are the toilets? I ran in and out. Check. Where's the place for photo ops? I had ten more minutes before Sean's photo op would start. Liv and I walked around quickly to scan where I should be queuing. Ok, we found it! The queue was quite long. Liv was going to look around while I was queuing. I was standing there. Not feeling like I was actually there. It was warm. Hot even. I looked around and tried to realize that I'm actually queuing for a photo op with Sean. But I still felt rushed. And nauseous. We had a bumpy ride going to Dutch Comic Con. We left early because we wanted to arrive in Utrecht before 10 o'clock. Little did we know. We were driving for about 45 minutes when a light on the dashboard in our car started to blink. OH. NO. 2 years ago we already had car trouble going to Dutch Comic Con ( a flat tire). And this time. A blinking light is never good. I checked the meaning of the light. It meant there possibly was an issue with the brakes or the brake fluid. Ok, you can not take any risk with that. We stopped immediately. We called roadside assistance. They arrived within 30 minutes and fixed the problem. Yeah!! When we arrived in Utrecht, there was a long traffic jam. Then again problems started to rise. The car was getting warmer and warmer. And warmer. And like WARM. We had to enter a parking garage. And had to stand still on the hill there. I was freaking out. But: Finally, we parked and arrived at Dutch Comic Con. 
Photo op Sean Maguire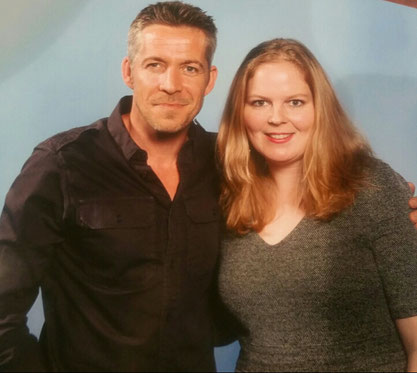 So when I started queuing, I still felt rushed and nervous. I was so glad to be at Dutch Comic Con. But on the other hand, I still felt worried. I didn't notice a lot of the things that were happening around me. It just was a mixture of relief, worry, excitement, nauseousness and being scared haha. When I approached the moment of the photo op, I started to get nervous for the photo. All the morning troubles slowly disappeared. Finally, I realized: I'm queuing for Sean Maguire! Sean. Maguire!! I was so thrilled. And then I finally saw him: He was spontaneous and happy. Talking to everyone and giving hugs. 
Finally, it was my turn! I was excited to take the photo and walked towards Sean. He gave me a big hug, talked a bit and then the photo was made. You see the result in this post! I'm very happy I bought the photo op. I doubted a long time whether to buy it or not. And finally, I did buy the photo op. I think 2 days before Dutch Comic Con. It was an excellent choice! 
Let's Talk about Sean Maguire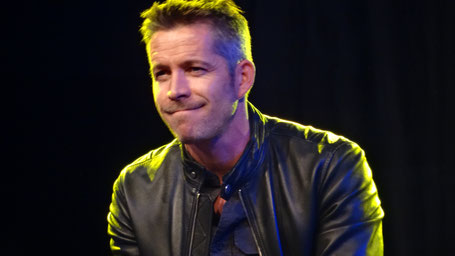 I've started watching the TV series Once Upon A Time a while ago and I totally loved it. Sean Maguire plays the role of Robin Hood in this series. You can imagine how excited I was when I read that he would be attending Dutch Comic Con! At that point, we weren't certain yet if we would be attending the convention. But this news certainly made it easier for me to decide to go! 
Sean Maguire is known for his roles in Once Upon A Time, Off Centre, Eastenders, The Class, Grange Hill and more. He's also a singer and has had several hits. If you want to read more about his role in Once Upon A Time or his other activities, check out the spotlight we wrote about him. 
Sean Maguire's panel
I also attended Sean's panel of course. It was a lot of fun and I loved hearing him answer all the questions. It was a pity that many people asked him to say something in a camera for someone who couldn't attend Dutch Comic-Con that day. I understand the request, but personally, I attend q&a's to learn more about the actors. I'll share a few things with you that might be nice to know! 
- He wouldn't want to be any other character in Once Upon A Time. He's happy with the part of Robin Hood. Though he would have liked to have seen a bit more of the darker side of Robin Hood. 
- Someone asked, who he would be if he could be any Disney princess. The answer was: Moana! His son watches the movie a lot. 
- He's a big Star Wars fan. He loves anything Star Wars related
- He loves Spiderman, Superman, Batman
- He tried a Dutch accent. But didn't know any Dutch words :). 
- Someone asked if he knew more about the lion tattoo. He answered that his thoughts were that it might have come from Richard the Lionheart.