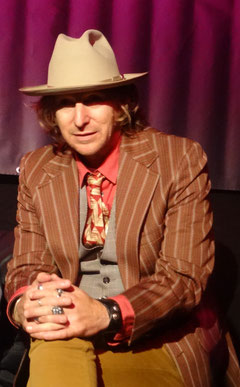 We went to Weekend of Hell! Yeah! And we loved it SO much. It was really really great. Today I'll tell you about meeting the Walking Dead actor Lew Temple at Weekend of Hell! 
Lew Temple is an American actor. I know Lew mainly for his roles in the Rob Zombie movies the Devil's Rejects (= My favorite movie!), Halloween and 31. I also know him as Axel in the Walking Dead. You might also know him for Unstoppable, Lawless, Trailer Park of Terror, Domino and more! I was exited when I read that Lew would be attending Weekend of Hell. I had never met him before and I was happy to get the opportunity. I think Lew Temple is a great actor. He can really play any role. He began his acting career in the Alley Theatre in Houston, Texas. Then he got television and movie roles as well. He has also had a career in baseball. He has been the scout for the New York Mets (1986) and for the Astros, he was Assistant Director of Minor League Operations and Scouting. 
A lot of other actors who also star in Rob Zombie's "31", joined him at Weekend of Hell: Meg Foster, Richard Brake, David Ury, Jeff Daniel Philips, Pancho Moler and Torsten Voges. That's quite a lot isn't it? I'm a big fan of the movies that Rob Zombie makes, so I was very glad to see them all at the convention. 
Q&A 31 with Lew Temple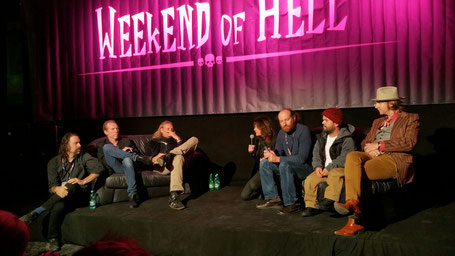 Of course we attended the Q&A of the cast of "31". It was great to see them all together and hear more about the movie. "31" is a 2016 horror movie. A group of people is traveling together. But at a certain moment they get abducted. They need to play a game called '31'. In this game, the instruction is simple: Try not to get killed. Murderers looking like clowns, called the Heads, will try to kill them all. 
Almost all the clowns (the Heads) from the movie attended Weekend of Hell. Lew Temple plays the role of Psycho-Head. The other Heads are: Doom-Head (Richard Brake), Sick-Head (Pancho Moler), Schizo-Head (David Ury), Death-Head (Torsten Voges). And there was also Sex-Head, played by Elizabeth Daily. but she didn't attend Weekend of Hell. I loved seeing a big part of the cast. I liked the movie and how often do you get the chance to see such a big part of the cast together? It was great hearing about the movie and their roles. They look like a great team and they were all great in the Q&A. And Lew Temple was even thanking everyone when he left the stage. 
Getting an autograph from Lew Temple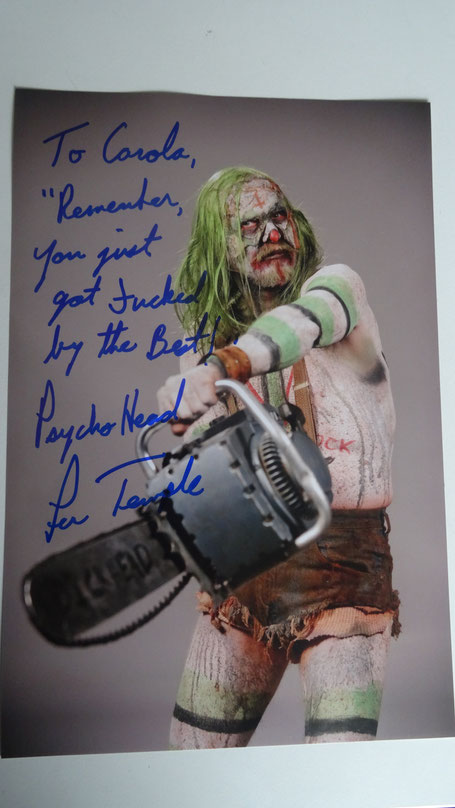 When Liv and I entered Weekend of Hell, of course we went to see the actors. We always do and it's fun! For me it's a moment to meet the person, the actor himself. And to talk a bit and get a glimpse of the person behind these characters. I knew Lew Temple for the Walking Dead, 31 and more and so I was excited to be able to get an autograph. At first we just walked around. Then we also checked out the merchandise at the convention and all the other things. When we walked by the actors again, Liv started to take some pictures. Soon, I saw that Lew Temple was very active. When Liv wanted to make a photo, he did a pose and smiled. And I saw him doing that way more often. I really liked that. He seemed very kind! I also saw him interacting with fans a lot and talking while signing autographs. 
I really liked Lew Temple in "31", "The Devil's Rejects" and "The Walking Dead". I knew I wanted to get an autograph, but we also had a busy schedule! I decided to do in on day 2. The second day, of course I freaked out. I always do. We walked by, and there were some people at his table. So I decided to wait. And then we walked by again, and then I decided I wanted to drink a cola first. 
After that we walked by and I doubted because all of the actors almost had their photo shoot. And this went on and on. By the time I did go, I almost didn't because I must have seemed like a fool haha. Walking by so many times!  
But Liv pushed me a little and I felt a little more courageous. And I decided to go for it! And I can tell you, I don't regret it. It was great. I told him I had watched "31", and he asked me whether I liked clowns. I do! At least, in horror movies haha. I don't actually like 'funny' clowns. Because they usually don't make me laugh. (Which makes me think of Captain Spaulding in the Devil's Rejects: "What's the matter kid, don't you like clowns? Why? Don't we make you laugh? Aren't we fucking funny? You better come up with an answer because I'm going to come back here and check on you and your mamma."). I also told him I liked other Rob Zombie movies like "The House of 1000 Corpses" and "The Devil's Rejects".  
Then I picked this picture of 31 and Lew signed it. I also brought him a present: Schuimpjes. It's some kind of candy. Like meringues, but still different. He was really grateful and opened it and tasted it immediately. And he liked it!  Check out the video below to see it yourself! 
I was very happy to meet him. My experience was great. He's a very friendly man and he was great to everyone! If you see him at a convention, be sure to say hi!