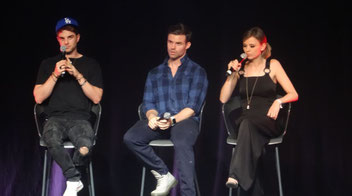 This weekend we are going to Bloody Night Con in Brussels. For those of you who don't know Bloody Night Con is a fan event for fans of The Vampire Diaries and its spin off: The Originals. It is organized by KLZ Events and they have got an amazing guest list. Paul Wesley (Stefan, TVD&TO), Kat Graham (Bonnie, TVD), Michael Malarkey (Enzo, TVD), Riley Voelkel (Freya, TO), Nate Buzolic (Kol, TVD&TO) and Charles Michael Davis (Marcel, TO&TVD) will make their appearance during this amazing event. Carola and I love both of these series. We already wrote a Series Tip about The Vampire Diaries, but strange enough we never made one for The Originals. Our BNC Countdown Week is the perfect occasion to change this. So without further ado, here is our new Series Tip: The Originals
What is it about?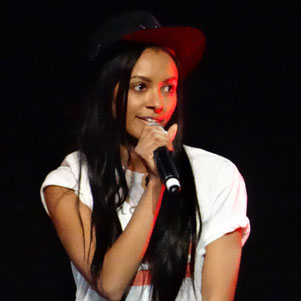 The Originals is set in New Orleans and it revolves around the Mikaelson family; also called The Originals, because they are the original/first vampires. At the start of the series, the story focuses on three of the Mikaelson siblings, being: Klaus (Joseph Morgan), Elijah (Daniel Gillies) and Rebekah (Claire Holt). They return to New Orleans to reclaim the power over the city they built over a century ago. In 1919 they had to flee the city, because they were being hunted by their cruel father (who is set on killing them). During their absence Klaus' protege, Marcel Gerard (Charles Michael Davis) also a vampire, claimed the power over the city and he is not keen on giving it back. Upon their return Klaus, who is the most powerful of all because he is the Original hybrid (half Original vampire/half werewolf) which makes him practically indestruc-table, finds out that he is becoming a father. Although vampires usually can't procreate, Klaus can because he is half werewolf. During his stay in Mystic Falls (where The Vampire Diaries is set), he had a one night stand with werewolf Hayley (Phoebe Tonkin). Klaus is set on taking back his city from Marcel, with the help of his loyal brother Elijah and sister Rebekah. They also have to protect the city from a brewing war between the vampires, the witches and the werewolves. And they all have to do this, while protecting Klaus' unborn child.
What about the actors?
The cast of The Originals is amazing! Let's start with Joseph Morgan, who plays Klaus. I already knew the character Klaus from The Vampire Diaries and believe me Klaus is a bad guy, a really bad guy. But despite of all of this, you also kinda like him. And that is all because of the magnificent job Joseph Morgan does. His magnificent acting, makes Klaus a man you love to hate. He is one of the most feared and ruthless creatures in history, but he has a soft spot for his family.
Canadian born actor Daniel Gillies plays Elijah and he is just so cool. Elijah is Klaus' older brother and he is very loyal to his brother. No matter how far Klaus goes in his cruelty towards other, Elijah always has his back, even though he pays a big price for this. Elijah has feelings for Hayley, but he does not act on them, because of his loyalty to Klaus. He always wears a suit and he is really calm in everything he does (this in contrast to the heated and impulsive tendencies of Klaus). Claire Holt is great as Rebekah. I already loved her in The Vampire Diaries and unfortunately her role in The Originals is somewhat smaller. Rebekahis Klaus' favorite, but they have a true older brother/younger sister relationship. They can't live with or without each other. Rebekah is very loyal to her family, but she has one big wish and that is to find true love and start a family of her one. Rebekah has a romantic past with Marcel. I also love Phoebe Tonkin as Hayley. At first I didn't really like her, but during the first season she develops into a very strong character. Like I said, The Originals, has an amazing cast and I just can't talk about them all. I do want to highlight Yusuf Gatewood, who plays Vincent Griffith. He is magnificent. Leah Pipes (Camille), Nate Buzolic (Kol) and Riley Voelkel (Freya) are great too!  
Who will like this?
Well if you like The Vampire Diaries, you will probably also like The Originals, which is a bit darker. If you like vampire movies...watch The Originals. If you want to see some great acting...watch it! Oh the hell with it...just watch The Originals, it's great!
How many seasons?
The show is currently airing it's fourth season and last week it was announced that The Originals will be renewed for a fifth season. The series premiered on April 25th, 2013. There is also a web-series of The Originals, called The Originals: The Awakening (4 episodes). This series focuses on Kol Mikaelson  and his relation to his siblings. I haven't watched this one yet, but I am going to soon.
My Opinion
Like I already said I love The Originals! New Orleans is a great setting for the story. You might think, why the tuba? Well I think the music in The Originals is very cool. New Orleans is known for being a breeding place for great music and it's mostly known for it's Jazz and Brass music. Besides the music, the acting, camerawork, story and pace of the show is just great! It is one of my favorite series of this moment and I was very happy to learn that the show has been renewed for a fifth season. I truly can't wait to meet someof the amazing actors of this show!
Rating: