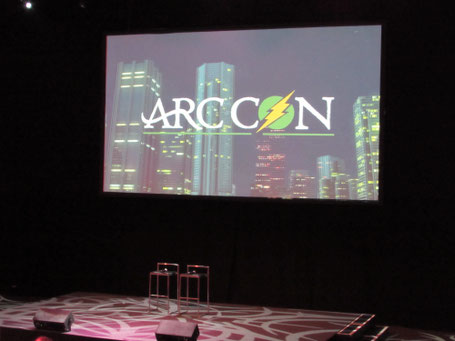 As you all know we love to attend conventions. It's just something about the whole package that is kind of addicting. You get to meet the actors that play in the series or movies you love and maybe grew up with. You get the chance to hear them talk about their work and their look at life.  But it's not just that; at a convention you get to meet a lot of other amazing people too, you can browse through the merchandise, attend workshops or preview some new and upcoming series or movies. Most of all it's a lot of fun.We love to write about our own experiences, but we also want to give you some insights in what happens behind the scenes. Today we zoom in on what it's like to organize a convention. To do this we asked the lovely people behind KLZ events to give us some insights and they instantly agreed to answer our questions. Here's what we learned from their answers.
KLZ Events
First of all we will tell you something about KLZ events.
KlZ Events was founded in 2009 by a group of movie fanatics, with the objective to organize and optimize conventions and fan events. They are based in Spain and throughout the years they've organized more than 15 events in Spain, Italy, Belgium, Germany, Brazil and Latin America. Among the events KLZ organizes are: RisingCon (Supernatural), Bloody Night Con (The Vampire Diaries and The Originals), TwiNight Con (Twilight-saga), A Con ("Pretty Little Liars") and ArcCon ("Arrow"/"The Flash"). Earlier this year we attended ArcCon in the Egg Gallery in Brussels. It was a great event and it was not like any of the other conventions we attended. We loved it! What we loved most about it was that you really get the feeling that you are a part of the KLZ Family. It's a very interactive event, you get to see the actors and actresses on stage multiple times a day and it really feels like you get to know them a bit better throughout the weekend. Check out our articles about ArcCon to see what it was like.
So how did this magical journey of KLZ Events start?
"We were a group of crazy and young people that really wanted to make other people feel an unforgettable experience. We worked internally for more than six months with our first event and then when we made it public. We felt so proud of what we did so we were following creating new events until today"
Organizing a convention like this seems to be a lot of work, so how many people work for KLZ Events throughout the year?
Well KLZ Events has four people in office throughout the year and during the events there are approximately 50 people working hard to make the event an unforgettable experience for the fans.
Organzing an Event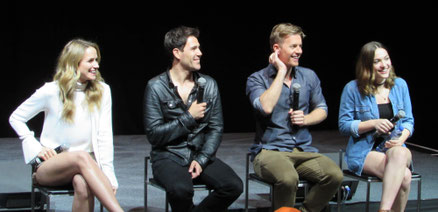 The first step in organizing a fan event is deciding what it will be about, so how do they pick the shows (or movies) for the event to be about?
"We are doing research almost every day to see which new or old TV show (or movie!) is ready to have a convention"
So most of the shows or franchises KLZ organizes events about have a very big fan base. What about the people behind KLZ Events? Are they fans of the shows too?
"We do watch all the TV shows, but we are not fans. It is important to let all the people know that we are professionals and we must treat these events as what they are, professional events made by professional people to make fans dreams come true"
Ok, so first of all they have to decide what show the fan events will be about. And then it's time to decide which guests to ask. KLZ Events has had some amazing guests attending their events over the last years (for example: Ian Somerhalder (Damon,TVD), Paul Wesley (Stefan, TVD), Nina Dobrev (Elena, TVD), Nicholas Brendon (Xander, Buffy The Vampire Slayer), James Marsters (Spike, "Buffy The Vampire Slayer"), Rick Cosnett (Eddie, "The Flash"), Shantel van Santen (Patty, "The Flash) and the list goes on and on). So how do they decide which guests to ask?
"We hear every suggestion from our customers and then we try to make their dreams come true, but as we always say not everything is in our hands"
According to KLZ Events the hardest part of organizing a convention is the negotiation with the guests. This is because there are a lot people involved in these negotiations. But what makes it all worthwhile? What is the best part of organizing the convention?
"The event itself. When we are immersed in the weekend, it is absolutely awesome even if we are running for almost 72h"
We already mentioned we attended ArcCon last year and it was very different from all the other conventions we attended. But what makes KLZ Events unique?
 "We are very close to our customers and we always try to make them feel that, every little thing they may need, will be heard. They are not ticket numbers to us and we think that makes us different. We remember each and every problem they had during the year and those things make them feel absolutely safe and supported. That's why #KLZ_Family was born"
Looking back...
Like we mentioned earlier KLZ Events has been organizing some great events over the last 8 years, but what are the things they are most proud of?
"We are here for almost ten years and that means people put their trust in us that makes us feel pretty proud."
There must have been a lot of great moments throughout the years. Would you like to share one of these moments with our readers?
"One of the most memorable moments we remember right now came from one of our assistants' mother, at the end of the weekend she was crying and we tried to calm her down, but she hugged us saying "You've changed my daughter's life. She is so shy, she doesn't have many friends, but look at her now she is a different person, she made friends, and she is talking to other people. You made this, you should be proud of yourselves. Thank you so much for everything you've done for her with this event". She comes to our events year after year now"
The Future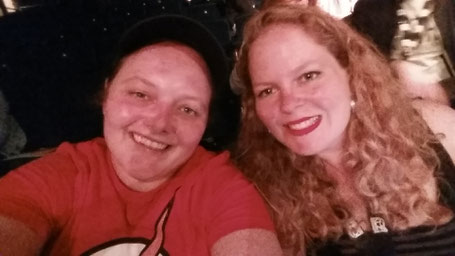 There are some great events coming up in the near future. In a few weeks KLZ is back in Brussels for A Con, their first "Pretty Little Liars" fan event. Some of the guests that will be attending are: Keegan Allen (Toby), Tyler Blackburn (Caleb) and Tammin Sursok (Jenna). In May 2017 KLZ Events will be taking over Brussels and Barcelona with "Bloody Night Con" and in September the third Edition of Werewolf Con will be held in Brussels. So there are a lot of great things coming up. We asked KLZ Events what their dreams for the future are and they were very clear about that:
"Being known for making the best events for fans around the world, because we make the difference."
And they do make a difference, not only in the lives of their "KLZ Family Members", but KLZ Events is also set on making the world a better place. They are active in various social and environmental projects. They help with the sterilization of stray cats and take care of abandoned animals, for example. I loved reading about this and I think the people of KLZ Events deserve a lot of respect for this.
We would love to visit a lot more KLZ conventions in the future because it truly is a unique experience. So are you a fan of "Pretty Little Liars" or addicted to "The Vampire Diaries", checkout the KLZ Events website for all the information about their upcoming events. Just buy a pass and be a part of the KLZ Family, it's nothing like any other convention you attended. So what tips does KLZ have for the visitors of their conventions?
"Open your mind, don't be scare of come alone as you will find people like you during the weekend and just live this dream because you deserve it. "
We've come to the end of the article and we hope you enjoyed it. There is just one more question to ask: What should everyone know about KLZ Events?
"We are here to stay, no matter what. We love our company and we love to work for all of you!"
We are very happy that KLZ wanted to answer all our questions! It's so nice to get some unique insights in how they work. We chose to ask KLZ Events because their conventions are truly one of a kind. We already experienced with Arccon that KLZ events works very hard to give all the fans a day to never forget. The service was excellent en they answer all questions very quickly.  For us: A very positive experience and w're glad that KLZ events was willing to tell us more about their conventions. That way, we can inform you better and make sure you know about it as well! 
You can also check out our articles about Arccon and Bloody Night Con!