I remember thinking that the FACTS convention line-up could use a really great guest for me. I mean: The guest list was definitely awesome! But: Not all the guests were guests I wanted to see. At that point, I hadn't watched Castle yet. So even Nathan Fillion wasn't the big name I was looking for. I on the other hand was already more than excited, I mean Nathan Fillion was announced as a guest! I was so happy. For me things could only get better.  I know, I know, a name like Nathan Fillion is huge. But at that point I was hoping to get a name from someone I really knew well. And then Morena Baccarin was announced. I was quite happy. I know her for Homeland and Gotham. I remember that moment, because I was on my bike! FACTS already announced the time of their new guest announcement so I set an alarm on my phone. I thought it was a pretty cool guest.In the comments on Facebook I saw people commenting and asking to also bring her husband. Well, I had to google that.. 'Husband Morena Baccarin'. I was so excited to read the Google results! It was BEN MCKENZIE! I was so excited and I ran towards Sig saying 'Do you know who Morena's husband is? Ohhh I hope he will come to FACTS. He'll probably join her don't you think?' (Followed by a 100 more of these sentences).  Hahahaha. And, just a few days later: FACTS convention had good news for us. Ben McKenzie would come to Belgium!! Whooohooo we were so excited!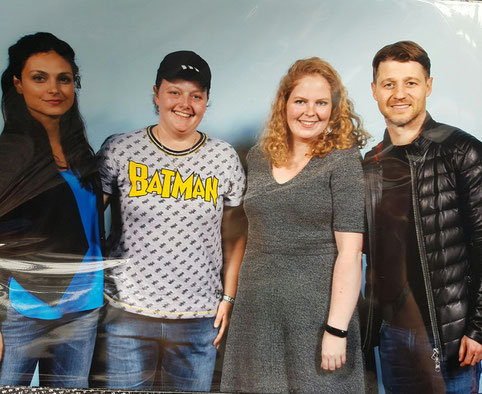 Ben McKenzie
We already wrote an 'In the Spotlight' about Ben earlier. But we'll still do a small recap here! Ben is an American actor. He's best known for his roles in the O.C., Southland and Gotham. I know him for his roles in Southland and Gotham. Soutland follows the work of the Los Angeles Police Department. It was because of Southland that I got to know Ben McKenzie. He plays an amazing character. Southland is not that well known. But it really should be. It is in top of TV shows I've watched! Ben plays the role of  officer Ben Sherman. Ben Sherman is a quite young officer. I loved his character in Southland. He's ambitious, smart and hopes to change the world. It was an amazing role. And I could never stop watching the series. 
I totally love Gotham as well. Gotham is about the years before Batman's arrival. You get to see a younger version of James Gordon and Bruce Wayne. Ben is great! He plays James Gordon in Gotham.
Morena plays the role of Leslie Thompson. And they're a great couple. It's so much fun to watch them and I can't wait to meet both of them! 
I know Ben McKenzie from The O.C., where he plays the role of the rebellious Ryan Atwood. I remember watching this show with my close friend Eefje, more than 10 years ago. We thought it would be a great plan to watch the show, while enjoying the sun. So we set up a TV and some lounge chairs in the garden. We made some popcorn and drinks and were ready to binge watch. We thought about everything, except for the fact that watching the pretty small screen of an old TV in the sunshine is pretty much impossible. But we didn't want to give up, so we took some old bed sheets and tried to construct a tent around the TV. That still didn't work and we put ourselves under the sheets too. The "tent" however was not very stable so we had to hold the sticks to hold up the sheets ourselves. By that time we were sweating our asses off and it was still not possible to watch it properly. "Let's put the TV in the garage and then we can sit in the sun", that sounded like a great plan. But the screen was pretty small and it still was pretty much impossible to sit back and follow the show. Eventually we decided to give in and watch the show inside on the big TV screen. We were talking about it this week and thinking about it still makes me laugh out loud.
Of course I also love Gotham (for those of you that don't know I am a huge Batman fan), so I was so happy when FACTS announced Ben AND Morena would come to Belgium.
Ben at FACTS Convention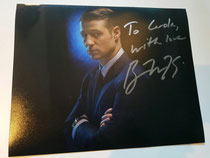 As soon as we got the news that Ben McKenzie would attend FACTS convention, we decided to buy a photo op! And we took a photo op with both him and his wife. It was just a great opportunity and I'm glad we took it! At the event itself, we also decided to get an autograph.  We were waiting at the signing tables for Ben and Morena to arrive. We were so excited! It took a while, but then they arrived. The first things we noticed was that Ben is so small! I thought he would be a bit longer haha. They started signing and soon Liv and I decided we wanted to get an autograph as well! 
We walked to Ben and chose a picture to get signed. While Ben McKenzie was signing I talked a bit to him about Southland. I told him I had started watching Southland when I knew I was going to meet Michael Cudlitz (Abraham, the Walking Dead). So I was quite talkative haha. Ben was very kind and talked to us. He told about Southland.  I loved that, since I'm a big fan of Southland. The Tv show is incredible. I was so nervous at that moment, I just started babbling about how I loved Gotham. And yes I also told him the story about the "Summer of The O.C.", I told you before. I must have looked like an idiot, but he was so nice! I also gave him some "Stroopwafels". The photo op was great as well. It's an unique opportunity to meet both Morena and Ben. They were very kind at the photo op and seemed to love meeting all of their fans. I'm really glad that we met Ben! 
Unfortunately we missed out on Ben's panel. We really, really wanted to see it. But we were queuing for Nathan's photo op. Want to see our the frustration we felt on missing out Ben's panel? Check out this video below!