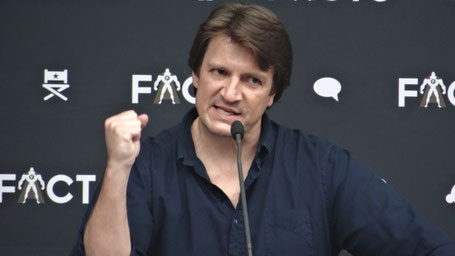 I remember Liv's excitement when Nathan Fillion was announced as a guest for FACTS convention. I was thrilled for her. I knew Nathan was a huge guest for a Comic Con. Oh yes, I remember the moment Carola messaged me about this, as if it was yesterday. We (Tristan and Liv) were on a short holiday in Malta.We were waiting for a bus and I decided to turn on my roaming to search for the times. At the moment I did that I saw Carola sent me a Whatsapp message. Nathan Fillion was coming to FACTS and I just started jumping from hapiness. I wanted to scream out the news, but then I realised that the people in Malta couldn't care less haha. I have been a fan of Nathan Fillion since his role as Johnny in Two Guys, a Girl and a Pizza place. And of course I love him in his role as Rick Castle. I hadn't ever watched Castle, so my excitement level didn't go through the roof (like mine did). But the fascination of Liv and many, many other people inspired me.I looove Castle, it's such a cool show. The cast is great and they have an amazing on screen chemistry ( want to know more about the show? Check put our article about it). I got curious: What was Castle ( I knew nothing about the series) and would I like it? I bought season 1 -3 second hand on DVD and decided to give it a go: Let's watch Castle! 
So, I started watching. And I loved it immediately. Nathan is so funny as Rick Castle. The series is funny and exciting. I love see how they solve every case . So, after a few episodes I started to get excited as well about Nathan coming over to Belgium. Liv and I decided to buy a photo op for FACTS convention! I was over the moon and I thought it was awesome that Carola was excited about it too. The countdown to FACTS began.
Nathan Fillion
Nathan is a Canadian actor born in 1971. He is best known for his role as Richard Castle in the TV series Castle. Castle revolves around Richard Castle. He's a best-selling writer of crime novels, but he suffers from a writer's block and  kills off the main character of his novels. He's brought in by the NYPD, because of a striking similarity between his novels and recent murders. During this visit he gets intrigued by Detective Kate Beckett, the detective assigned to the case. He decides to use her as a muse for a new novel, starring Nikki Heat. If you want to know about the series, check out our series tip! 
But Nathan Fillion has done much more than just Castle. He's also known for his role as Captain Malcolm Reynolds in Firefly. He voiced several video games like Halo 3 and Destiny. And you also might recognize him from Saving Private Ryan, Slither, Trucker and Two guys and a Girl.  
Nathan Fillion panel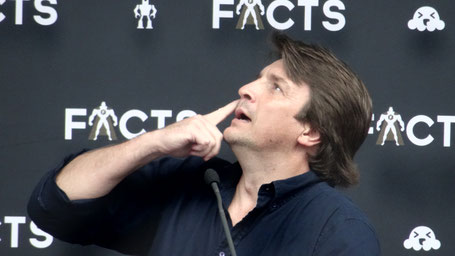 Liv and I were lucky enough to be able to attend 2 panels with Nathan Fillion: His own panel and a panel he did together with Morena Baccarin!  And it was great! Nathan is just as charming as Rick Castle haha. He was funny (Hilarious!), spontaneous and very kind. Yes he was, I had a smile on my face throughout the whole Q&A.
Morena and Nathan played in Firefly together! That's why they were doing a panel (and photo ops) together. They were an amazing duo and had this great chemistry. They seemed to have a lot fun together on stage. It was cool to watch them joke around and it just gave us the feeling they were good friends. Before their duo-panel, Morena had a single Q&A. From the moment Nathan stepped on stage the joking around started and Nathan had a question for Morena too: "Who is your favorite captain on the Firefly?". Since there was only one captain (Malcolm Reynolds played by Nathan Fillion) everyone started laughing immediately and that set the tone for the rest of the panel. It really was a lot of fun.
During the panels Nathan told a lot abut Castle and Firefly. But he also talked about other movies and series he did and talked about Halo as well. 
Nathan Fillion: Photo op!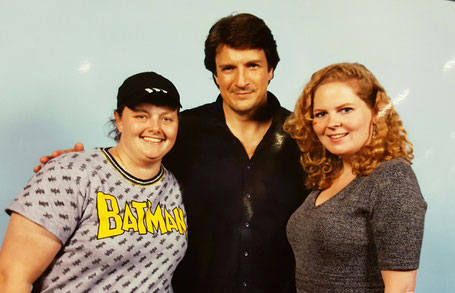 We were so excited that we would have the chance to do a photo op with Nathan! The timing however wasn't that good (unfor-tunately). The end of Nathan's photo shoot was at the same time a Ben McKenzie's panel.  We're were naive and thought we might make it if we would be there in time for the photo op. But by the time we got there, the queue was huge already! And the photo shoot was delayed as well, so we had wait for a long time! Waiting was quite boring, even though we laughed a lot haha. At one point we (read I: Liv) got a little bit irritated, but I also had a lot of fun. We kept on joking about how we hoped that Mr. Fillion was worth the wait and the effort we put in waiting. Well  he was! It was annoying to miss Ben's panel. On the other hand: I wouldn't want to miss this photo op  for the world!
Even though the photo itself goes very quickly, I was sooooo happy to do this photo op. Nathan was very charming and kind. It was so nice to meet him. He was very sweet to all of his fans and very enthusiastic and talkative. If you're at a comic con: be sure to meet him and have chat, he's so funny! If the queue for the autographs hadn't been so long , we might have walked over to him and hand him a present or talk a bit. But the queue was really huge for autograph as well. Liv did give him a present at the photo op (Usually don't allow that, but we this time she could give it to him!). And he was very happy!  Yes I gave him "Speculaas", this is a sort of cookie typical for The Netherlands and Belium (and Germany). I hope he liked it. So Mr. Fillion if you ever read this let us know wht you thought about the present and we hope to meet you again some time! Thank you for making our day!
Do you want to see the rollercoaster of emotions Carola and I went through? Take a look at the video below...