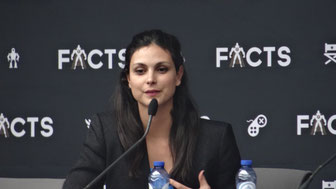 It's time for another series tip! We've already gathered quite a few. But it will never be enough haha. There are so many series nowadays. It's hard to pick one to watch. And we're always here to help! Just check out the overview of our series tips and you'll definitely find something you'll like! Today we are discussing: Gotham. 
Why Gotham? Because it's FACTS week this week on Conmose. We're going to FACTS next weekend and we will meet Ben McKenzie and Morena Baccarin. Both known for Gotham! 
Gotham is about the years before Batman's arrival. You get to see a younger version of James Gordon and Bruce Wayne. 
How about the actors?
Yesss....... Let's start with Ben McKenzie! Ben is great! He plays James Gordon in Gotham. And he does an amazing job. I already knew him as officer Ben Sherman in Southland. (Want to know more about Southland? Check out our series tip). Ben's wife also plays in Gotham. We know her as Leslie Thompson They're actually engaged! [spoiler!] In Gotham they're a couple as well (At least in season 2 in the episodes I'm watching haha).  Morena will be attending FACTS as well. Liv and I will definitely get a photo op with this awesome couple. 
Let's talk about the other actors. I would like to start with an actor I didn't know yet. But has impressed me a lot. It's Robin Lord Taylor, who plays Oswald Cobblepot (Penguin). He's such a genius! 
I've also seen some actors I know already: In season 2 I noticed Tommy Flanagan in an episode! And David Zayas also plays a role in Gotham. Erin Richards, Sean Pertwee and David Mazouz are also awesome. 
Who will like this?
Do you like Batman? Do you like DC? Watch Gotham! 
Ok, I'll admit something. Don't hate me. Don't yell. I've never (!) watched a Batman movie. I don't mean last week. I mean EVER. 
Yes. Why am I admitting this? For all people reading this, who haven't watched it either (yes, I'm sure you're out there!). And I can tell you: Even when you haven't seen Batman, or even dislike Batman: There's still hope for Gotham! If you like police series with a bigger story give it a try. Don't expect one case per episode (like Castle or Law and Order). But there's a larger story line. Of course it's about Bruce Wayne. But no Batman knowledge is needed. It's just about criminals and police. Fun to watch! The longer you watch (I'm halfway season 2 now), the more 'Batman' you'll see. I saw some scenes that really remind me of the movie Suicide Squad. But I like that. 
How many seasons?
The third season aired on September 19, 2016.
My opinion
I like it! There's a lot of action. And some great actors. It's fun to watch. And even though I've ever watched Batman, I'm familiar with the Joker, the Riddler, Harley Quinn and the others. It's a lot of fun to discover these characters in the series. Besides that, it's a really well written police series. I think they did excellent casting on James Gordon and Penguin. 
The acting is really great to watch. I also like the plot twists and the pace of the story. It's quite a dark series, so you have to love that in order to like watching Gotham. 
Rate