This weekend it's time for Weekend of Hell in Dortmund and we are so looking forward to it. We have been attending Weekend of Hell for many years now and we always have a blast. This particular Weekend of Hell took place in the Turbinenhallen in Oberhausen and it had an amazing guestlist. What to think of names, like: David Labrava ("Sons of Anarchy"), Mark Boone Jr. ("Sons of Anarchy", "Memento"), Michael Madsen ("Kill Bill", "Reservoir Dogs", "Donnie Brasco", "The Hateful Eight"), Brad Dourif ("Child's Play", "One Flew over the Cuckoo's Nest", "Lord of the Rings: The Two Towers"), Amanda Bearse ("Married with Children", "Fright Night"), Corey Feldman ("Stand by Me", "The Lost Boys", "Gremlins", "The Goonies"), IronE Singleton ( "The Walking Dead"), Sarah Butler ("I Spit on your Grave"), Ken Foree ("Dawn of the Dead", "The Devil's Rejects", Rob Zombie's "Halloween"), Tony Todd ("Candyman", "The Crow") and Costas Mandylor ("Saw")...to name a few. And then there was William Baldwin, who I knew for "Backdraft", "Sliver" and "Flatliners". I especially loved his performance on "Backdraft", so I knew I wanted to meet him. And now with his new Netflix show "Northern Rescue", I thought it was time to talk some more about Mr. Baldwin.
Who is William Baldwin?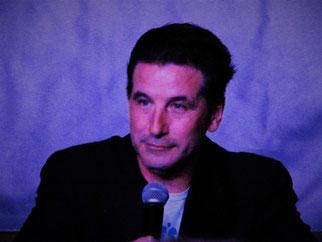 William Edward Baldwin (also named Billy) was born on 21 February 1963 in Massapequa, New York. He is the second youngest of the four Baldwin brothers: Alec and Daniel are both older, while Stephen is the youngest. He also has two sisters: Beth (older) and Jane (younger). After graduating from the Alfred G. Brenner High School, he studied at Binghamton University. At Binghamton, he was a varsity wrestler and he got a degree in political science. Before William Baldwin moved to Hollywood (following his brother's footsteps), William worked as an aide for U.S. Representive Thomas J. Downey on Capitol Hill.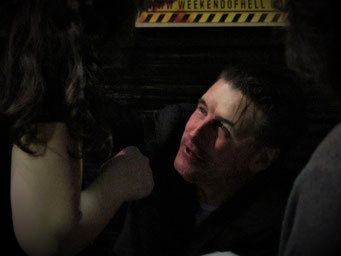 Before his acting career got off the ground, William worked as a model for Calvin Klein. His first starring role was in the ABC TV Movie "The Preppie Murder" as Robert Chambers. Also in 1989, William Baldwin landed a small role as a Vietnam veteran in Oliver Stone's "Born on the Fourth of July", starring Tom Cruise as Ron Kovic. Fun Fact: William's brothers Stephen and Daniel also played small roles in the movie. The nineties started with a bang for Baldwin, as he landed his first feature film role. William starred alongside Richard Gere and Andy Garcia in the thriller "Internal Affairs" ( he played the role of van Stretch)..Besides this, he also starred alongside Kiefer Sutherland, Julia Roberts and Kevin Bacon in the  movie "Flatliners", which can be seen as one of the cult classics of the 90s. In 1991, he played firefighter Brian McCaffrey in Ron Howard's "Backdraft". The movie has a great cast with names like: Donald Sutherland, Kurt Russel, Rebecca De Mornay, Jennifer Jason Leigh and Robert de Niro. Apparently William's brother Alec was first considered for the role of Brian, but he recommended his brother. Baldwin and Russel did a lot of their own stunts for the movie and they attended firefighter bootcamp to learn the ropes. Besides this they slept in a real Chicago firehouse for about a month. Fun Fact: According to William Baldwin, firetrucks still honk the horn when the firefighters see him. Throughout the nineties, William keeps appearing in feature films like: "Sliver" (alongside Sharon Stone), "Fair Game" (alongside Cindy Crawford) and "Virus" (alongside Jamie Lee Curtis).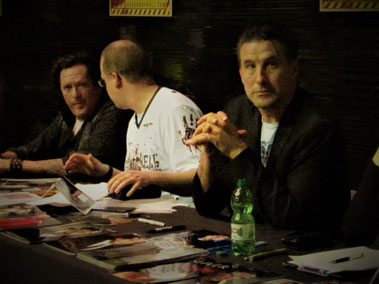 In the almost two decades that followed, William Baldwin proved himself to be very versatile and he worked on numerous projects, like: "Waterfront" (as Paul Brennan), "Gossip Girl" (as William van der Woodsen), "Dirty Sexy Money (as Patrick Darling), "Parenthood" (as Gordon Flint), "Hawaii Five-O" (as Frank Delano), "The Purge" (TV series, as David Ryker), "Forgetting Sarah Marshall" (as Det. Hunter Rush) and the new "MacGyver" (as Elwood). At this moment Baldwin can be seen on Netflix in "Northern Rescue" and in May the sequel to his 1991 hit "Backdraft" will be released.
William Baldwin at Weekend of Hell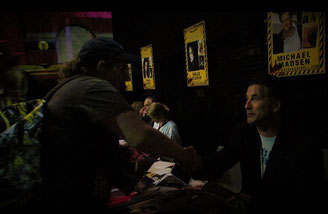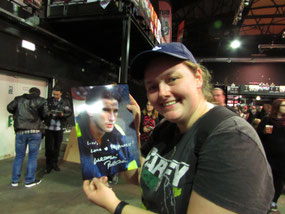 Like I said, I knew I wanted to meet William, because I really love "Backdraft". I think it's an amazing homage to the men and women, who risk their lives every day to keep other people (and animals) safe. I decided, I wanted an autograph. Of course I chose a picture of William in "Backdraft" and he was very nice. He said he liked my name and joked around about his handwriting. Later on I also saw him  talking to other fans and also to a little kid. He really took his time to make everyone feel comfortable and it was great to meet him. During his Q&A, William Baldwin talked about his movies and about how it was to work with all of those big names. He told a story about how he was called into De Niro's trailer after the first scene they shot together. De Niro offered him a shot of tequila and told him that he thought he nailed the scene. That was one of the best moments for him, because he knew he had arrived in Hollywood and also because his father (who passed away in 1983 was a big fan of De Niro. He said he wished his father could have seen him sitting there drinking tequila with De Niro...