It's no secret that we love the Vampire Diaries / The Originals:). We like watching it and I totally love meeting actors that play in TVD/ TO. And what I also love is talking about the Vampire Diaries: With friends, family, colleagues and via Conmose of course! 
Since we're doing some challenges lately (Like the Movie Tagline Quiz), we made a separate page on Conmose for challenges and quizzes! Today we made a challenge for you about the Vampire Diaries! Check out your knowledge about the series, about the actors and about the things we wrote about the TV series! Let us know in the comments what you thought of the challenge and if it was easy or not. We'll might make another one soon! If you want a challenge or quiz about another series, let us know! 
And... Do you want to challenge us? Let us know in this post: Conmose needs you!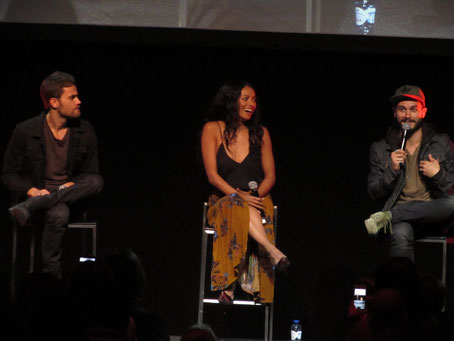 The Vampire Diaries and the Orginals
1. Who said: "You lost the right to my attention when you decided to leave without saying goodbye."? 
A. Caroline
B. Elena
C. Bonnie 
D. Stefan
2. Who is not an Original?
A. Elijah
B. Klaus
C. Rebekah
D. Hailey
3. Who does Kol love? 
A. Davina
B. Hayley
C. Camille
D. Vincent
4. Who turned Caroline into a vampire? 
A. Katherine
B. Damon
C. Stefan
D. Elena
The actors of the Vampire Diaries
5. Who played the role of Jenna in the Vampire Diaries? 
A. Candice King
B. Sara Canning
C. Claire Holt
D.  Susan Walters
6. Which actor played in both the Vampire Diaries and the Flash? 
A. Chris Wood
B. Joseph Morgan
C. Todd Lasance
D. Rick Cosnett
7. Which actor/actress from the Vampire Diaries also is the singer of a song called Scars?
A. Michael Malarkey
B.  Riley Voelkel
C. Ian Somerhalder
D. Claire Holt
8. Who plays the role of Aurora? 
A. Daniella Pineda
B. Rebecca Breeds
C. Summer Fontana
D. Taylor Cole
Conmose and the Vampire Diaries
9. Who did Nate imitate during his panel at Bloody Night Con Europe 2017? 
A. Elijah
B. Klaus
C. Elena
D. Caroline
10. With which actors did we have a photo op at Bloody Night Con 2017? 
A. Kat and Michael
B. Riley, Michael and Kat
C. Riley, Michael, Nate
D. All of actors/ actresses at the con
11. Ian Somerhalder cancelled Bloody Night con Europe 2017. Who was his replacement? 
A. Kat Graham
B. Paul Wesley
C. Candice King
D. Nina Dobrev
12. What's the name of Riley's cat? 
A. Quentin Meowantino
B. Leonardo Meowaprio
C. Robert Meowniro
D. Freya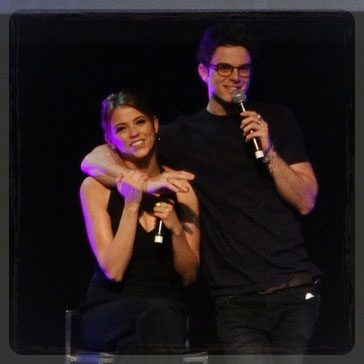 Answers
1. C
2. D
3. A
4. A
5. B
6. D
7. A
8. B
9. A
10. D
11. B
12.  A