Warning: This review may contain spoilers!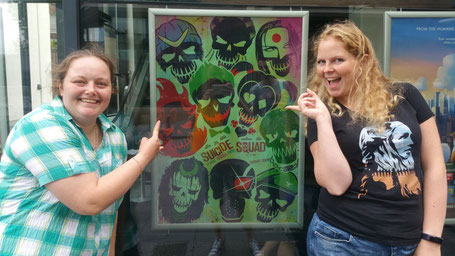 Today we are talking about "Suicide Squad". But it's not a conventional review; it's a review in dialogue style. In other words Carola and I sat together and just started talking about it.
We saw it apart from each other and we hadn't talked about it yet.
First of all we'll talk a little bit about the plot:
"Suicide Squad" is the name of a group of supervillains, that is recruited by the US government to go on dangerous black op missions (in exchange for reduced sentences). This 'Squad' consists of hitman Deadshot (Will Smith), former psychiatrist and The Joker's (Jared Leto) love interest Harley Quinn (Margot Robbie), pyro kinetic gang leader Diablo (Jay Hernandez), super thief Captain Boomerang (Jai Courtney), the monstrous Killer Croc (Adewale Agbaje) and assassin Slipknot (Adam Beach). The villains are being held in a secret maximum security facility, when Amanda Waller (Viola Davis) arrives to form the "Suicide Squad". After a lot of talking and promising the six agree to go on a mission, but to be safe Waller injects them with a Nano bomb that she can detonate in case of trouble.
One of Amanda Waller's other intended recruits is Dr. June Moon. She is a former archeologist turned evil after touching an old witch idol. Through touching the idol June is possessed by an evil witch/goddess named "The Enchantress". Soon things get out of hand and there is only one group that can save the day…Cue the Suicide Squad…
Liv: So what did you think about it?
Carola: I thought the overall story was kind of lame, but I thought it was a blast watching it. Overall the movie was very predictable, but when I walked out of the cinema I thought it was cool.
Liv: Yes, I agree the story is very predictable, but on the other hand I knew the story behind Suicide Squad, so of course it's predictable.
Carola: I didn't know anything about it...
Liv: But you've seen it in "Arrow"… so you know the big lines of the story.
Carola: Yes that's true.
Liv: Also what do you expect when you go to a superhero movie? Most of them are great, but they don't excel in their storylines. When I go to a super hero movie I expect a "popcorn" movie, I don't want to have to overthink everything…But back to our movie: Margot Robbie as Harley Quinn, that was a great performance.
Carola: Absolutely she was great. Before I went to the movie I heard everyone talk about her great performance and I totally agree. She was hilarious.
Liv: I thought she was the highlight of the movie and I thought Will Smith was ok as Deadshot, although I would have preferred to see Michael Rowe (he plays Deadshot in Arrow).
Carola: Me too, Will Smith was better than I expected, but I preferred Michael Rowe. We saw him at ArcCon and he's got that rawness that Will Smith lacks. From the beginning of the movie I knew he would eventually be the "good guy". Michael Rowe is a lot less predictable in his role as Deadshot.
Liv: Exactly Michael Rowe is more convincing as the "bad guy" and that's what the movie is about. And that is what I think is great about the whole Suicide Squad story, the raw dark edge of the characters.
Carola: True, but I thought it was quite clear from the beginning that they were going to do the right thing and eventually be the good guys.
Liv: Yeah, but are they the good guys? They have to do it, because of the bomb in their head.
Carola: I didn't like the whole "We are a family now" atmosphere in the last part. And what I thought was really annoying was the whole Joker-Harley relationship. I thought it was to lovey dovey.
Liv: What did you think about Jared Leto as the Joker?
Carola: I thought he was ok as "The Joker". But he was too dependent.
Liv: You know at first I really didn't recognize Jared Leto. But I thought it was a little bit too forced. You know what I mean? I think Heath Ledger was genius in his role as The Joker and I had the feeling they were trying too hard to match that performance. And I agree about the whole lovey dovey thing. I think it kind of ridicules the Joker.