Warning: This review may contain spoilers!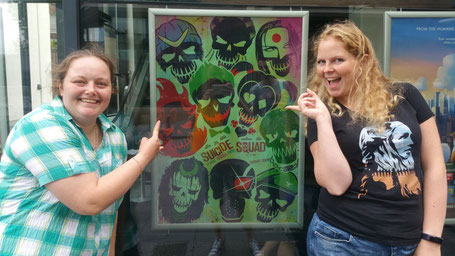 Today we are talking about "Suicide Squad". But it's not a conventional review; it's a review in dialogue style. In other words Carola and I sat together and just started talking about it.
We saw it apart from each other and we hadn't talked about it yet.
First of all we'll talk a little bit about the plot:
"Suicide Squad" is the name of a group of supervillains, that is recruited by the US government to go on dangerous black op missions (in exchange for reduced sentences). This 'Squad' consists of hitman Deadshot (Will Smith), former psychiatrist and The Joker's (Jared Leto) love interest Harley Quinn (Margot Robbie), pyro kinetic gang leader Diablo (Jay Hernandez), super thief Captain Boomerang (Jai Courtney), the monstrous Killer Croc (Adewale Agbaje) and assassin Slipknot (Adam Beach). The villains are being held in a secret maximum security facility, when Amanda Waller (Viola Davis) arrives to form the "Suicide Squad". After a lot of talking and promising the six agree to go on a mission, but to be safe Waller injects them with a Nano bomb that she can detonate in case of trouble.
One of Amanda Waller's other intended recruits is Dr. June Moon. She is a former archeologist turned evil after touching an old witch idol. Through touching the idol June is possessed by an evil witch/goddess named "The Enchantress". Soon things get out of hand and there is only one group that can save the day…Cue the Suicide Squad…
Liv: So what did you think about it?
Carola: I thought the overall story was kind of lame, but I thought it was a blast watching it. Overall the movie was very predictable, but when I walked out of the cinema I thought it was cool.
Liv: Yes, I agree the story is very predictable, but on the other hand I knew the story behind Suicide Squad, so of course it's predictable.
Carola: I didn't know anything about it...
Liv: But you've seen it in "Arrow"… so you know the big lines of the story.
Carola: Yes that's true.
Liv: Also what do you expect when you go to a superhero movie? Most of them are great, but they don't excel in their storylines. When I go to a super hero movie I expect a "popcorn" movie, I don't want to have to overthink everything…But back to our movie: Margot Robbie as Harley Quinn, that was a great performance.
Carola: Absolutely she was great. Before I went to the movie I heard everyone talk about her great performance and I totally agree. She was hilarious.
Liv: I thought she was the highlight of the movie and I thought Will Smith was ok as Deadshot, although I would have preferred to see Michael Rowe (he plays Deadshot in Arrow).
Carola: Me too, Will Smith was better than I expected, but I preferred Michael Rowe. We saw him at ArcCon and he's got that rawness that Will Smith lacks. From the beginning of the movie I knew he would eventually be the "good guy". Michael Rowe is a lot less predictable in his role as Deadshot.
Liv: Exactly Michael Rowe is more convincing as the "bad guy" and that's what the movie is about. And that is what I think is great about the whole Suicide Squad story, the raw dark edge of the characters.
Carola: True, but I thought it was quite clear from the beginning that they were going to do the right thing and eventually be the good guys.
Liv: Yeah, but are they the good guys? They have to do it, because of the bomb in their head.
Carola: I didn't like the whole "We are a family now" atmosphere in the last part. And what I thought was really annoying was the whole Joker-Harley relationship. I thought it was to lovey dovey.
Liv: What did you think about Jared Leto as the Joker?
Carola: I thought he was ok as "The Joker". But he was too dependent.
Liv: You know at first I really didn't recognize Jared Leto. But I thought it was a little bit too forced. You know what I mean? I think Heath Ledger was genius in his role as The Joker and I had the feeling they were trying too hard to match that performance. And I agree about the whole lovey dovey thing. I think it kind of ridicules the Joker.
Carola: I thought so too, he was too "love birdy". It would have been great if there was an ulterior motive behind his actions and not just Harley. Like a golden ring or something. And that he would have dropped Harley in a fire to get the ring. He is too loyal. Now his only role in the movie was to be the appendage of Harley Quinn. They could have done something better with his role.
Liv: True, but I think they did that because they wanted to put the spotlight on Harley.
Carola: By the way during the break in the cinema something fun happened. There were some people sitting next to us and they were talking about how much they hated Marvel and how they only wanted DC. And then they said: "Marvel is terrible…I hated Batman, that was really terrible"
Liv: Oh no really??!?
Carola: Yup, and all I thought was really?? You should know that Batman is DC, when you talk about it like that. And not just because you see Batman in Suicide Squad in the first part of the movie.
Liv: Well I went to see it with my brother. We took the early morning showing and we were the only ones in the movie theatre. We went to Pathe in Maastricht. And they have these benches in the middle of the row. Again we were alone in the cinema and during the whole movie we sat next to each other on the bench like two Goody two-shoes. When the movie was finished it came to me that we could have both taken a bench for ourselves and we could have watched the movie like Royalty.
Carola: You two are too well-behaved.
But back to the movie: I thought the characters were cool, although they could have done something more with some of them. But I have read somewhere that they cut certain parts out of the movie, so maybe we will see that as extra on the DVD. So I'm kind of curious about that. I really liked Killer Croc; I would have liked to see more of him. I really love Adewale (the actor who plays Killer Croc). He was awesome as Adabesi in Oz.  And I follow him on social media.  He posted a lot about Suicide Squad,  so he was also the reason I wanted to see this movie. 
Liv: I knew he was played by Adewale Akinnuoye-Agbaje and he really was monstrous but certain facial expressions gave him away, especially his eyes. I saw a little bit of Adebisi ha-ha.
Carola: Yes indeed, sometimes I thought "aaah Adebisi"
Liv: I also thought Cara Delevingne was pretty good in the role of the Enchantress. She was pretty cool.
Carola:  Yes I thought she was fine too.
And at the beginning of the movie it was quite obvious which characters would make the cut, because they were all introduced with a short biography. And then another one (slipknot) showed up. No introduction, just like "oh yes and then there is him".
Liv:
I liked the whole antihero thing of the movie. You know they are bad, but you like them. They are crazy and that is cool. Especially the Harley Quinn character.
Carola: You know what I literally just realized that Deadshot in Arrow (played by Michael Rowe) is the same character as this Deadshot…
Liv: What? Really?
Carola: Yes seriously, when you talked about Michael Rowe earlier I thought "Ah yes they're the same character". Ok I'm a slow thinker, ha-ha.
Oh and I loved Diablo, that is worth mentioning!
Liv: Oh yeah right he was awesome.
Carola: He was great and it instantly made me think about Sons of anarchy and the whole "ese"thing. I love that. Oh he is played by Jay Hernandez (looks at her phone), he doesn't look that dangerous in this picture…ha-ha (shows me the picture). He has that kind of head that makes you think you know him… Anyway he was so very cool as Diablo. He is one of my favorites. I would like an autograph of him or Adewale in this month's crazy Bam Box.
Liv: Yeah that's right he was cool, well not really cool in the literal way but a great character. He actually is the one that wants to change his ways and never use his fire-power again.
Carola:
And the whole story behind his character (about him burning down the house with wife and kids) is so sad…
We could have talked on for a little while, but we ended with our own rating and the average rating between the two of us is 7 - 7,5. It's a fun movie, but the story is kind of lame…Just go and watch it for yourselves and let us know what you think.