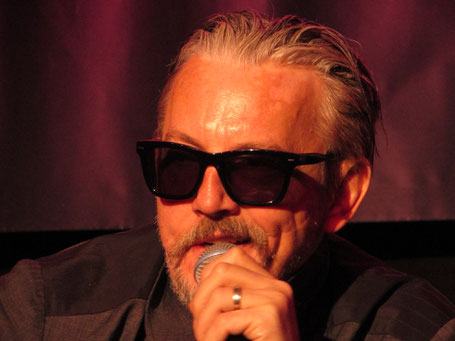 I exactly remember the moment that Weekend of Hell announced Tommy Flanagan as a guest. I was SO happy. I was jumping up and down and I called Liv immediately. Insiders now that I hate calling. So whén I call, Its for a special occasion! And this was a calling occasion! And I know when Carola calls it has a special reason, so when I saw who called, I was a bit nervous. But when I heard the good news I was over the moon. We talk a lot about actors we would like to meet at conventions and Tommy was one of them we both wanted to meet. I've watched all episodes of Sons of Anarchy. My favorite characters have always been Chibs and Opie. I hadn't met Tommy or Ryan yet. So.. imagine my excitement. I also watched Sons of Anarchy and Chibs is one of my favorites too. The other one is Tig (Kim Coates), and we already had the pleasure of meeting him. Besides playing in Sons of Anarchy, Tommy also plays in some of my favorite movies, like Gladiator (Cicero) and Braveheart (Morisson).  I knew I wanted to do a photo op with Tommy. So I bought that quite soon after the announcement. I was going to do a photo op with Chibs from Sons of Anarchy! And we couldn't stop talking about it...
Sons of Anarchy.. and more!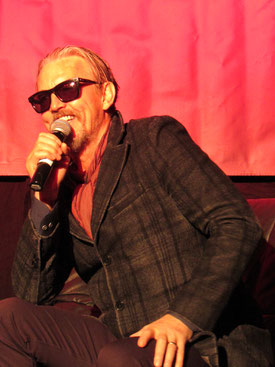 Tommy Flanagan is a Scottish actor. He's best know for his role as Chibs in Sons of Anarchy. I've watched it, since season 1 was on television in the Netherlands. I kind of stumbled upon it, accidentally. But I kept watching. Little did I know, that I would actually ever really meet some of them. I like the dynamic in Sons of Anarchy: The way the members of the club relate to each other, the events that happen and the consequences: It's an intriguing plot with awesome actors. I started watching Sons of Anarchy around the time we met Kim Coates. By that time it was on my watch list for a long time already and Carola kept telling me how she loved it. So after meeting Kim I really set my mind to watching it and I loved it instantly. I remember spending every free moment I had, watching an episode of the show (I lost a lot of sleep watching it). And now, years later: We've met Tommy Flanagan. But also Kim Coates (Tig), David Labrava (Happy) And Mark Boone Junior (Bobby). 
Even if you're not a fan of Sons of Anarchy. You might know Tommy Flanagan very well. He played the role of Brian in Sin City and Cicero in Gladiator (like Liv already mentioned). I am also a big fan of the TV series Revenge. I was so excited when I heard that Tommy Flanagan would be playing villain Malcolm Black. (Spoiler alert!) Unfortunately, there was more talk abut Malcolm than actually seeing Malcolm. So my happiness had a short life haha. Tommy also played scarface in the Saint, Leo in Face/Off and Morrison in Braveheart. This year Tommy will also play the role of Tullk Ul-Zyn in Guardians of the Galaxy;Vol.2 and I for one am very excited about that. 
Meeting Tommy Flanagan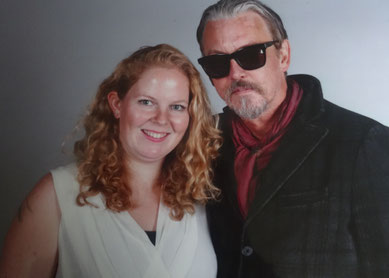 And finally the time had arrived: Weekend of Hell! Sigmund, Liv and I were so excited! There would be many guests we wanted to see and we love checking out all the merchandise. We would already have a photo op with Tommy at day 1. A good start is't it? I was quite nervous when we were queuing.  I had been looking forward to meeting him so much! The queue went quite quickly and the same goes for the photo op. I was nervous and happy to meet Tommy. He was kind and polite. It was a short meet. Even though, I was completely happy to receive my photo!  I was very nervous for this one and in the queue I was sweating my ass off. Even after the photo was taken I was still sweating (having to wait for my photo for half an hour didn't help lol). But like Carola said; Tommy was very polite and even thogh it was a short meet, I'm glad I bought the photo op. 
Later on, we went back to Tommy. We went to see him at his signing table. We noticed he wasn't all too busy. Which surprised me, because he was one of the biggest guests. We bought some gifts for him and you can see us handing them over in the video below. And it was okay. He was nice. But that's that. It wasn't one of the meetings that made a huge impression on me. As you can see in the video, everything goes quite quickly. We just hand over the gift, and there's not a lot of talking. He wasn't very talkative. I'm not saying he wasn't nice to us or anything. It just that in some other cases, actors were extremely talkative or happy, or whatever. So meeting Tommy was okay. It was nice to have seen him. 
Tommy Flanagan's Q&A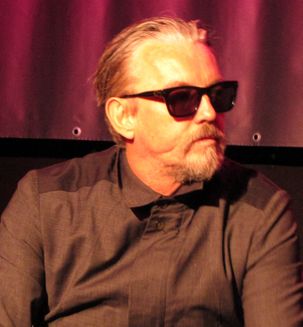 The Q&A was, of course, mostly about Sons of Anarchy. There weren't a lot of questions from the audience, which was a pity. There didn't really seem to be a 'click' between the presenter and Tommy. Tommy seemed a bit annoyed by the questions sometimes. And his answers were quite short. On day 2, the presenter was a replaced by woman. That seemed to work better. The atmosphere was a bit more relaxed now. 
I was nice to hear more about Sons of Anarchy. I always enjoy hearing more about the background of a show and how it was to shoot it. Tommy plays one of the main characters, so I loved hearing what he had to say about it. He talked about how his character Chibs was based on a real person ( "from a certain motorcycle club"). He was Irish, with a latent Scottish accent. He based his interpretation of the character on people he knew from his youth in Glasgow and on himself . He said he was terrible in riding a bike: "I was terrible, but not as bad as Ron Perlman. He was the worst...There is one episode..Ron dropped the bike so many times, that they had to tow him on this special towing rig. And he is riding his motorcycle and smoking his cigar He lifts his cigar and keeps smoking. How the bike kept going, it's magic. I said Ronnie that's your throttle hand...(impersonating Ron): Oh yeah..."
When he was asked what the hardest part of the job was, he joked and said: getting up in the morning. After this he talked about how it was actually the opposite. He said he loved working on Sons of Anarchy, riding around on a motorcycle and hanging out with your friends for 16 hours a day. He talked about how the cast members really were like family and that they hung out with each other a lot (even after they had been shooting all day). Apparently they also pranked each other a lot on the set: "I almost cut Bobby's toe off one day. I was messing around with my knife and I sliced his boot right through the leather. And then he punched me like four times in the arm and my arm nearly frikkin' fell off. He was a tad upset about that".
Tommy talked about being a DJ in Glasgow rave scene in the early 90's. At one point his friend Robert Carlyle (known for Trainspotting, The Full Monty, Once upon a Time and many more) persuaded him to give acting a try and join a theater company. He did theater for a few years and then he got a role in Braveheart. He also said he would love to work with Martin Scorsese and he says: "If Scorsese called, I would play a fucking Go Go Dancer".
At the end of his second Q&A he thanked the audience for the ongoing support throughout the years and for all the love they got over all the years.