It's just one more week until The Walking Dead returns, so we thought it was time for another The Walking Dead post. To be more exact: we will talk about the actors behind some of our favorite characters. Earlier on, in part one, we already wrote about Andrew Lincoln (Rick), Chandler Riggs (Carl) and Melissa McBride (Carol). In part two we talked about Norman Reedus (Daryl) and Josh McDermitt (Eugene). This week we picked Sonequa Martin Green (Sasha) and Seth Gilliam (Father Gabriel). So sit back and get ready for the next part of "Some Stuff &Thangs you might not know about(the cast members of) The Walking Dead".
Sonequa Martin Green (Sasha Williams)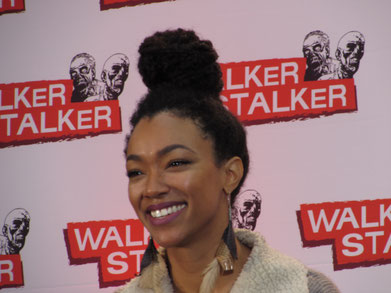 - She is married to Kenric Green (they got married in 2010). He is also an actor (and writer) and he plays Scott (one of Alexandria's supply runners) in The Walking Dead. She met him in New York, while they were acting in a play (Fetch Clay, Make Man) together. They have one son called Kenric Justin II.
- In college she wanted to change her name to Sonè or something like it, but her mentor at the time told her she shouldn't do it. She never thought about it again.
- Her favorite characters in The Walking Dead are Hershel (Scott Wilson) and Tara (Alana Masterson).
- Just like co-star Danai Girera (Michonne) she initially wanted to be a psychologist.
- She made her television debut on Law&Order: Criminal Intent in 2008.
- Sonequa originally auditioned for the role of Michonne, but that role went to Danai Girera. Executive producer Glen Mazarra wanted her to be in the show, so he created the role of Sasha (Tyreese's sister)
- She was pregnant while filming Season 5 of The Walking Dead. To cover this up they gave Sasha bigger guns and dressed her with thicker layers of clothes.
- She will play the leading role in the upcoming television series Star Trek: Discovery.
- She plays the role of Tamara in 7 episodes of Once upon a Time.
We saw Sonequa at Walker Stalker Con in London and we wrote something about that. Wanna know more? Check it out!
Seth Gilliam (Father Gabriel)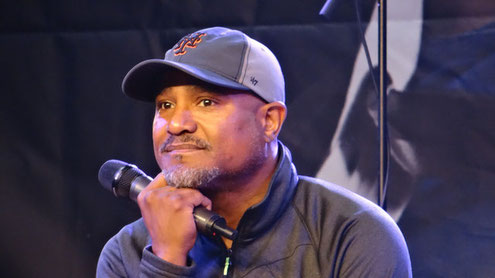 - Seth is a big Beatles fan and his favorite Beatle is John Lennon (as is mine)
- His acting career kicked off with the role of Aaron Dexter in The Cosby Show in 1990.
- His true passion is stage work.
- On set, he got tackled by Norman Reedus multiple times. He says he would love to tackle back, but he doesn't because Norman works out
- Seth is the third The Wire actor to join the cast of The Walking Dead. The other two are Chad Coleman (Tyreese) and Lawrence Gilliard Jr. (Bob).
- If Father Gabriel had to go on The Walking Dead, Seth would want him to go out like a hero. If he could pick his own dead scene it would be the following: "I think ripping out Negan's Adam's apple with my bare hands as he continuously stabs me in the neck."
- Seth played Clayton Hughes is OZ. His favorite character from OZ is Adebesi (Adewale Akinnuoye-Agbaje)…who else?
- One of his favorite zombie movies is 28 Days Later, because of the speed of the walkers. But he also likes Night of the Living Dead and other George A Romero classics.
- Robert De Niro is one of his idols, he's the reason Seth became an actor. He also likes Al Pacino and Dustin Hoffman.- 
- If a zombie apocalypse breaks out, the first thing Seth's going to do is sharpen the things that he has lying around. He would be looking for and making weapons out of everything. He says food and shelter come later; first thing to do is get weapons. Although he also says that he isn't very good with guns and that he would probably end up shooting himself in the foot.
- Seth loves playing characters, which are "on the edge of their sanity" and the role he wants to play most is a cowboy.
- His favorite moments of working on The Wire were the scenes he had together with Domenick Lombardozzi (Thomas Hauk).They lived together during the first season of The Wire, to strengthen their partner bond.
 -Seth is a big sports fan. He is a Mets-fan and he loves watching football.
Do you wanna know more about Seth Gilliam? We met him at Dutch Comic Con in 2016 and we wrote and vlogged about that meeting; check it out!
So that's it for this week and counting down to the mid season premiere, we will do another one next week. Tell us who you would like to read about and we will try to make it happen!