Yeah...It's The Walking Dead Time again! Yesterday the mid season premiere of The Walking Dead aired in the US. We (in The Netherlands) will have to wait until tonight for our mid season premiere. This means that Facebook and Twitter are off limits for me today. Of course we have another "Stuff&Thangs"  for you to get through the day...
Christian Serratos (Rosita Espinosa)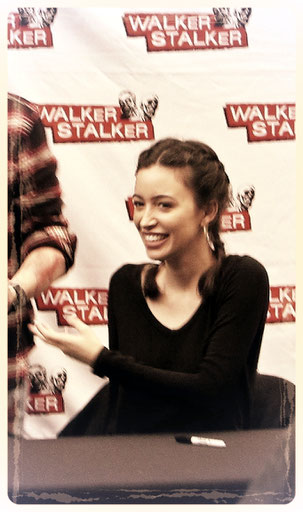 - She was born as Christian Marie Bernardi on September 21st, 1990 in Pasadena (California).
- Christian is of Italian/Mexican ancestry.
- She played Angela in the Twilight franchise and she is on Team Edward.
- Christian loves animals and is an avid animal rights activist.  She worked together with PETA on their anti-fur campaign. For this she posed nude, stating: "I'd Rather Go Naked Than Wear Fur". She also posed for PETA's  "Save the Seals" ads.
- She has had several mini poodles called Gigi, Johnny Cash, Gorilla and Uffie.
- Christian is very "sporty". She took up figure skating when she was three years old and she continued to do so on a competitive level.  At one moment her coaches even talked about the Olympics. Luckily she chose for an acting (and modelling career) , but she still loves being on the ice. Christian is also trained in Tae Kwon Do and Hapkido. But that's not all she is also trained in dancing (Jazz, Tap, Hip-Hop and ballet). No wonder she looks so good huh?
- She has always been a performer and even on a very young age (as a toddler) she would entertain her family by re-enacting TV shows. She says she has been acting since she was "fresh out of the womb" and that she was born into an entertainment industry family. Her father worked in almost every studio in Los Angeles (until today she doesn't exactly know whát he does). It was her mother's work as an extra, that led her into acting.
-  She thinks she is a potential bullwhip master.
-  In preparation for her role as Rosita in The Walking Dead she had an extensive gun training.  She didn't know how to shoot a gun, when she took the role and in order to do service to her role as Rosita, she knew she had to feel comfortable handling a gun.
- On her first day at the set of The Walking Dead, she was very nervous being the "new kid on the block", but this feeling disappeared very soon. She says Andrew Lincoln (Rick Grimes showed up to welcome her even though he wasn't scheduled to shoot.
Jeffrey Dean Morgan (Negan)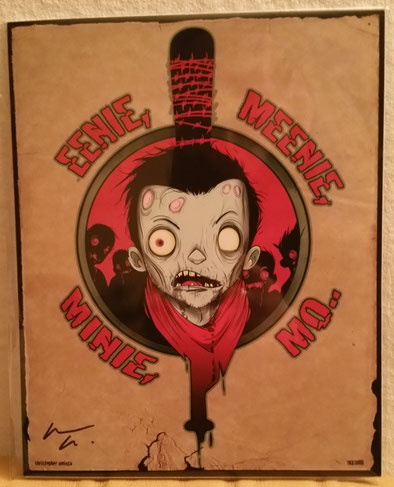 - Jeffrey Dean Morgan was born in Seattle on the 22nd of April, 1966.
- In 2014 he married One Tree Hill actress Hilarie Burton. Together they have a son named Augustus. Their mutual friend and Supernatural star Jensen Ackles set them up on a blind date in 2009.
- Jeffrey has another son from a past relationship.
- When he was shooting the movie Salvation in Africa, he liked the gun he was using in the movie so much, he decided to get a tattoo of the gun on his right arm. This inspired the other cast members to get tattoos too.
- He owns a farm in upstate New York and he has a lot of pets. Among them are two Alpacas named Tony and Stella and a llama called Wally.
- He and his wife also run a candy store, called Samuel's Sweet Shop. Apparently  Paul Rudd (Ant-Man, Friends) and his wife also have a stake in the shop.
- In his free time Jeffrey loves to paint.  He once donated a painting to an auction to raise money to help shelter cats and dogs in Pasadena, California.
- He took guitar lessons for his role in the romantic comedy PS I Love You. His teacher was Nancy Wilson from the band Heart. Later Morgan confessed he had a crush on Wilson when he was a kid.
-  He played basketball in college, but had to give it up because of a long-lasting injury.
- Jeffrey is a big sports fan. Besides basketball, he likes Football (he's a big Seahawks fan) and .....surprise, surprise.....Baseball.
- In Batman vs Superman he played Thomas Wayne (Bruce's father) and guess who played Martha (Bruce's mother)? Well the role of Martha was played by Lauren Cohen (Maggie in TWD).
- He once tried to break up a fight between a guy and his girlfriend. When he was driving by he noticed the guy beating up his girlfriend. He stopped to intervene and got hit in the face with a broken bottle (by the girlfriend!). Because of this he has a scar on his right cheek.
- In several interviews he has stated that he often get recognized, as Javier Bardem however.
- Jeffrey loves riding and he is especially fond of Harley-Davidsons.