Andrew Lincoln (Rick Grimes)
- His real name is Andrew James Clutterbuck. He changed his name into Andrew Lincoln, because he thought the name Clutterbuck reminded him of a poor person in a Charles Dickens Story.
- He is British (born in London, September 14th, 1973). 
- His role of Rick Grimes in AMC's "The Walking Dead", required him to talk with a Southern accent, since he is from Atlanta, Georgia. He maintains this accent all through filming. Because of this most of his cast members are shocked when they hear him talk with his real voice and accent. He practised his accent ordering coffees and fried chicken in the weeks before filming the first season.
- He played Mark in "Love Actually".
- In 2006 he married Gael Anderson, they have two kids ( a girl named Matilda and a boy named Arthur).
- His father-in-law is Ian Anderson, the frontman of the British band Jethro Tull.
- He likes to cook and he likes to invite the castmembers of "The Walking Dead" over for dinner. Apparently he is a great cook.Steven Yuen (Glenn Rhee) confirms this by saying he loves his Spaghetti Bolognese.
- Jon Bernthal (Shane Walsh) is actually one of his best friends in real life.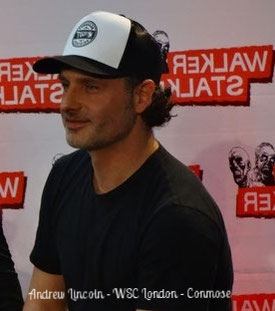 Chandler Riggs (Carl Grimes)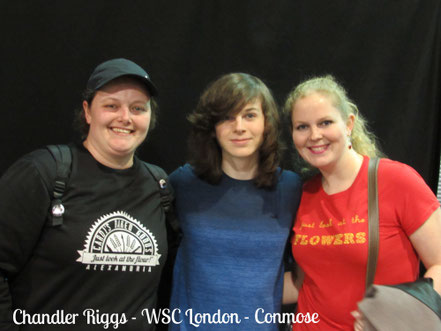 - When he was cast for the role of Carl Grimes he was 10 years old (He was born in Atlanta, June 27th 1999).
- When asked what he would do if a zombie apocalypse were to happen right now, h answered: "I would jump off a building, I'm not fighting zombies. Forget that".
- His favorite movie is "The Mist". This was directed by Frank Darabont (who also worked on "The Walking Dead") and starred three "Walking Dead" cast members: Laurie Holden (Andrea), Jeffrey DeMunn (Dale) and Melissa McBride (Carol).
- Chandler loves meeting fans (we met him at Walker Stalker Con London) and he organizes a fanmeet every year.
- In 2013 he went back to public school.
- He loves playing video games and even has his own YouTube Channel, where he posts videos about gaming.
Melissa McBride (Carol Peletier)
- She loves animals. She has two cats (Vangeline and Sierra) and her basset dog (Lincoln). Lincoln belonged to a friend od McBride, whopassed away in 2010. She asked Melissa to take care of Lincoln and she did.
- She wanted to be a fashion designer, but got into acting. When she wanted to try something different, she decided to focus on working as a casting director (she did this for 10 years, before being cast for "The Walking Dead").
- She played a small role in Frank Darabont's "The Mist", but she was actually considered for a bigger role. When they asked her to audition for "The Mist", she didn't want to. Her boss (being a big Stephen King fan) convinced her to give it a go. However, Melissa insisted on playing a small role, because she did not wanted to take too much time off from her work as a casting director.
- In an interview she revealed that season 3 was supposed to be her last season. Carol was supposed to be killed off in this season.
- McBride loves (portrait) photography (Check out her Twitter account for great pictures of Lincoln, wearing crazy hats). She always loved playing with cameras. During a bad snowstorm in Atlanta she dubbed over the newscaster's voice and cut herself in the broadcast as an unprepared victim, with only one grape in her fridge.
- She likes observing people. She often visits the set and watches the performance of the other actors.
Well that's it for the first part. I hope you enjoyed reading this article. Which characters of "The Walking Dead"would you like to see in the second part? Comment below.
Cheerio!