It's just two more weeks until The Walking Dead returns, so we thought it was time for another The Walking Dead post. To be more exact: we will talk about the actors behind some of our favorite characters. Earlier on, in part one, we already wrote about Andrew Lincoln (Rick), Chandler Riggs (Carl) and Melissa McBride (Carol). So sit back and get ready for the second part of "Some Stuff &Thangs you might not know about(the cast members of) The Walking Dead".
Norman Reedus (Daryl Dixon)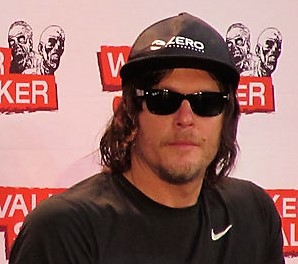 - He describes co-star Andrew Lincoln (Rick) as his BFF and is close friends with co-star Melissa McBride (Carol).
- He calls himself a neat freak.
- When Norman read the pilot script for the show he wanted to be a part of it really bad. He wanted to audition for the role of Merle, but was very disappointed to find out that the role had already been given to Michael Rooker. He practically begged the casting directors to let him come in and audition for a guest role. They gave him a chance and he read some of Merle's lines. Frank Darabont (who was partly responsible for writing the script for the first season based on the Comic by Robert Kirkman), was very impressed by it. In fact; he was so intrigued that he created the role of Daryl (Merle's younger brother) just for Norman (Daryl was never a character in the original comics).
- He was working in a motorcycle shop in California before he got into acting
- While in Berlin for promotional reasons in 2005, Norman got into a pretty nasty car accident. His car was hit by a truck and he was thrown out of the car onto the sidewalk. He sustained some injuries in his face and had undergo some surgery. His nose had to be reconstructed and part of his eye-socket is now made from titanium.
- He and his ex-girlfriend Helena Christensen have a son called Mingus Lucien Reedus (born in 1999).
- Norman collects all sorts of masks. When he wants to go undercover on Comic Cons, he sometimes wears a panda mask.
- Norman's mom, Marianne, thinks Melissa McBride (Carol) would be a great match for Norman.
- Besides acting, Norman is into a lot of other arts. He's a gifted sculptor, painter and photographer. His art is displayed in art galleries in America and Europe.
- Norman appeared in music videos from Lady Gaga (Judas), Ugly Kid Joe (Cats in the Cradle), REM (Strange Currencies), Björk (Violently Happy), The Goo Goo Dolls (Flat Top), Keith Richards (Wicked as it Seems) and Radiohead (Fake Plastic Trees).
Josh McDermitt (Eugene Porter)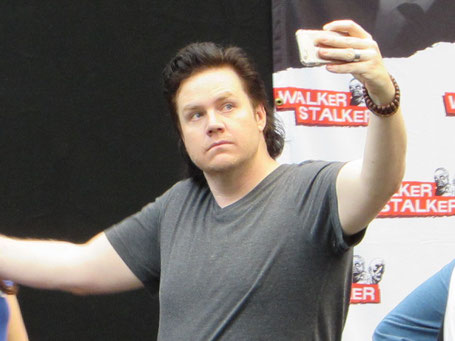 - He grew up in a big family in Arizona and the family did foster care, so there were always foster kids running around. He looks back at this with great pleasure and he still has contact with some of the children that were in emergency care at his house. All three of his sisters are adopted and he also has two brothers.
- Josh is a hot air balloon pilot. When he was young, his parents bought a hot air balloon. So he grew up flying in it with his parents and the foster children, to entertain them and show them a good time.
When he was 14 he got his student license and at 16 he got a private license and became a qualified hot air balloon pilot.
- Besides being an actor, he's a standup comedian and was a semifinalist in the fourth season of Last Comedian Standing.
- Before Josh was cast for the role of Eugene Porter, he already was a very big fan of The Walking Dead, it was his favorite show. Morgan was one of his favorite characters. When he came on the show as Eugene, his favorite character became Abraham.
- When he was young, his mother would use to play practical jokes on him and his siblings. She would put on a mask and a blanket to cover her head and body and scare the hell out of them, because they did not expect her coming.
- He is of Portuguese and Dutch descent. His dad is Puerto Rican and has Portuguese heritage, but he has Dutch ancestry on his mother's side.
- His mullet is/was a clip on and when he didn't have it in, he felt like he had lost all of his powers. Despite of this Eugene is now mullet-less in The Walking Dead.
- Josh began his career on the radio. When he was young he used to call into a show called "The Tim&Wally Show", using different voices. Fans of the show loved it and so did the makers, because later on Josh became a producer for the show.
- Josh is a big fan of Seth Rogen and his dream role is to play Seth Rogen's brother in a movie.
So that's it for this week and counting down to the mid season premiere, we will do another one next week. Tell us who you would like to read about and we will try to make it happen!