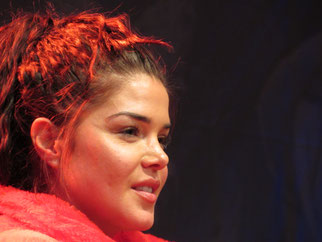 Last week the last season of "The 100" premiered on Netflix, so we thought it was time to share our story about meeting Marie Avgeropoulos, who plays the role of Octavia Blake in this immensely popular show. We met Marie at the Heroes Dutch Comic Con Winter Edition last year. We both watch "The 100", so we were very excited when she was announced. For me, Octavia is one of the best characters in the show. At first she is so annoying, but she grows on you and all of  a sudden she is one of your favorite characters. She is fierce, brave and strong. Before we went to Comic Con (aahhh good times) I also watched some other things Marie was in (like the movie "Tracers"). I knew I wanted to do something with Marie, but I did not know what (autograph, selfie or photo op) yet. This was the first time that Dutch Comic Con would work with signing slots (the actors has several signing slots instead of signing all day long), so I wanted to see how that worked first. But let me tell you something more about Miss Avgeropoulos first.
Who is Marie Avgeropoulos?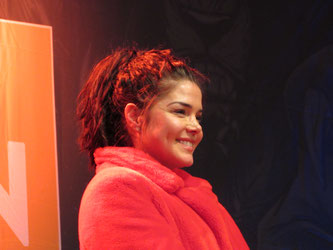 Little Marie was born on June 17th 1986 in Thunder Bay (Ontario, Canada). Since she grew up on the shores of Lake Superior, Marie spent most of her young life fishing, hunting and camping. A true child of nature. Besides this she was also into music and she thaught herself how to play the drums when she was 16 years old. Marie studied journalism for two years, but at one point she gave into her adventurous nature and she went backpacking through Europe. A few months and a bunch of adventures later, Marie returned to Canada and decided to move to Vancouver to pursue an acting career. One of her friends invited her to a casting call (in Vancouver). The casting agency was looking for drummers and since Marie was a pretty skilled drummer, she landed some roles in nationwide commercials. In 2009 (Marie was 22/23 years old), director Chris Columbus noticed her. Columbus was already successful with movies like: "Home Alone", "Home Alone 2: Lost in New York", "Mrs. Doubtfire", the first three "Harry Potter" movies and much more. In 2009 he gave Marie her big break, by casting her in the role of Valli Wooley in "I Love You, Beth Cooper", which was received very well by critics and audiences.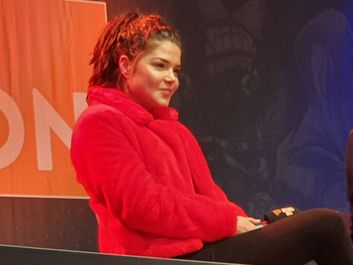 With this movie, Marie made a name for herself and she landed some roles in popular US TV shows. Besides her performance in "I Love You, Beth Cooper" there was another thing that gave her an advantage. A lot of the popular TV shows (like "Riverdale", "Arrow", "The Flash") are filmed in Canada, near Vancouver. So living there paid off and one of the shows Marie was chosen for was the immensely popular show: "Supernatural". Marie also appeared in another Columbus movie called: "Percy Jackson & The Olympians: The Lightning Thief". In 2010 she officially broke through with her role as Kim Rhodes in "Hunt to Kill", while also doing some TV work. The next year she starred in "50/50" alongside Joseph Gordon-Levitt and Seth Rogen, which was nominated for a Golden Globe. Marie took her dog and her Harley and set sail for the City of Angels (Los Angeles) in the US. She had to make it and with her do-or-die attitude she managed to get a work permit. Not long after that she got some roles in TV series and eventually in 2013, the CW offered her the role of Octavia Blake in "The 100" and the rest, as they say, is history...
The 100
"The 100" premiered at the CW in 2014 and it is set 97 years after a nuclear war destroyed the civilization on Earth. The survivors left Earth and live on a cluster of space stations (called The Ark) orbiting Earth. But the Ark is 'dying' and there aren't enough resources to repair the important systems (like oxygen supply). As a last resort, the leaders of the Ark decide to sent 100 juvinile delinquents back to Earth, to see if it is possible to live on the surface of the Earth again. When they arrive at Earth, it appears that it's safe to be there, but soon it turns out that the real danger comes from the inside (well and also from outside). Marie Avgeropoulos plays the role of Octavia 'O' Blake. She and her brother Bellamy are both among the 100 'lucky ones' to find out if it is safe to be on Earth. Last week season 7 premiered on Netflix and this will also be the last season of the show.
Marie Avgeropoulos at Dutch Comic Con 2019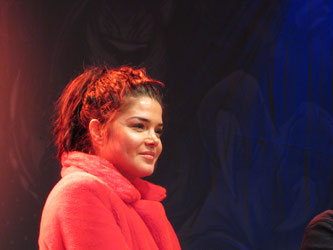 As I already mentioned, we were both very excited (and yes that is an understatement) about the fact that Marie Avgeropoulos was announced as a guest for Heroes Dutch Comic Con Winter Edition 2019. We were going to Utrecht for the weekend, so we had two whole days. But as you may know by now, we always have tons to see and do...it's just so much. I knew that I really wanted to meet Marie, but I had no idea what I wanted to do. Later on in the day, I decided that I would go for a selfie on Sunday. On Saturday we would go to the Q&A, because I thought I saw somewhere that the Sunday Q&A would be a shorter one. We had a lot of fun during the panel and it was very cool to see Marie on stage talking about "The 100" . At one point she even talked about and spoiled some bits of the seventh season. She mentioned that she could almost hear her boss in her ear telling her she was fired. But she also mentioned that he couldn't to that either way, because the show is ending. She seems to be every bit as rebellious in real life as she is on the show. Marie also talked about a lot of other things. Curious? Check out the video of the panel below...
On Saturday evening we found out that what I read about the panel was true. It would only be 15 minutes long on Sunday and the reason was that Marie had to leave at 12 A.M. While thinking about how lucky we were to catch her panel on Saturday, the painful truth slowly sank in...Wait what??? She would leave at noon??? Suddenly, I was wondering if it would be at all possible to meet Marie. She would only be at her signing table for half an hour or so on Sunday and we imagined it would be very crowded at her table for that. Did I get the chance to meet Marie? Read on...
And then it was Sunday and we were hyped. First up was an interview with Dutch comedians Emilio Guzman and Thijs van Domburg. Together they wrote the book Nerds! (which is essentially a book written by Nerds for Nerds and Not Nerds ... get it? Read the article here). After the interview we had some coffee and got more hyped. We decided to check out the queue for Marie and it was terribly long...so I went out for a smoke and when I came back, it was a bit shorter. I decided to get in line, because otherwise it would be too late. But it took a long time and meanwhile the clock was ticking and noon came close...Suddenly the security guard that was standing next to the queue closed it off....right behind me! Yeahhh! In the meantime it was just a few minutes before noon and I started to get nervous again, I still wasn't in the clear. Although I was the last one that was allowed to queue, I saw that the people around Marie started to talk to each other nervously and with just a few more people before me it was noon and the they started to wave their arms, saying that it was the end. NOOOOOOO!!!!! There were just three more of us left....luckily the woman sitting next to Marie saw the despair in our eyes and she waved us over....YES! I got my selfie...and Marie was so very nice! I for one can't wait to see what will happen to Octavia in the last season of "The 100" and I am looking forward to see some new projects of Marie in the future....What remains is showing you the selfie below with a special thanks to the nice lady sitting next to Marie!