After a nice breakfast at the Carlton President in Utrecht, Liv & I packed our stuff and took the bus to the Jaarbeurs again! We were excited for day 2. Day 1 of Dutch Comic Con was amazing. And for day 2, we were ambitious too! So, let's have a look at how our day turned out! 
Nerds!
We arrived early at the press room of Dutch Comic Con. I believe it was around 9.15 of 9.30. We went to the convention quickly and walked around a bit. We also talked to Thijs van Domburg and Emilio Guzman. We had an interview scheduled with them in the afternoon about their Dutch book: Nerds! It is a guide through the wonderful world of the nerd.  They explain how being a nerd is nothing to be ashamed of and they answer important questions such as: Which is better - DC or Marvel? In which order can you best watch Star Wars? It's written for all the types of nerds, but also for normal people, who want to get to know the nerd better!
We were pretty excited to do the interview. we both read the book and loved it. So we talked about it and together we decided to the interview right away, since now it wasn't too busy yet. We headed back to the press room and did the interview there. Stay tuned, you will see the interview on our website very soon. 
We loved that Emilio and Thijs were willing to make time for us and do the interview! Our day started great already and we had so many plans! Excited is an understatement! It was so much fun! Besides writing the book together, they are also best friends and that was so obvious during the interview. 
Coffee and selfies
We decided that it was a great idea to have another coffee. (We can always drink coffee). Just to get a little bit more excited! (Is that even possible? Excited is an understatement!). During our coffee, the idea also came up to go looking for Sander, our favorite comic con photographer (the photographer for Dutch Fredette vs. Jason). He couldn't come to Dutch Comic Con, unfortunately. But we did every possible effort to make sure he wasn't hiding from us! Just take a look at the video below ;). We had so much fun making that video! 
After this, Liv and I went to take a look at the queue for autographs/selfies for Marie Avgeropoulos (if you want to see her panel from Saturday, check out the video on our Youtube channel). The queue was quite long, so we decided to go outside for a minute and when we came back it was way shorter. So Liv started to queue to get a selfie with Marie. Unfortunately, I wasn't allowed to queue the last part with her. They said the would only let people in, who actually wanted to buy a photo/ autograph to save time (Marie had to leave early on Sunday). I thought that was quite strange (how does me taking the picture for her take time), but whatever. I took a hike.  Just have a look at how great Liv's picture turned out to be. I was so happy that I had an opportunity to meet her. On Saturday evening we found out, that she had to leave early on Sunday. Marie would have a very short panel on Sunday and she would be signing from 11.15 p.m. until 12p.m.
At one point it was almost 12 p.m. and I saw some people around Marie getting nervous and telling the security to close the queue. It was closed of with a red cord and when the security guard closed the queue, he closed it right behind me. I was so lucky to be the last one allowed in. But I still wasn't in the clear, because the people around Marie, kept on being very nervous and checking the clock. At one point they pointed out that Marie really had to stop. Noooo....there were three of us left and I could not believe that it seemed like I was not going to get my selfie! I was so close,yet (at that moment) so far away. Luckily, the woman next to Marie waved us over and I was so happy to get the selfie with Marie. She is just so cool and Octavia is my favorite character in "The 100".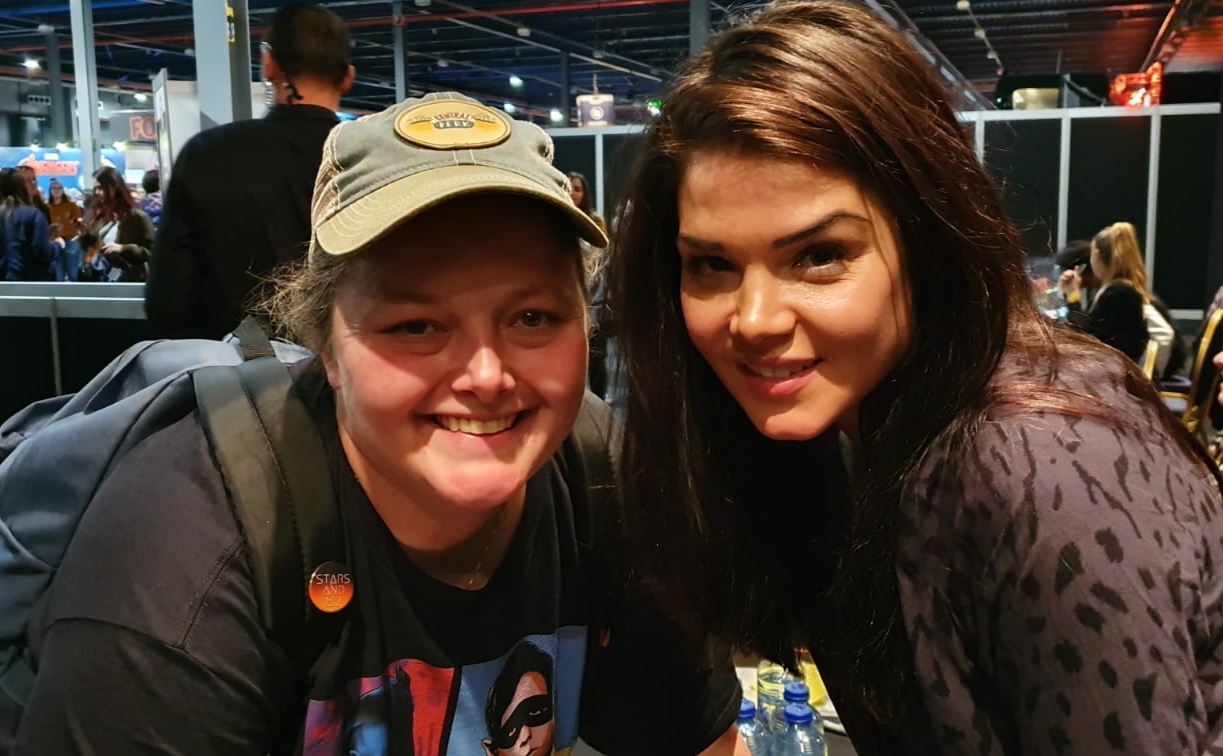 Walk and talk
Liv was pretty excited (understatement!!) about the picture and we walked and talked some more. Of course, we visited the Dutch Fredette vs Jason (aka Dutch Fredette vs Captain Spaulding today) again. Make sure to visit them too when you're at a convention! You will definitely have some great pictures! We also browsed through the merchandise ... for real this time (Finally! Yeaahhhh). We loved how big the merchandise room was. So much to see! And to buy! We also decided to check out the area on the first floor. That was nice, there were some air castles for kids (which was a huge disappointment for Liv, I love Air Castles), some games (I saw a huge Exploding Kittens) and the crowd canvas. I really love how there's so much to do and to discover at Dutch Comic Con. Never a dull moment. And... there was something I don't want to tell you. Yeah, I know that's a mean thing to say. And then not to tell. #Sorrynotsorry. Some things we like to keep to ourselves... Ok, now I'm curious too!
Okay, okay. If you're still here and reading this you might deserve to know. So, because you didn't quit reading we will tell you our little secret. We had lunch there! No, no don't be disappointed by this revelation. There's more to it. There was a stand were you could buy food. I ordered a panini. And  the best thing... there was place to sit! OH YEAH! There was. So next time, we know where to eat ;). And now you do to! 
Tyler Posey time
Liv had also bought a photo op for Tyler Posey. Hell yeah, at the start of the DCC I told Carola that there was a chance I would go all out this weekend. And I did! After my photo op with Ian Ziering, the autograph of Evanna Lynch and the selfie with Marie Avgeropoulos...it was time for my photo op with Tyler Posey!  I went to have a look at the merchandise some more. Liv started queuing. I loved walking around looking at all the things to buy. The room was huge and there was a lot of variation in the merchandise. I really liked that. I saw so much, from swords to Funko Pops, DVDs, food, tea, t-shirts and so much more! It wasn't hard to get the time to pass while waiting for Liv. Only thing was that my internet was being weird, so I was also just a little bit obsessed with not being able to post on our Instagram stories or to post on TikTok. Luckily when Liv was almost up for her photo with Tyler, I kinda got some internet again! In the meanwhile, I did have internet and I needed that, because it was quite a long queue. At one point Judith came out of the photobooth and she mentioned that Tyler really took his time for everyone. He wanted to make sure that you liked the photo that was made (otherwise they would make a new one). I always love to hear things like that. Generally a photo op is very quick and you barely get the time to shake the hand of the actor or actress, so hearing that Tyler was so kind was great. When I set foot in the photobooth, I immediately noticed how energetic Tyler was. It reminded me of Adelaide Kane at Wolfcon. He was up to anything and was constantly singing and dancing in between shoots. I loved doing this photo op!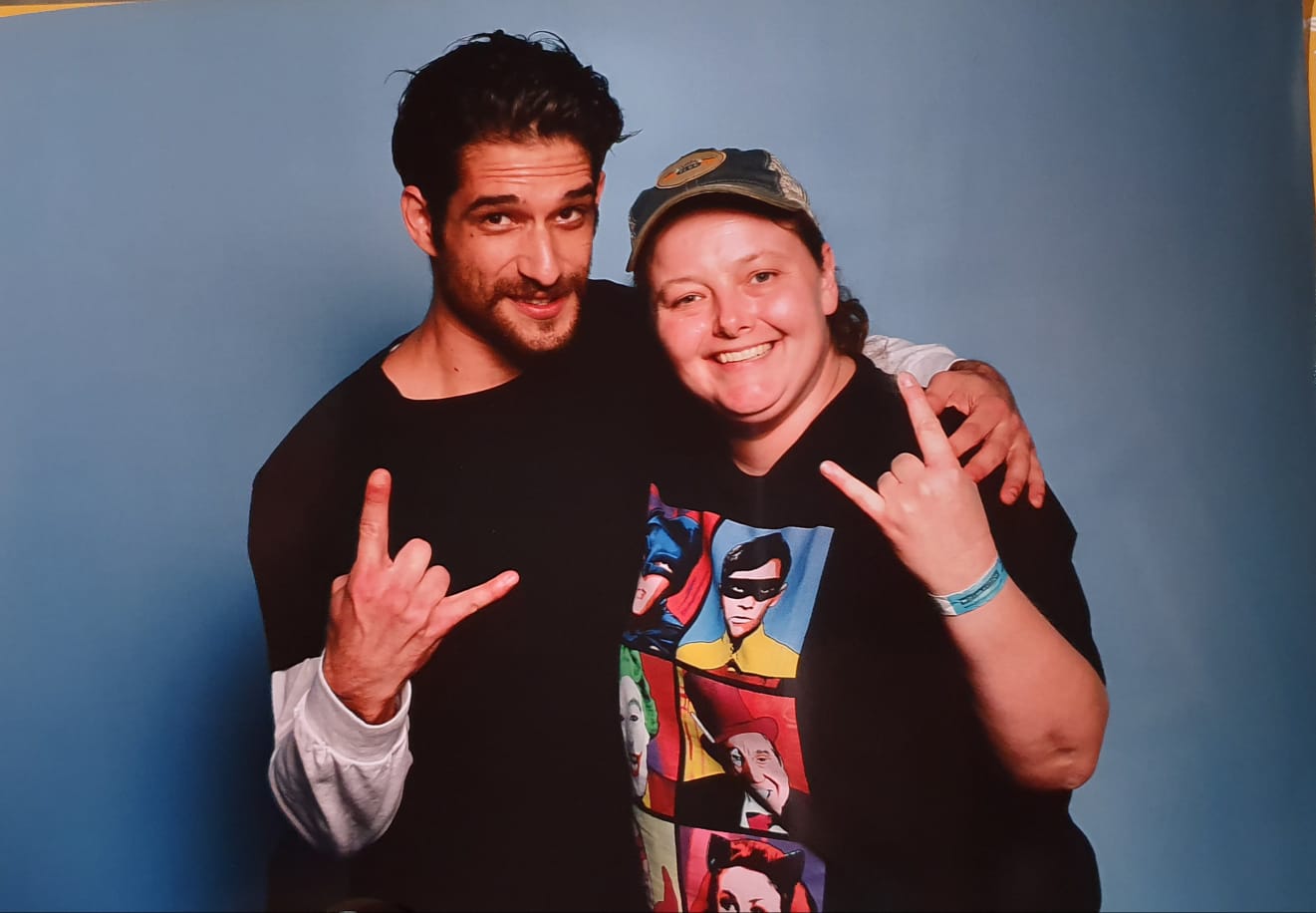 Cosplay competition
Our next plan was to go and see Tyler's panel (we didn't attend his panel on Saturday). We still had some time so we decided to also sit down and watch a part of the Cosplay competition. We really loved seeing it. Everyone was so creative and we loved all the beautiful cosplays. Just have a look at the pictures below! 
Tyler Posey time part 2
After the cosplay competition, it was time for Tyler's panel! And wow, he had so much energy! He jumped around on stage and was super active. He brought a pack of Fristi and kept saying how much he loved it. He was very kind, answered all the questions, gave people hugs and joked around. The panel was definitely awesome to watch! We had so much fun. Stay tuned, the panel will be online on our Youtube channel soon! 
More fun!
Now it was 15:15 PM. Yeah I know, we got so much done already! Dutch Comic Con would be open until 18:00, so there was still time. Right after the panel of Tyler, we saw Eliza. We know her from Instagram and it was great to see each other at Dutch Comic Con. Liv and I also decided to make some new TikTok videos and we went to the merchandise area again. Liv found some great new DVDs. Yes, I did. As you can see on the picture below, I had some great DVD and BluRay finds. First of all "The Craft"...this has always been one of my guilty pleasures. I had the movie on VHS, after it came out and now I finally own it on DVD. Second is "The Cowboy Way". This one of the favorite movies of my brother and me. I have been searching for an affordable version of this for a long time...whooohooo. Third one is a 30th anniversary edition of "The Omen", it contains two discs and it's packed with special bonus features. The fourth one is a Steelbook edition of "Toy Story 3". I love Steelbooks and I love "Toy Story" so I had to buy this one. Then there is "Killing Season". I have never watched this one, but it stars Robert de Niro and John Travolta, so that is worth the risk! Next one is a very cool special edition of "The Bridge of the River Kwai". I already have a Steelbook Edition of the movie, but when I see special editions from movies I love, I don't mind to have two editions of the same movie. I even have three different versions of "The Shawshank Redemption" (for example). The last two buys are BluRays. First of all there is "Love & other Drugs". I am a big fan of Jake Gyllenhaal and I collect his movies, so this is one for my Gyllenhaal Collection. The last one in "Welcome to the Rileys". I had never heard of this one, but it stars the late James Gandolfini, so what can go wrong?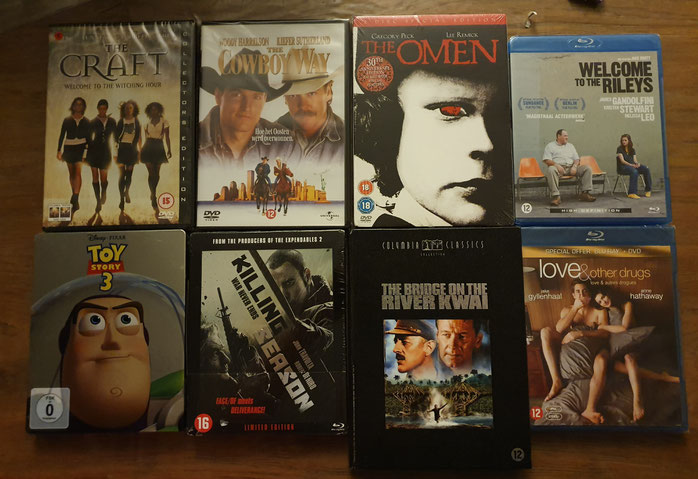 We also decided to go and see the House of Wax. It was fully Christmas themed and we loved it! It really looked amazing and I'm so happy we decided to go and take a look. The theme of the House of Wax area was Dr. Suess' "How the Grinch stole Christmas" and it was like stepping into the real Whoville. The decorations and costumes were spot on and we even saw The Grinch himself. Looking back on these 2 days of Dutch Comic Con, I realize that we saw so many great people, we had fun, bought great things, listened to awesome panels, made pictures.. There was so much! I really like how much Dutch Comic Con had to offer. There was so much variation, so much to do and see. Even two days is too little to do it all. But on thing is sure: We loved it again as always. 
The Vlog