It was 5 A.M. My alarm went off. OOOOOOOH, why is 5 AM that early?? Why do they always have to work on the tracks when there's Dutch Comic Con?? I don't like getting up early. Especially that early. But, if there's a reason to get up in the middle of the night, well then let it be Dutch Comic Con! So I old myself to get up and be happy. Today was a comic con day!! I got on the train on 6:09 AM. Oh yes it was early! My alarm went off at 5.15 A.M. Normally, I would call that the middle of the night (especially in the weekends) and hit snooze. But not in a Comic Con weekend! I jumped out of bed...well maybe I'm exaggerating...I crawled out of bed and got myself ready. At 6 A.M. I was on my bike and Carola and I met in Sittard at 6.40 A.M.  We arrived in Utrecht around 9.15. We were psyched!!!! We had been talking about Comic Con the whole trip and we were so ready for the weekend. 
Let's get this started!
As soon as we arrived at the train station, we walked towards the Jaarbeurs. There we went to the press room to register. Arriving there is always a pleasure. The lady in the press room is very kind and helpful and everything is so well organized. We had a coffee in the press room and then went the entrance: Around 9.45 we entered Dutch Comic Con, whoop whoop! Excited is an understatement. It wasn't busy yet, since it was still so early. Loved that. Liv bought 2 shirts at COOL2U and after that we decided to start with making some pictures. We made a "The Witcher" giphy at the Netflix  stand, visited the Fox stand and took a picture with Harley Quinn. Liv pushed me forward at the Fox stand and told me to go first on the trampoline but I was a bit reluctant about doing the picture, because it was a trampoline (and I was wearing a dress). So I doubted a bit, but finally just went for it but just didn't jump to high hahha. I like the result! And for making the photo and sending it to ourselves, we also got a Fox water bottle. Whoop whoop! A great start of a great day...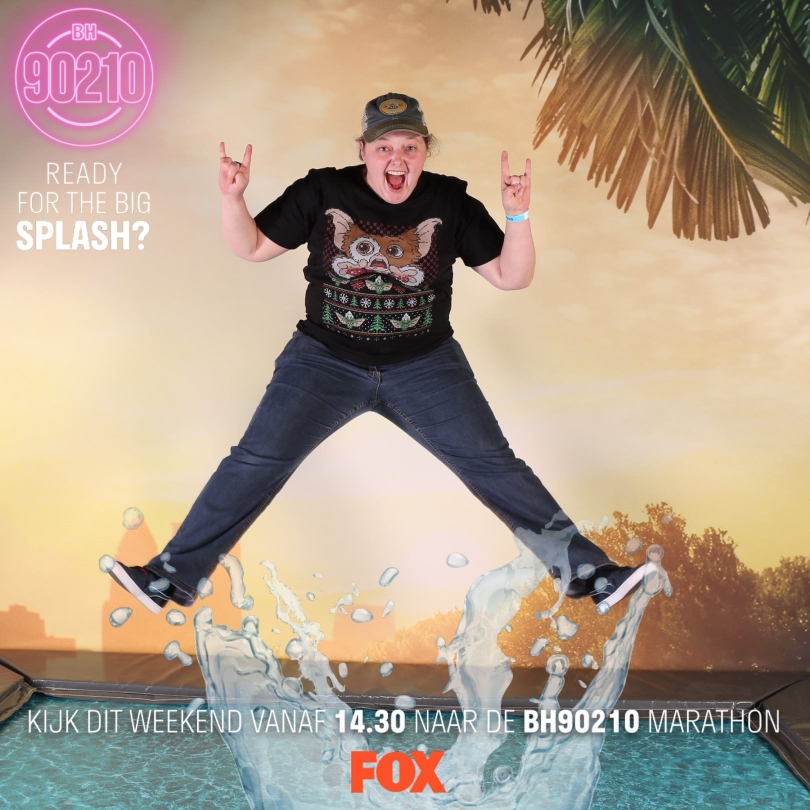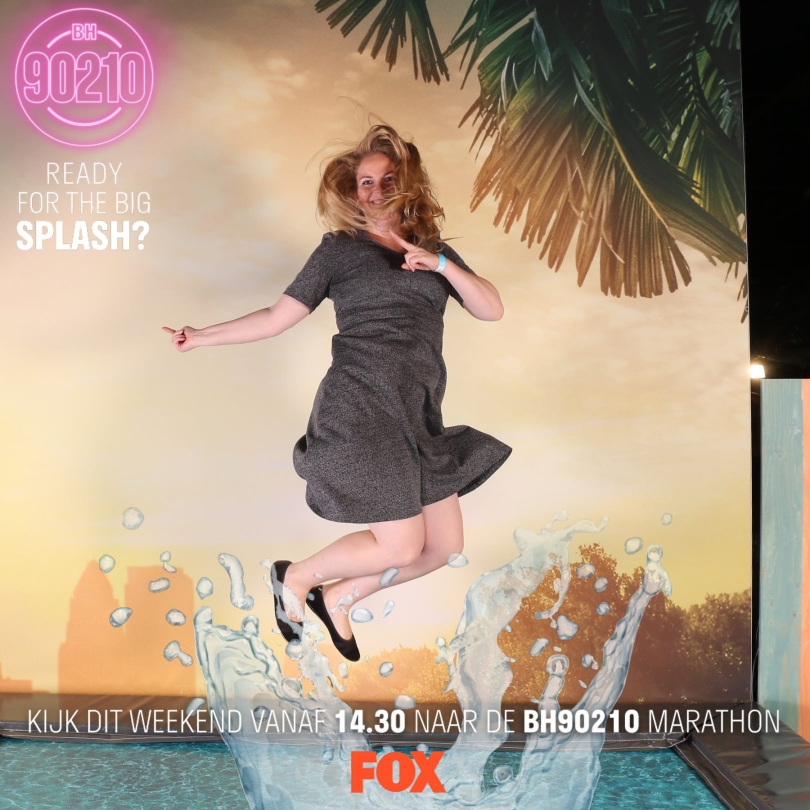 Oh, and we also made a video at the Jumanji stand.. Well, that video is quite interesting I can tell you. We had to sit on some kind of platform and a camera was going around us to make a video. We just went full on crazy (Remember, we got up at 5, had a long trip, drank loads of coffee and now we were at comic con... we had to give it all). We can't put the video in here, but we might... If you're all very nice... show it to you one day.  I don't mind so I put in a screenshot of the "Jumanji" video among the pictures above. But, I don't wan't to anger Carola, so it's a shot where it's only me...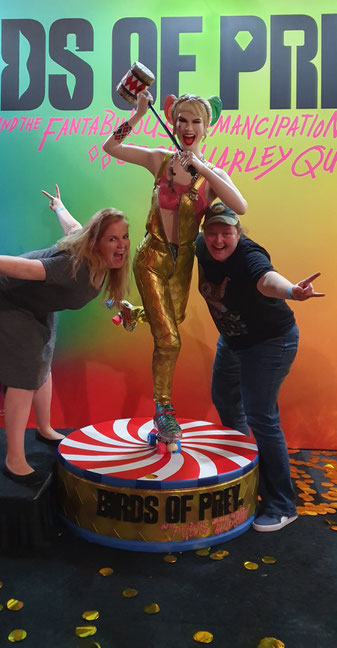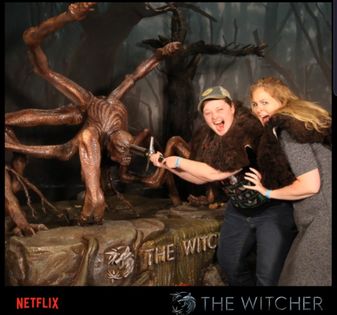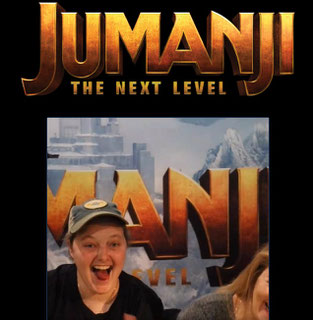 Evanna Lynch and Ian Ziering
of course we didn't forget about the actors area! We also went to see who was there already. But this year, the actors were signing in sessions. Usually they were signing all day (except for the moments where they had their photo ops, panels or lunch of course), but this edition was different. They were all scheduled for certain moments to sign. We were both a bit bummed out about that, it's fun to see them signing throughout the day. But besides that, with the time slot principle you get huge queues at the moment they are there and it kind of takes away the spontaneity of just walking up there when there is a quiet moment. We decided it was time to see some panels. So not everyone was there yet. But we did see Keri already queuing for Evanna! We met at DCC for the first time, while we already had talked via DMs on Instagram.  Since it would be very busy at Dutch Comic Con we were not sure if we would see each other.But luckily we did! It was great to talk. Liv really wanted to see the first 2 panels with Evanna Lynch and Ian Ziering so we decided to sit down and watch them on Saturday. It was great to see the panels. Evanna was super kind and enthusiastic. Most of you will know Evanna Lynch as Luna Lovegood from the Harry Potter movies.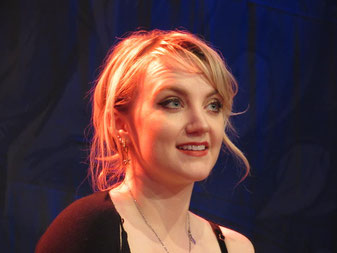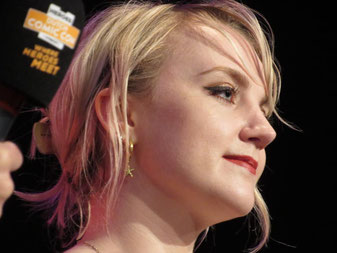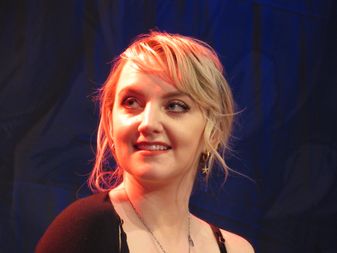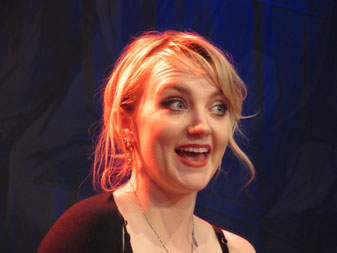 After seeing Evanna on stage, it was time for Ian Ziering! Ian had an international breakthrough in 1990, with Beverly Hills 90210. Ian landed the role of Steve Sanders in this show, that grew out to be one of the most iconic shows of the 90s. Yoou might also know him for Sharknado and more. Curious to see what he had to say? Watch his panel below!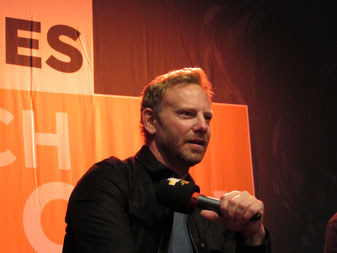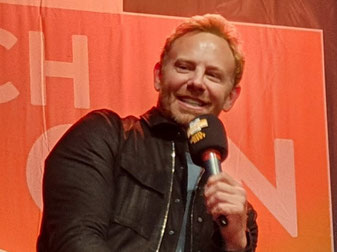 Hurry!
After sitting down for 2 panels, we needed to hurry now! Liv had her photo op with Ian 15 minutes after his panel ended and she still wanted to change outfits. So we rushed to the bathrooms, Liv changed her t-shirt and we walked towards the photo ops. Excited is an understatement! Yes, I changed for the photo op and if you know me you know yhat's so not me! But the fact is that I have too many shirts and I want to wear them all! I bought a shirt of Luke Perry to wear at the photo op with Ian (I already bought the ticket beforehand), but I also wanted to wear my new "Gremlins" shirt on Saturday. So i decided to wear them both! At the photo ops, we also had a chat with Keri and Jimmy. That was great! Liv also had a great photo op. Ian was super kind. The queue wasn't very long so I didn't have to wait a long time for Liv to return from the photo op. Right after that, we decided to go to the actors area again and Liv went to get autograph from Evanna. She was very nice and we talked a bit about the Gremlins (Liv wore a Gremlins shirt). 
Exactly! It was such a pleasure to meet both of them. As I already mentioned a lot of times, I was a huge fan of "Beverly Hills 90210', growing up. Earlier this year, we already met Shannen Doherty at the Spring Edition of Dutch Comic Con and now I got the chance to meet the man behind Steve Sanders! Ian was very nice and he mentioned he loved my shirt. During his panel he already mentioned that he and Luke were still good friends and he still had a hard time processing that he was gone. It was also very cool to meet the amazing Evanna Lynch. I loved to see that there were a lot of similarities between Evanna and Luna. During her panel, she already talked about the fact that she was a huge "Harry Potter" fan before she was in the movies. And Luna was always her favorite. During the autograph, she mentioned my shirt and asked what it was. She had never seen or heard of "Gremlins" and asked if it was a Furby...
Walking around at Dutch Comic Con
No, the rest of our day was unplanned! So we were discussing what to do. Liv pointed out that Marie Avgeropoulos would have a panel of just 15 minutes on Sunday. She saw it on the schedule. I had preferred to go to the panel on Sunday, because we already had seen 2 panels today. When Liv pointed out the 15 minutes, I just thought it was a mistake. But, after a while, I thought she was right: Better go today and avoid the risk that we would barely see her on Sunday. We still had some time left before the panel, so we walked around to see the merchandise and the gaming area. Of course we went to see Dutch Fredette vs Jason again, although today they were Beetlejuice and Captain Spaulding. Really awesome characters if you ask me (Excited is an understatement)! I liked the placing of the cosplay groups better this year, easier to find! We really loved that. I must say that the set up in general was great. The convention was really big (bigger than ever!) but we were still able to find everything quite easily. 
Marie Avgeropoulos
An then it was time to see Marie. As big fans of "The 100", Liv and I both were really excited to see Marie. I am really happy that we went to see her panel on Saturday, because on Sunday her panel was indeed only 15 minutes. I thought Marie was great in the panel. She was very open and talked a lot about "The 100". She even talked about the new season and about the story line of her own character, Octavia Blake. You can watch the full below. Be careful! It does contain spoilers about season 7 of "The 100!"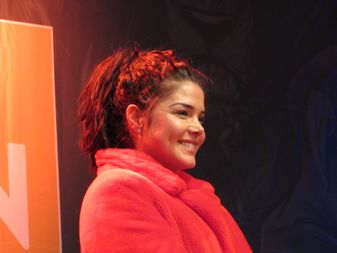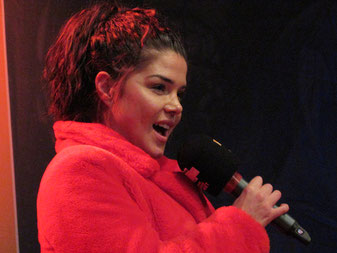 Having fun at Dutch Comic Con
The first day of Dutch Comic Con had almost come to an end for us! We had an awesome day and spent our last time walking around a bit, chatting with people and just having a lot of fun! We had a quick talk with Emilio Guzman. The next day we had an interview scheduled with him and Thijs van Domburg to talk about their book NERDS. We had an awesome day at Dutch Comic Con. It was very busy, Saturday was sold out before the event already. I think it was the most busy at the merchandise. I didn't mind it, it was nice that there we so many people. And we mainly checked out the merchandise on Sunday. The panels had a new presenter: Brainpower. And we must say that, even though we still miss Maurice, Brainpower did well. I thought he was enthusiastic and engaged with both the audience and the guests very well. I liked that Dutch Comic Con was very big. Too big for us to see everything in one day. Luckily we would be there on Sunday as well! The photo opportunities were great, we loved the cosplay groups again and the gaming area was quite big as well. We looked around at the merchandise, bought a few things but were planning on being there more on Sunday! And now, it was time to head to our hotel! 
The Vlog