Today we have an incredible new interview for you guys! It's an interview with Emilio Guzman and Thijs van Domburg, the writers of the Dutch book: Nerds! 
When Liv and I were at Comic con Amsterdam (last August), we got an idea. We had talked about the book Nerds! and suddenly we realized it would be great if we could publish an interview with Emilio and Thijs (they were present at the con as well). Not long after that, we saw Emilio walking around. Liv didn't wait a second and walked towards him to ask for the interview. Lucky us; he agreed immediately. We talked about it for a little while and decided to discuss the specifics via mail. While emailing, we talked about doing the interview face to face at Dutch Comic Con Winter Edition! We decided to do it on Sunday because Thijs would only be at Dutch Comic Con on Sunday. So, let us tell you everything about the book, Thijs and Emilio! Just sit back, relax and enjoy! There's just one catch: the interview is in Dutch. But no worries: you can also just read this article to find more about them.  
The book: Nerds!
Let me start by telling you a bit more about the book: Nerds! The book answers questions like "When are you a nerd and how do you find out? How do you deal with your nerdy child? And isn't there a nerd in everyone?". In Nerds! Emilio and Thijs guide you through the wonderful world of the nerd. With speed, humor, and expertise, they show that being a nerd is nothing to be ashamed of and they answer pressing questions such as: "Which one is better - DC or Marvel? What is the correct watching order for the "Star Wars" movies?" From superheroes, fantasy and science fiction to action figures and board games: this book is an ode to the nerd. Written for seasoned nerds, near-nerds, sneaky nerds and for normal people, who want to get to know the nerd better!
Emilio Guzman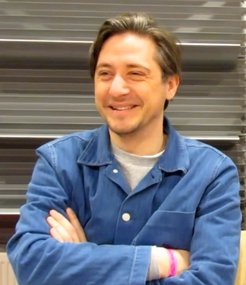 Emilio Rafael Guzman was born in Las Palmas, Gran Canaria (Spain) on March 22nd, 1981 as the son of a Spanish father and Dutch mother. Emilio has an older brother named Javier, who is also a well known Dutch stand-up comedian. When he was 3 years old he moved to the Netherlands, with his mother and older brother. He always wanted to be a comedian, but his mother insisted on Emilio finishing high school. After completing the VWO level, Emilio went on studying Dutch Literature. Unfortunately, he had to drop out, because he turned out to be dyslexic. It was during this study that he met Thijs van Domburg and they have been friends ever since. Emilio has made a name for himself as stand up comedian, columnist, TV personality, comic artist, screenwriter, and writer of the book "Nerds!".
Thijs van Domburg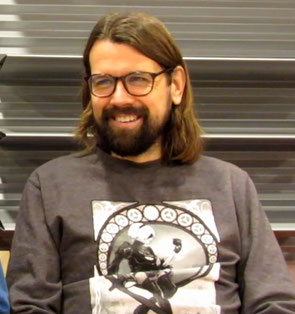 Thijs van Domburg was born in Utrecht (The Netherlands) on October 7th 1981. He studied Dutch Literature and during this study he also started with stand up comedy. In 2002 he took part in "Het Groninger Studenten Cabaret Festival", where he won both the jury and the public award. With this win in his pocket, his career as a stand-up comedian took a flight. During his stand up career (which ended in 2017) he combined his love for science fiction and superheroes with his talent for comedy. Besides being a comedian, Thijs is also a columnist and co-writer for two of the best Dutch satirical TV shows: "Dit was het nieuws" and "Zondag met Lubach". He also acted as a reviewer and columnist for the monthly "OPM" magazine, which was a Dutch magazine about Playstation games and consoles. Together with Emilio, he wrote the screenplay for the fantasy comedy series "In Den Gulden Draeck" and now the book "Nerds"!
The interview
Are you already curious to see our chat with Emilio and Thijs? Just check our the entire interview in the video below (in Dutch). 
About writing the book
For the people who can't understand Dutch, we will tell you a little bit about what Thijs and Emilio said during the interview. To start, we asked them what inspired them to write the book. At some point, Thijs and Emilio got the idea to write this book, but they thought there would probably be something like it already. They discovered that wasn't the case though. There are a lot of books about specific nerd - subjects, but there wasn't a general book yet, like the one they wanted to write.
We also asked them if they had to do a lot of research while writing the book. The book covers so many subjects about life as a nerd, we were curious to hear if they were familiar with every aspect already. (For example: in the book, they talk about TV shows, movies, Lego, manga, anime, action figures, gaming, Cosplay and way more! Did they something about all these subjects already?) They told us they knew a lot already from their own experience. But some things they looked up, to be sure (If you write a book about nerds, and it will be read by nerds.. you just have to be sure!). The only aspect they didn't have experience with yet, was LARPing. They tried that out while writing the book (and loved it). 
Friendship
Thijs and Emilio are friends already for a long time. So we asked them: "How would you describe your friendship?" They told us they are very close. They have been best friends for years already. And It has everything to do with being a nerd. They can keep talking about the same things they love. An important moment for them, was when they talked about Transformers the movie. They couldn't stop talking about it and they were so happy about that. That was the moment they realized they could keep on talking together. They have the same passion. 
The next subject was humor! We always like to ask people in our interviews what their sense of humor is like. Because laughing is important isn't it? Thijs and Emilio are comedians, so this was an interesting question. Bottom line ;) : They have a professional sense of humor. They think about their jokes for quite some time, because it's part of their profession. And they put effort into it! 
And we can tell: Reading book was great and we had a blast. 
Excited is an understatement
We were super excited that Thijs and Emilio were willing to do an interview with us. And you know with us, excited is always an understatement! So we asked Thijs and Emilio as well: What are you at this moment excited about? Emilio answered that this is typically a nerd thing. All nerds are very excited/ fan of a specific things. It's something all nerds have. Thijs said that at this moment he's excited about old games, games from his childhood. Emilio is very excited about the Mandalorian. At the time of interview, only one episode was out yet, but he was really excited about it. As for games, he is currently playing Return of the Obra Dinn. 
They were also really excited to write their book. The only disadvantage is: When you're writing a book about being a nerd, you don't have time for all your nerd hobbies! 
Comic Cons
We interviewed Thijs and Emilio at Dutch Comic Con, where they were a guest. You could buy their book there, get it signed and they also did a panel. Since we knew they also love visiting comic cons, we asked how it felt to be 'on the other side of it' now. Instead of visiting comic con, be one of the guests and to have an own stand there. 
Thijs and Emilio both told us they love it. They got to speak to nerds all day like this. All the nerds that came to see them for their book are great. They have so much in common and a lot to talk about. Everyone had his/ her own story or cosplay and they always have a great conversation. Some people bring the book to get it signed. 
To go a bit deeper into nerd culture, we asked them which character they wanted to be if they could pick any. Thijs chose to be a transformer, Emilio would be Superman! We also asked them a couple of though choices like "Lara Croft or Mario", Marvel or DC" and more... These, you'll just have to see for yourself in the video ;). For these questions, context and explanation is so important ;) so we we'll keep that exclusively for the video. Have fun! (And make sure to read the book Nerds!)