The summer is over again; it's raining and leaves are falling. I am not a big fan of the autumn and the winter, but there are some things that make these months bearable. One of those things is AMC's "The Walking Dead" and the long awaited season 8 is set to premiere on Sunday October 22. You might remember we did some trivia articles about (the cast members of) "The Walking Dead" late last year and earlier this year. We did four parts already and if you haven't already...check them out ( Part one , Part two , Part three, Part four).  Are you ready for  a new article about our favorite zombie apocalypse TV show?
Ross Marquand (Aaron)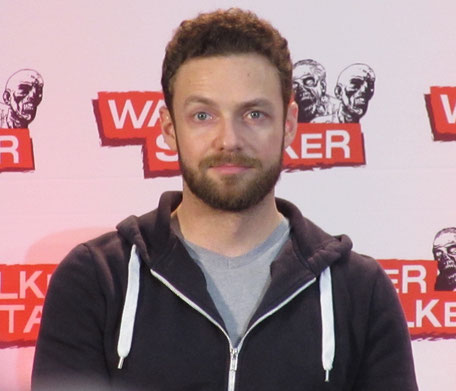 - Although Ross plays a pretty serious role in "The Walking Dead", he is also known for his funny celebrity impersonations. You can find a bunch of them on YouTube. Make sure you check out his "House of Thrones" video, a great mash up between "House of Cards" and "Game of Thrones". You can also find more of his work on his website. He started doing impressions at a young age during the campfire ceremonies of the Boy Scouts of America ,where he attained the Eagle Scout Rank. That is pretty impressive,because only 4% of its members attain this rank.
-Ross is a great voice actor; he played Han Solo in a "Phineas&Ferb" episode and did numerous other voice acting jobs.
- He starred in a play written by his TWD co-star Danai Gurira (Michonne). The play was called "Familiar". Marquand later stated that he loved working with Danai in a different environment and that he loves her work as a writer.
- Ross initially auditioned for the role of Gareth (you know the leader of the cannibalistic group at Terminus. 
- At Walker Stalker Con London 2016 we attended the Ross Marquand and Alexandra Breckenridge Panel. At this panel Ross did a great Michael Caine impression. Check out the video below the article.
Laurie Holden (Andrea)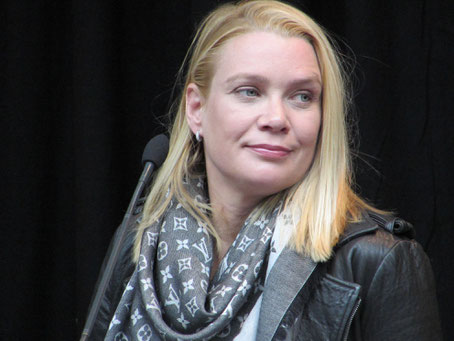 -  Laurie Holden has a dual citizenship. She was born in the USA and raised in Canada.
-  She is a huge human rights activist, especially for children's charities, like:  Home From Home, Feed the Children, OUR and Almasi.
- "The Walking Dead" was not her first collaboration with Frank Darabont (writer/director/executive producer of the first and part of the second season). In 2001 she played Adele Stanton in "The Majestic" and in 2007 she played Amanda Dumfries in Darabont's movie adaptation of Stephen King's "The Mist". She wasn't the only "Walking Dead" face in this movie; Jeffrey DeMunn (Dale) and Melissa McBride (Carol) also played in "The Mist".
-  About her role in "The Majestic" she says that it was the character that felt like it was the closest to her heart.
- On multiple occasions, Holden has stated that her character Andrea wasn't supposed to be killed off. She states she had a 8-year deal and that she was supposed to be there until the end. She also says she doesn't harbour any hard feelings and she even praises the high quality of the show.
- Laurie says she is a real tomboy, so she loved playing 'warrior-Andrea'. She loved all the running around and shooting zombies on the set, although she also says that shooting in Atlanta, where it's very hot and humid, made it hard to do this. 
- Holden stumbled into acting, when she went to visit her stepfather (director Michael Anderson) on the set of "The Martian Chronicles" at the age of 10. She was asked to fill in for the role of Marie, Colonel John Wilder's (Rock Hudson) daughter, when the kid cast for the role did not show up.
- Laurie Holden played a recurring role as Maria Covarrubias in "The X Files". She always said she would love to reprise this role in the show's comeback. David Duchovny, who plays Fox Mulder in "The X Files", referred to Laurie as 'a classic movie star'.
That's it for this week, but we will be back with part six next week. Who would you like us to write about? Let us know in the comments!