It's that time of the year again! Next month we are going to Heroes Dutch Comic Con. A few weeks we already wrote an article about the guest that were announced so far, so be sure to check that one out. This week Dutch Comic Con finalized the entertainment part of their guest list. Time for us to get you up to speed about who to meet at the upcoming edition of Heroes Dutch Comic Con.
Chandler Riggs (Cancelled)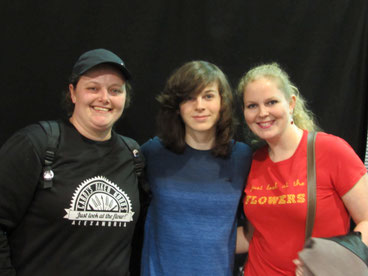 "Get in the house, Carl!", I always loved browsing the "Coral" memes all over the internet. I am of course talking about Carl Grimes from "The Walking Dead". And the actor behind Carl is coming to Utrecht next month. Chandler Riggs played the role of Carl in 109 episodes of the popular show. In 2016 we already met Chandler at Walker Stalker Con in London, but I would love to meet him again. At the time he did not do a panel, so I can't wait to hear what he has to say about his role as Carl and his other projects. But first let me tell you some more about Chandler 'Coral' Riggs.
Chandler Riggs was born in Atlanta, Georgia (US) on June 27, 1999 as the oldest son of Gina Ann Carlton and William Riggs. He has a younger brother named Grayson (aged 17). Chandler started acting at a very young age, he was 4 years old. His early work include some stage productions, like: "The Wizard of Oz" and "Oklahoma". When he was 5 years old, the young Chandler got his first movie role in the indie horror movie: "Jesus H. Zombie". In 2009 he landed his first feature film role, alongside Bill Murray, Sissy Spacek and Robert Duvall, in "Get Low" (as Tom). Also in 2009, he played the role of Ryan in the TV movie: "The Wronged Man". A year later, Chandler rose to fame, when he landed the role of Carl Grimes in the new horror series: "The Walking Dead" (he was 10 years old at that time). One of the executive producers on the show was Gale Anne Hurd and she was also one of the executive producers on "The Wronged Man". "The Walking Dead" was an instant hit and with each episode its popularity grew, as did the popularity of the characters. I have to say that I was not the biggest fan of Carl in the first couple of seasons of the show (I thought he was pretty obnoxious actually), but later on he was one of my favorite characters. I loved how he grew out to be a strong young man.In 2014, Riggs played the role of George in the supernatural thriller "Mercy" and in 2017 he played DJ in the movie: "Keep Watching".In January 2019, he landed a role as a recurring character in the ABC show "A Million Little Things".
Chandler Riggs will be appearing on Dutch Comic Con on both days.
Autograph: €40
Photo op: €50
Meet & Greet: €150
Colin O'Donoghue (Cancelled)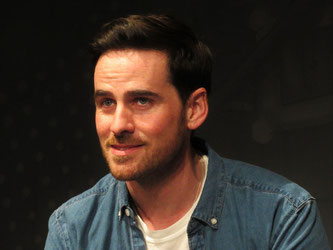 Over the last couple of years, fans of the show "Once Upon a Time" have been spoiled by the organisation of Heroes Dutch Comic Con. Over the last couple of editions, a lot of stars from this popular show made their way to the Jaarbeurshallen in Utrecht. What to think of:  Lana Parrilla (Regina Mills/The Evil Queen), Jennifer Morrison (Emma Swan), Rebecca Mader (Zelena), Jared Gilmore (Henry Mills), Emilie de Ravin (Belle), Sean Maguire (Robin Hood) and Keegan Connor Tracy (Blue Fairy). However, there was one name that kept circling around amongst the OUAT fans. Everyone was waiting for Captain Hook to be announced. And a few weeks ago Dutch Comic Con had a great surprise: Colin O'Donoghue is coming to Utrecht. As one of the fan favorites Colin can count on a lot of excited fans, but who is the man behind Killian "Hook" Jones?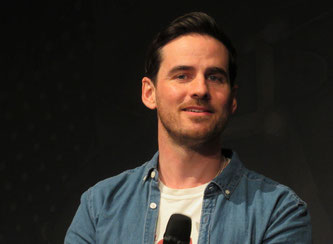 Colin Arthur O'Donoghue was born on January 26, 1981 in Drogheda, Ireland. He was raised in a Roman Catholic family and has one older brother named Allen. As a kid Colin was more passionate towards music than he was towards acting. Colin is a cousin of the Irish folksinger Harry O'Donoghue. During his childhood Colin and his brother Allen, practiced playing on the guitar and singing together for hours and hours. Colin attended Dundalk Grammar School. Later on he enrolled the Gaiety School of Acting in Dublin. He finished two years at the school and became a part of several plays during that time. At the age of 16, O'Donoghue moved to Paris (France) for a month, to learn how to speak French. During the early years of his acting career, Colin played on stage as well as on television and in 2003 he won the award for Best New Talent at the Irish Film and Television Awards. He earned this award playing the role of Norman Quested in the TV movie "Home for Christmas" (2002). This also got him in touch with talent managers in the UK. Over the years he kept on appearing in TV shows and Short films, like: "Call Girl" (as Brendan), "Love is the Drug" (as Peter), "Proof" (as Jamie) and "The Clinic" (as Connor Elliot). Colin was also one of the founding members of the Irish band 'The Enemies', where he played guitar and did backing vocals (he had to leave the band in 2013, because he could not combine it with his acting career anymore).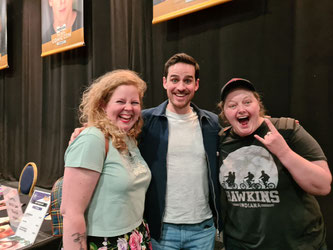 In 2009, Colin landed his first big role, when he landed the role of Duke Philip of Bavaria in the popular TV show "The Tudors". In 2010, Colin decided to try his luck in Hollywood and in 2011 he landed the role of a priest in the movie "The Rite" starring Anthony Hopkins". With this role he gained some recognition in Hollywood and he started to get a lot of offers. In 2012 he got his big break, when he grabbed the role of Killian Jones/Captain Hook in the immensely popular ABC TV show "Once Upon a Time". He soon grew out to one of the fan favorites and even now the show has ended he still is. Since then Colin has been playing in both movies and TV shows, like: "The Dust Storm" (2016), "What Still Remains" (2018) and "Trollhunters" (2018). Next year Colin will star in the new Nat Geo show "The Right Stuff" as Lt. Gordon Cooper. Fun Fact: Colin married his long time girlfriend Helen. The two have been together since they were 18 years old and they have two children ( a son and a daughter).
Colin O'Donoghue cancelled due to work obligations. 
Ian Ziering
"Beverly Hills 90210" seems more popular than ever and I love it! In March, Shannen Doherty (who played Brenda Walsh) was a guest at Dutch Comic Con and now another Beverly Hills star is coming to Dutch Comic Con and his name is Ian Ziering. He played the role of spoiled rich boy Steve Sanders on "Beverly Hills 90210" and its 2019 reboot  "BH90210". Besides this he is also known for his role as Fin Shepard in the "Sharknado" franchise, which has a big cult following. 
Ian Andrew Ziering was born in Newark, New Jersey (US) on March 30th, 1964 as the son of Muriel and Paul Ziering. He grew up in West Orange (New Jersey) and has two older brothers (Jeff and Barry). Ian attended West Orange High School and later enrolled at William Paterson University. He started acting at a young age. When he was 12 years old, he started acting in commercials and this led to several roles in American Soap Operas and stage plays. Some of these plays include:  a national touring production of "Peter Pan" and the Broadway production of "I Remember Mama".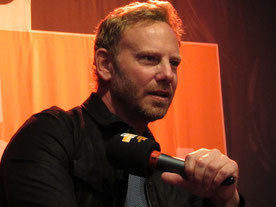 Ian made his feature film debut in 1981, when he played Brooke Shield's little brother Sammy in "Endless Love". He wasn't the only one to make his feature film debut in "Endless Love". The movie also marks the beginning of the big screen careers of Tom Cruise and James Spader. During the 80s, Ziering played in an "ABC After School Special" and in 1988, he played the role of Cameron Stewart in the soap opera "The Guiding Light". He also had a role in one episode of "Married with Children"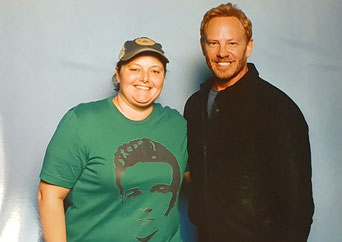 His international breakthrough came in 1990, with a little show called "Beverly Hills 90210". Ziering landed the role of Steve Sanders in this show, that grew out to be one of the most iconic shows of the 90s. The show revolved about the Walsh family and especially the kids of the Walsh family: twins Brandon and Brenda. When the family moves from Minnesota to Beverly Hills, the kids soon find out that it's not only glitter and glamour in one of the richest areas of Los Angeles. Ian plays the role of spoiled rich kid Steve Sanders. His parents are divorced and he lives with his mother Samantha, who is a famous actress.Steve drives a Corvette, is popular (especially with the girls).The show and its main characters were (and still are) immensly popular and if you grew up in the 90s, you must have watched at least one episode of the show. I was a huge fan! Ian was one of the original cast members that stayed on the show for all of the 10 seasons.
Throughout the 90s Ian also made a name for himself as a voice actor. He was the voice of Vinnie in "Biker Mice from Mars" and Wildwing in "Mighty Ducks". In 1998, Ian was the voice of Dr. Nick Tatopoulos in the television series: "Godzilla: The Series" and he also was the voice of Harry Osborn in "Spider-Man". He also kept on acting on the screen and in 2013 he was asked to play the role of Fin Shepard in a TV movie called: "Sharknado". Although the critics were devastating, the movie quickly gained a big cult following and grew out to be a franchise of 6 movies in total. The last movie "The Last Sharknado: It's about Time" was released in 2018. In 2019, Ian was part of the reboot of the show that made him famous. Fox brought together the original cast members of "Beverly Hills 90210" in the reboot "BH90210". The story revolves around the real actors trying to make a reboot. Unfortunately, Luke Perry (who played Dylan McKay in the show), tragically died aged 52 shortly after the confirmation of the reboot. Also in 2019, Ziering landed the role of DC comics character Blue Devil in "Swamp Thing".
Ian Ziering will be appearing on Dutch Comic Con on both days.
Autograph: €30
Photo Op: €25
Meet&Greet: €100
Well that concludes the Movie and TV guest list for Heroes Dutch Comic Con 2019. I for one can't wait to make my way down to Utrecht in a month. Will we see you there? For tickets, go to the website of Heroes Dutch Comic Con!